It's not that he is confused. Keaton Fanning (NMU/NTS) knows exactly what he wants. He keeps saying "87", meaning that he would prefer to wrestle at 87 kilograms. Fanning has spent plenty of time in the most athletic of the upper-weight categories and surmises it is that area on the scale is where he is best suited.
Fanning is letting this rent a little space in his head. Not too much. Just enough. He is attempting to make sense of the situation. Previously in his still-young career, the 21-year-old was without rumination when it came to his weight class. 87 presented the most appropriate fit for his style, frame, and development — so, that was his weight division. Mostly. There were a couple of deviations. But he liked 87. Still does.
Following the Last Chance Qualifier for the Senior World Team Trials in July, Fanning's own performance implanted a shiny, new vanadium Stillson wrench into his thought process. He had won the tournament, his first Senior event triumph. These things, they are big deals. Fanning — whose ability is and has been lauded by contemporaries at Northern Michigan since his arrival towards the beginning of the Tokyo cycle — had seen his share of struggles on the Senior level. Not uncommon for newbies, decidedly less so for Texans. But there Fanning was inside of the Fargodome, a step-ahead of the opposition in each of his matches, piling up points and earning clutch scores. The tournament title guaranteed him a slot in next month's Senior Trials. It firmly cemented his status as a young domestic athlete deserving of further recognition, as well.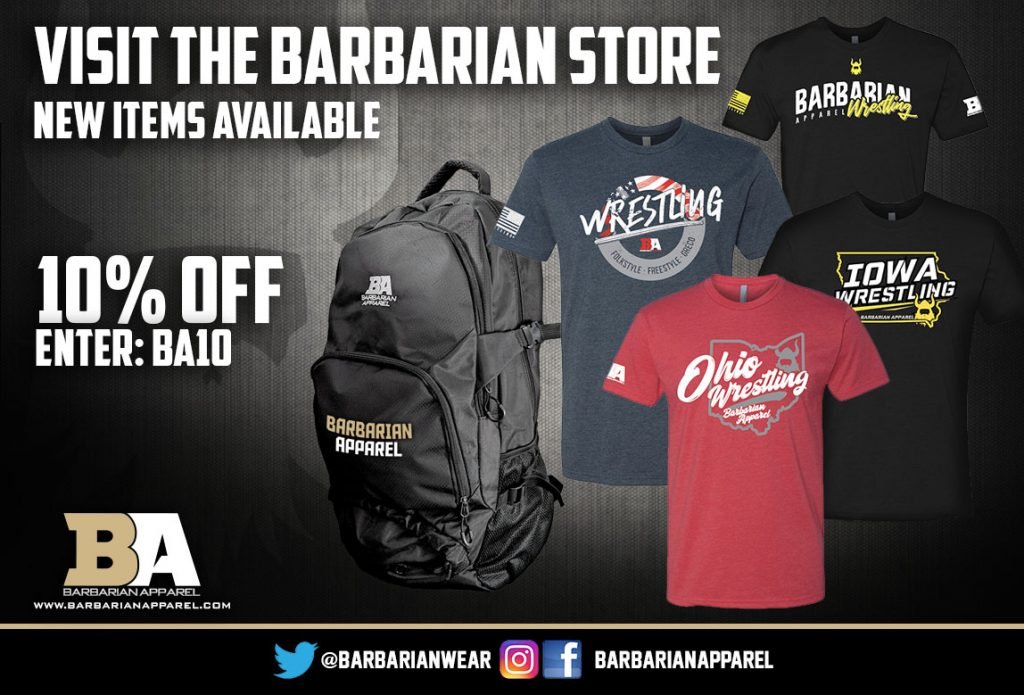 Except, Fanning's dance to the crown did not come at 87 kilos. Nor 97. Heavyweight is where the song played. And Fanning, he is not lamenting this fact. After all, no one had forced his hand. 130 kilograms was his decision, and he is indeed pleased to have made an impact in the sport's top division. However, it is hard to leave the conversation sans the acknowledgement that Fanning wishes he walked around approximately 40 kilograms lighter.
Then again, he doesn't have to be 130 in September. He knows that. He can move down if it is so important to him.
Several of these mechanics were already part of the arsenal he carried to Marquette all the way from Bedford, TX (Euless Trinity HS), and some have been acquired on campus at the National Training Site. We are but a mere few calendar flips into witnessing Fanning's trajectory fully take form. Surely, there will be more growing pains until he reaches his career's apex. Nevertheless, what American Greco should realize is that Keaton Fanning likely represents a critical part of its future. And the weight class in which that transpires is immaterial.
Keaton Fanning — 130 kg, NMU/NTS
5PM: How did you wind up at Northern?
Keaton Fanning: My coach wrestled for the All-Marine Team after deployment to Iraq and Afghanistan. My whole goal originally was just to get out of state for college. I wanted to keep wrestling, because I obviously love wrestling. And he told me about Rob Hermann and the OTS (Olympic Training Site). He had actually called it the USOEC (United States Olympic Education Center).
5PM: How long did it take you to gain a sense of what you were going to have to adapt to?
KF: As far as wrestling, my junior year of high school I wrestled full-time, so I was pretty malleable by that point. With my coach, we wrestled Greco most of the time. He taught Greco technique to use for folkstyle. But getting up to Northern, I was wrestling people like Khymba (Johnson), Carter (Nielsen)… Parker Betts was there at one point and somehow I got stuck wrestling him. It was a little daunting as a freshman and coming in there.
5PM: You had the opportunity to go overseas pretty quickly. The differences in Europe, how striking were they to you?
KF: It was a whole different ballgame compared to wrestling domestically. In high school you are basically just taught, Don't touch their legs, but over there it seemed so natural to them. It is like we have to re-train certain mechanics within wrestling. Hands, weight distribution… It all comes very natural to them. Plus, they are really good.
5PM: You earned a medal in Sweden early on, which is usually a significant marker. Did that say anything to you? 
KF: At that point I felt like I was developing so quickly. It solidified that I was making good decisions and on the right path. I kind of felt like, This is the way I want to wrestle Greco, the way we were wrestling over there. It highlighted what I was doing right, as well as what I was doing wrong.
5PM: Is it a challenge for you, especially as an upper-weight, navigating the difference between domestic competition and international as far as how the sport is competed? And even officiated?
KF: The only thing I could ever think of is "The Hermann", and how that technique is called. You see it always pop up. I would ask Andy and he would show this move where you take the underhook and take them over that knee with your foot planted. I tried to do that when I came back over here one year and it getting called a leg foul. Overseas, I never got called for leg foul over it. I don't think the refs here understood that situation about what is a leg foul, and what isn't.
5PM: Among those of us who are locked into NMU and this sport, you've been looked at as an 87, but definitely a bigger 87. You have also gone up a bit, even before Last Chance. Do you know your body well enough to know where you are most comfortable in terms of weight class at 21-years-old?
Keaton Fanning: Style-wise and how they wrestle, I definitely want to be an 87. That is where I feel my style fits best. I don't know why, because I haven't wrestled 87 kilos at a Senior tournament yet. Maybe it's different, how my body feels and coming off of a pretty long hiatus. Even going 97 wasn't easy, I had cut five kilos the day before with the help of George (Sikes) and Andy. I was like, on my death bed. I don't know where I want to be. I am trying to figure out how my body works. I am confident that I can wrestle anywhere and perform anywhere. I think there is a difference between confidence and day-of-the-tournament anxiety. Performance anxiety. I know I can compete, but the performance anxiety asks, Can I compete if I stay at this weight? 
I don't know where I want to be yet. I want to be at 87. I want to wrestle the style that 87's wrestle. I feel like that is where I am at my best. My whole wrestling career, I have never been "Mr. Out-Muscle Everyone" while standing there in the pummel. At 97 and 130, they are the outliers at the World level, or at least that's what it looks like. Everyone makes fun of heavyweights wrestling Greco (laughs). I want to be an 87 and wrestle Greco the way an 87 does, what they can do with their bodies. At 97 and 130, I don't know if I am strong enough.
5PM: You say that, but you wrestled heavyweight guys at 'Last Chance', Courtney Freeman among them, who are certainly very powerful and athletic. And you handled them. Did your performance from that tournament cause a reassessment?
KF: It definitely did. That makes sense. Of course. I kept up with the guys at 130, and Courtney is a very strong guy. But more than that, it was also, I can compete where I want and how I want, I just need to figure out where I want to be to do that. That's what beating someone at 130 did for me. It wasn't, Oh, you should be competing at 130 because of the result here; it was more, You got the results at a weight you probably shouldn't be, and never really wrestled before. It was a good stepping stone in the right direction in that aspect of wrestling, aside from the weight itself.
5PM: It had been quite a while for you prior to Last Chance, and it's not like training for that thing was completely 100% normal. What did you and your coaches discuss how to approach this tournament, and the weight class in particular?
KF: Andy, for those who have watched him wrestle, puts a big focus on keeping the legs moving. Of course, the higher you climb in weight, you can just get pushed around and get steamrolled. So, he really put an emphasis on keeping my legs underneath me, which is something I've had an issue with in the past, whether it is keeping my legs underneath or not bending my knees enough. During the matches, it was, These guys are big. I don't really want to be in the trenches with them longer than I have to. It was a little more in-and-out. If they were going to come into me, I wasn't going to force them or make that contact. I didn't have faith in myself on par terre bottom if I got put down. With these heavyweight guys, I didn't want to play their game that much, is what I would say.
5PM: What is the blueprint to make the Senior World Team?
Keaton Fanning: We have great guys in our room. You can tell that the culture in the room is there. I am only going to get as good as the guys I wrestle. I think as the summer winds down, because we are a college, some of the bigger guys I work with will come back. I want to get my weight down a little bit so that "Mr. Retired Andy" can wrestle with me more, because in my opinion he is the best guy in the US.
If anything, it is all a mental thing for me. It has been since I started wrestling. I know that I can perform; it is just on that day, I need to be a World Team member at the tournament. I have to be the World Champion that day. If I can get myself in that mentality where I feel like I'm not getting butterflies and I am not second-guessing myself — and I can just show up on that day as a World Team member — mentally and physically, that is what's going to matter.




Listen to "5PM50: Mr. Fantastic Benji Peak" on Spreaker.
Listen to "5PM49: Robby Smith on coaching, fatherhood and mentors" on Spreaker.
Listen to "5PM48: Austin Morrow and Gary Mayabb" on Spreaker.
SUBSCRIBE TO THE FIVE POINT MOVE PODCAST
iTunes | Stitcher | Spreaker | Google Play Music
Notice
: Trying to get property 'term_id' of non-object in
/home/fivepointwp/webapps/fivepointwp/wp-content/themes/flex-mag/functions.php
on line
999