Last week just before Final X: Rutgers, we released a breakdown of the series matchup between now-2019 US World Team member Max Nowry (55 kg, Army/WCAP, world no. 12) and Brady Koontz (TMWC/Ohio RTC). It was the only such article of its kind on this platform leading up the big show last Saturday due to perceived necessity. Most were transfixed on the other bouts — understandable, since they were all terrific — and the shrimps were relegated to afterthought status.
That seemed like a mistake. The participants involved were a story in their own right. Remember, it's never just about the "wrestling". Nowry, 29, became an Olympic Trials finalist and University World Champion in 2012, and then eventually saw his career stalemated due to a weight class change. There were also injuries, personal crossroads requiring contemplation, and even a flirtation with retirement. That he has not only been able to resurrect his career but also reach new heights deserved higher billing.


The same is true of Koontz. At only 20-years-old, the Wisconsinite might just be getting started, but look how far he's come already. After making the Junior World Team in 2018, Koontz wrestled through this year's collegiate season at Ohio State and didn't appear in a Greco event until the World Team Trials Challenge Tournament — which he won, with two of his matches ending in complete domination. A lot of his success can be attributed to an expansive-but-developing skill-set and that jarring gutwrench, but even more of it boils down to mental fortitude. Koontz was being overlooked by many observers and he couldn't have cared less.
What was the result? Two highly-entertaining matches (especially that second one) that saw both athletes walk away sharing some of the rub.
We have another
When it comes to Final X: Lincoln, set for this coming Saturday and airing live beginning at 12pm on FLO, the duty falls on identifying another key series that isn't getting a lot of enough love in advance.
When you look at the five matchups, four of them include well-known stars. At 60 kilos, it's Olympian/uber-experienced Ildar Hafizov (Army/WCAP) versus teammate and former two-time DIII National champ Mike Fuenffinger. That one sells on its own. Next weight up it's Ryan Mango (63 kg, Army/WCAP) and Xavier Johnson (Marines) in a series everyone expects to deliver fireworks. The third-ranked wrestler in the world at 97 kilograms, G'Angelo Hancock (Sunkist) takes on a surging Lucas Sheridan (Army/WCAP). And at heavyweight, Lincoln's "main event" pits 2018 World silver Adam Coon (NYAC/Cliff Keen) against 2017 Cadet World Champion Cohlton Schultz (Sunkist), who is coming off of a breakthrough Trials tournament.
That leaves 72 kilos and what very well could be the most interesting pairing of the event: Ray Bunker (Marines) and Alex Mossing (Air Force RTC).
They have taken similarly truncated paths to the brink of a Senior Worlds appearance, Bunker and Mossing. The Marine only started banging around on the top level a few years ago holding next to nothing in terms of viable Greco-Roman experience. Instead, Bunker actually came into the sport from MMA, and all it took was a couple of years (and tons of hard work) for him to enter the picture in full. As for Mossing, a collegiate wrestler at the Air Force Academy, 2017 is when he began catching on. First was solid showing at the Senior Trials, next was a tough tournament win at the U23 Trials tournament six months later.
Their assets as competitors vary in terms of style, but not effectiveness.
Bunker's Reverse Lift
Over the past two seasons, Bunker has been using a reverse lift from par terre top as his chief go-to. To be clear, persistent pressure is his biggest weapon, not this technique. Bunker plowing forward and wearing out opponents is how and why his status has elevated. But par terre will loom large in this series and it is this lift from where he will look to score.
Bunker's reverse lift is more about his attitude than it is clean technique. In the first clip versus Brennan Griffen (Air Force), he doesn't set his legs underneath, partly because Griffen ambles to defend. But Bunker doggedly stays with his lock, almost leans forward, but then corrects, elevates, and finishes. Against Michael Hooker (Army/WCAP), a high caliber athlete who nearly pulled it out against Mossing in Raleigh to earn a third shot at Bunker in Lincoln, it is not a four-point move. Still, Bunker does a good job jutting his knees in to gain a tighter lock and bring Hooker closer. He didn't have a shot at lifting Hooker, so he takes the hold over the top to pick up two, and it was this sequence that won him the match.
The reverse lift made another clutch appearance for Bunker, this time in the National final opposite 2018 World Team member and weight-class favorite RaVaughn Perkins (NYAC, world no. 14). Perkins defended as well as possible given the opponent, technique, and circumstances — and this sequence was originally not scored. Perkins tried to adjust and land on top mid-lift, but Bunker's commitment to the hold was deemed good enough to garner correct throw points, and again, it was this move that won Bunker the most important match of his career thus far.
Mossing's Opportunism
"Scoring from anywhere" is not a phrase typically used for what is normally a position-reliant discipline but it fits Mossing's approach perfectly at the moment. When he first burst onto the scene, Mossing kept it simple: he was more of a lock-and-throw sort. He wasn't a highly-skilled pummeler just yet (though he could hand-fight), and so if he could lock around the body, he would. Eagerly. But now that the depth in this weight class has increased along with his skill-set, he does not let opportunities to create scores go to waste.
Despite his previous success against Anthonie Linares (NYAC/LOG), that is a whale of a matchup to have staring you in the face in the first round of a US Open. Up 6-2 in the second, Mossing couldn't risk Linares getting back into the thick of things. One sequence and he could have been down on criteria. So what does he do? Submarine from a Linares front headlock and basically go to a fireman's carry without the leg to seal the win.
The second clip is from Match 3 of the Challenge Tournament final against Hooker. It's not an uncommon counter — and perhaps an almost irrelevant example since Bunker isn't arm spinner. But look how quickly and decisively Mossing yanks and changes direction. It is this ability why his scrambles present a very serious threat at Final X: Lincoln.
Intangibles
Bunker and Mossing first met in the semifinals of the 2017 U23 World Team Trials. Mossing jetted out to a 6-1 lead in the first period and retained control right up until the last few seconds of the bout when Bunker scored a takedown. This was nearly two years ago and both have improved by relative leaps and bounds in the time since. It's not a workable sample size requiring closer examination to parse for what lies in store on Saturday.
What is decidedly more important to consider are their attitudes and backgrounds.
Bunker did not enter Greco competition at the National level with much other than an incredible work ethic. He wasn't a wrestler of immense pedigree, nor does he boast the same natural athletic talent as so many others who usually find themselves in contention for a World Team spot. While it doesn't hurt that his coach, Jason Loukides, may very well be the best in the country, the main reason for Bunker's viability is of his own making. He has taken his share of lumps in the room and continues to raise his hand for chances to train and compete overseas. Couple all of that with an insanely determined spirit, and what you have is this year's most intriguing underdog story.
Mossing has some of that going for him, as well. He and Bunker have timing in common in that they are both on the verge of completing their first quads. The most significant difference between the two is disruption. Mossing was on the cusp of making his second-straight U23 World Team last year when an injury forced him out of the finals. He recovered and eventually wrestled his season at Air Force, but for as good as he looked at the Open, he was really on his game in Raleigh. So you dig into the circumstances and project. Imagine being Mossing, whose season ended a year ago via heartbreak at U23, and now you're standing at the doorstep of a much larger career achievement. You think the moment is lost on him?
Conclusion
In boxing, they will sometimes refer to one guy as a "puncher" and the other as a "boxer" (or "boxer-puncher", if we're splitting hairs) — which is a colloquialistic way of saying one guy is a brawler and the other is a technician. The methodology may differ, but the result of the violence never does.
That's pretty much what is going on here. One guy is a fighter, the other is a wrestler. Bunker has made his mark by out-hustling and "out-physicaling" opponents. He has worked hard on his craft, and although has added some nuance and refinement of late, he will not be abandoning his greatest strength for this showdown. As for Mossing, he is technical, resourceful, and aggressive in his own right. And now that he has been able to prepare for battle unencumbered by injury and focus more on Greco, it wouldn't be a stretch to assume he'll be better than ever Saturday afternoon.
The other four series are fantastic and offer a ton of exciting in-match possibilities. You may have known that already. But this one deserves just as much hype and discussion. Tension, style clashes, and competitive quality lead to great matches. It's a good bet that is exactly what Bunker and Mossing are going to give you. Make sure you tune in.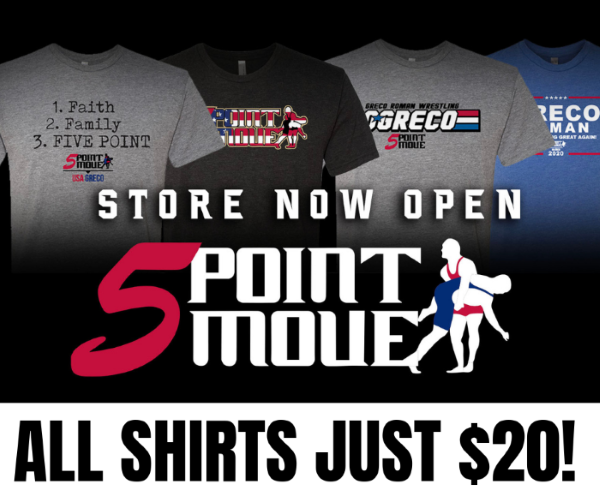 Listen to "5PM23: World Team Trials Challenge Tournament Preview" on Spreaker.
SUBSCRIBE TO THE FIVE POINT MOVE PODCAST
iTunes | Stitcher | Spreaker | Google Play Music | RSS
Notice
: Trying to get property 'term_id' of non-object in
/home/fivepointwp/webapps/fivepointwp/wp-content/themes/flex-mag/functions.php
on line
999