Cory Land (55 kg, Ironclad) took the mat with the same confidently eager demeanor that had been on display the day prior. He limbered up, did that thing with the handshake where the left hand gets involved as an extra indication of sportsmanship, and waited for the whistle before he tore out of the gate. Nothing about his behavioral pattern was different compared to Friday, when he had controlled the opposition on his own terms en-route to the Cadet World final.
The beginning of the match, no, there was not a single discernible deviation. It was how the match ended that brought with it change. And not the kind for which he had hoped and prepared, and culminates with draping the American flag over one's shoulders.
The final round on Day 2 of the 2021 Cadet World Championships began at 6:00pm in Budapest, Hungary (1:00pm EST) and aired live on FLOWrestling.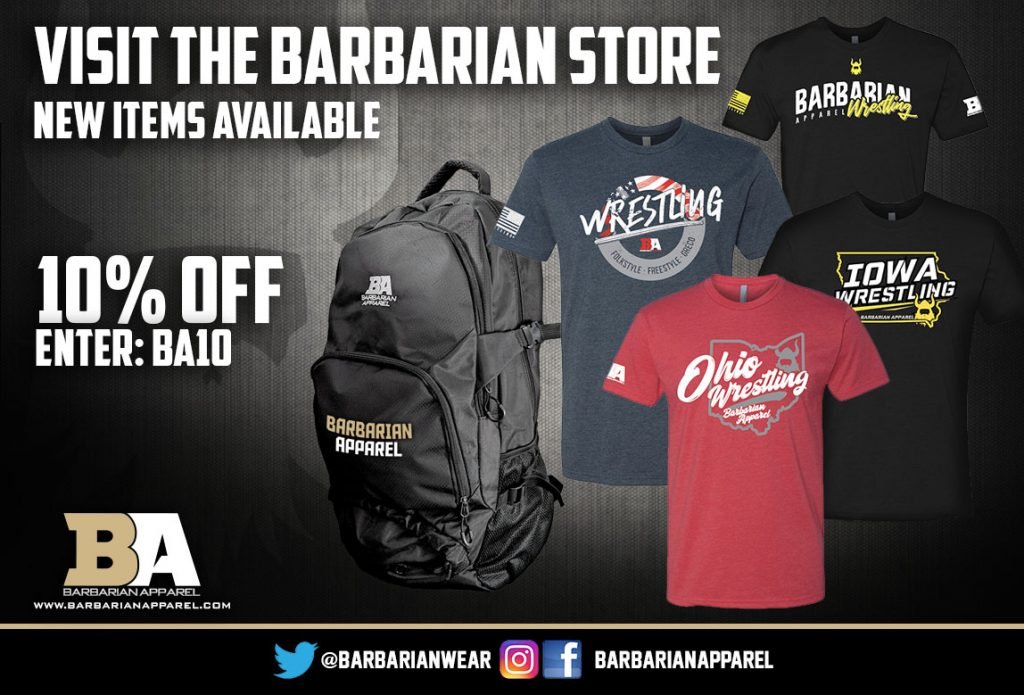 Land — ever the picture of assurance, patience, and aggression rolled into one — had himself a tough assignment in the form of Russia's Valerii Mangutov in the gold medal match. The preamble was going Land's way following a few brief exchanges. Physically, they were of slightly different body types, for Mangutov presented a long, lanky frame complete with far-reaching tries at underhooks. That length played a role in the first period as Mangutov worked behind Land for a lift attempt. It did not happen quickly; Land had used folkstyle's "quad pod" position to avoid giving up the takedown, briefly stymying his opponent. But eventually, Mangutov adjusted to a more appropriate position and hoisted his lock, garnering four.
Midway through the second period, Land seized the initiative and dipped for an arm spin. As he corkscrewed, Mangutov held on and covered to collect takedown points. The sequence made the score 6-0 and, though he had to extend his legs and crank his hardest to get it, Mangutov was able to gut Land over for two more and the World title.
On Friday, Land's three victories assured the US of their first Cadet World medal since '18 (Jacob Kaminski, 92 kg) as well as their first finalist in four years (Cohlton Schultz, who triumphed at 110 kg). With the result from Saturday, Land became the first American to finish silver at the Cadet Greco Worlds dating all the way back to 1998, when Matt Hasbrook fell in the final to Georgian Ilya Lejava.
Black & Mullen Finish 5th
Otto Black (48 kg, Black Fox) made one mistake early in the bronze-medal round against Faraim Mustafayev (AZE), and it was, points-wise, the deciding factor of the contest. Shortly after the whistle, Black had attempted to snare a headlock, but immediately lost the handle. Mustafayev hastily shrugged behind for a takedown before converting a correct throw off the line for another two. Black answered after the proceeding reset. He had divvied off an exchange to find a nifty duck-under that Mustafayev had no hope of defending. Trailing 4-2, Black kept his foot on the pedal through the remainder, but there was no further scoring (not even a passivity) as Mustafayev walked away the winner of a 4-2 decision.
Jim Mullen (110 kg, NJ) and Artur Sarkisjan (CZE) were embroiled in a prolonged positional battle with Sarkisjan clutching double under's and Mullen clawing over the top in Greco's version of the waltz. Passivity rang, Sarkisjan was dinged, and Mullen wasted no time in converting a pair of solid guts. Back standing and… disaster soon struck for Mullen. Sarkisjan once again had achieved a lock around the body, only this time he managed to toss Mullen for four. Mullen landed on his back and there was no escape. Try as he might — and he did — Sarkisjan's position was too difficult to overcome. The signal for the fall arrived at 2:10 in the first period, sending Mullen back home with 5th place in his first World event — on the heels of a dramatic win in the repechage round this morning.
2021 Cadet World Championships
July 23-25 — Budapest, HUN
TEAM USA FULL RESULTS
45 kg — Bo Bassett (Young Guns) — 12th
LOSS Ruslan Lukiaev (RUS) 8-0, TF
48 kg — Otto Black (Black Fox) — 5th
WON Yuri Karapetyan (ARM) via fall
WON Peter Totok (HUN) 4-0
LOSS Servet Angi (TUR) 5-5
LOSS Faraim Mustafayev (AZE) 4-2
51 kg — Kaedyn Williams (LAW) — 9th
WON Abolfazi Shahraki Niya (IRI) 6-3
LOSS Kuvonchbek Yakhshiboev (UZB) 8-0, TF
55 kg — Cory Land (Ironclad) — silver
WON Berati Inac (TUR) 10-0, TF
WON Adam Silverin (SWE) 9-6
WON Zhantoro Mirazaliev (KGZ) 5-0
LOSS Valerii Mangutov (RUS) 8-0, TF
60 kg — Brock Bobzien (Poway) — 17th
LOSS Bagdat Sabaz (KAZ) 10-1, TF
65 kg — Jadon Skellenger (Suples) — 8th
WON Rokas Cepauskas (LTU) 9-0, TF
WON Ashot Poghosyan (BUL) 8-0, TF
LOSS Ankit Guli (IND) 14-6, TF
71 kg — Braden Stauffenberg (Izzy Style Wrestling) — 17th
LOSS Ruslan Nurullayev (AZE) 9-0, TF
80 kg — Ryder Rogotzke (PINnacle) — 8th
WON Mihael Salajec (CRO) via fall
LOSS Joju Samadov (AZE) 11-4
92 kg — Nathan Wemstrom (Izzy Style Wrestling) — 15th
LOSS Rasmus Liisma (EST) 3-1
110 kg — Jim Mullen (NJ) — 5th
LOSS Nikita Ovsjanikov (GER) 7-2
WON  Lyova Sargsyan (ARM) via fall
LOSS Artur Sarkisjan (CZE) via fall




Listen to "5PM50: Mr. Fantastic Benji Peak" on Spreaker.
Listen to "5PM49: Robby Smith on coaching, fatherhood and mentors" on Spreaker.
Listen to "5PM48: Austin Morrow and Gary Mayabb" on Spreaker.
SUBSCRIBE TO THE FIVE POINT MOVE PODCAST
iTunes | Stitcher | Spreaker | Google Play Music
Notice
: Trying to get property 'term_id' of non-object in
/home/fivepointwp/webapps/fivepointwp/wp-content/themes/flex-mag/functions.php
on line
999