The whole thing is about choice, and not being forced into a box. Wrestling in the United States clings to the idea of inclusion, yet double-talks itself in circles whenever immensely-talented wrestlers start considering their futures. Then the tone changes, with athletes pushed in one direction or another, and the cycle spins out of control. Round and round it goes until years later, decisions from the past begin to make the present feel dissatisfactory. Steps are re-traced. Questions asked inwardly race and echo through the minds of those who once seemed to have it all figured out — and next thing you know, a wrestler whose ability was previously thought undeniable has been squandered along with their passion.
Chayse LaJoie (63 kg, Spartan Wrestling RTC) isn't going to let any of that happen to his career. Whatever he does, whatever's he doing, is on his own terms. And it has to be that way. LaJoie operates best with a smile on his face. He is without the need to get himself worked up into a psychotic frenzy in order to compete. LaJoie sees wrestling both as a creative endeavor and battle of wills. This fine-line-walking ethos answers why his style is peppered with unpredictable elements that unsettle opponents. It is also part of the reason for where he is attending college.
LaJoie had been a star for Gaylord High School in Michigan, winning two state titles and making the finals all four years. Folks in the region, they knew who he was. Wrestling is kind of a thing in the Wolverine State. But LaJoie was also known nationwide. When folkstyle wasn't in session, he could be seen pounding out all comers in places like Fargo — where he garnered top honors twice — and the age-group duals. So, as Lajoie was preparing to graduate from high school, what he planned on doing next became a point of interest.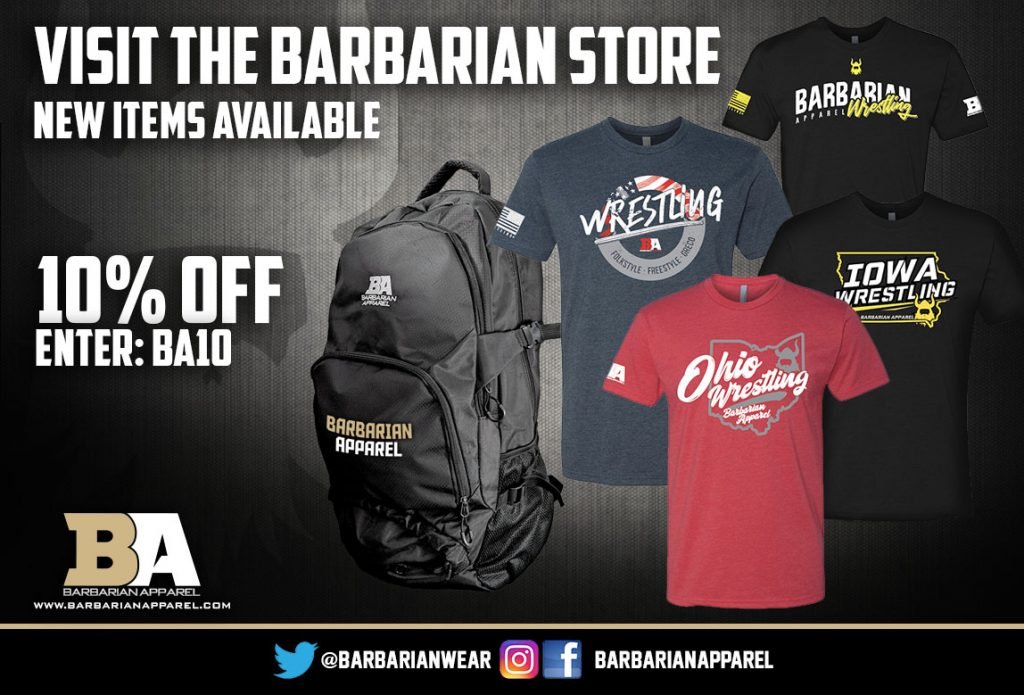 A number of Division I programs wanted him, naturally. In the end, Cornell (by way of Tompkins Cortland Community College) served as the landing spot. LaJoie's older brother Dominic is a wrestler for Cornell, but the decision didn't hinge on sibling sentiment alone. The kid is a "people person" at heart. He wanted to find an environment that offered relationships as much as the chance to excel on the mat. LaJoie says that is what made Cornell stand out above the fray; and when you take a closer look, it's easy to believe him.
The Ivy League program has, in recent years, turned into a safe haven for would-be Greco athletes who likewise wish to strive towards academic and NCAA leg-grabbing success. Not many universities are equipped to nurture wrestlers in this manner. Cornell is. They have built a close-knit group centering around popular US coach Ahad Javansalehi, and count several established Seniors among their ranks. More importantly, they are incrementally expanding due to a small surge of LaJoie's more immediate contemporaries. Fellow '21 Junior World Team member Jonathon Fagen (82 kg) and Trials runner-up Phillip Moomey (60 kg) are on-board for the journey LaJoie is attempting to traverse. And Andrew Berreyesa (87 kg), who now finds himself firmly in a leadership role, is there to guide them by the hand when necessary, as well — especially when discussing what it takes to earn Junior World medals.
LaJoie's rise to the top began this past November at the Junior Nationals. Only a few blinked when he defeated David Stepanian (NYAC/NTS) to garner gold. Even less were surprised to watch LaJoie dominate the field en-route to the crown at the Trials late last month. Those two tournaments, which present a contrast to the goings-on in Fargo and elsewhere, demonstrated what everyone always knew about LaJoie. The athletic gifts, fast-twitch motion, and biting offense were can't-miss; but key more than anything else was that he appeared to be having the time of his life. As LaJoie now prepares to make his World-level debut, that directive has only been strengthened.
That LaJoie — and Fagen, and Moomey, and the rest of them in Ithaca along with the small pocket of schools just like it — are able to function at a high level always points back to one easy-to-grasp concept: when athletes are able to pursue their passions with free reign, chances are things will turn out just fine. To be sure, this is what LaJoie needs. It makes no sense to put wrestlers like him in a box. Though even if you did, the smart money says he'd claw his way out, anyway.
Chayse LaJoie — 63 kg, Spartan Wrestling RTC
5PM: Different schools were interested in you coming out of high school, obviously. What made you veer towards Ithaca and Cornell?
Chayse LaJoie: Partially my brother. I liked the idea of that. But it kind of goes to the point where I just like the people here. I think for me, that was the biggest part of picking a school. If I don't like the people I'm around everyday, then I can't live my life and enjoy it, and try to be better. I need people surrounding me who I care about. Then I can give back and have that part of my family, which is satisfying. Also, I feel relaxed, I feel comfortable with the people I'm around. I can go on a hike with these guys. It's just the people, honestly, which really sold me.
5PM: When you visited, what was it about the general environment? The campus, the landscape, all of that?
LaJoie: It is a very naturally beautiful school. There a lot of nice trails. I really liked the landscape of the campus itself. The clock tower is cool. There are also cool amenities. I like the atmosphere. It feels… Not like a city, but small town'ish… I don't know, I can't describe it in detail. It's hard. It is a very difficult thing to put into words.
5PM: How about Ahad? You're a wrestler with designs on NCAA success but you're also a Greco-Roman athlete, and Ahad is a hardcore Greco coach. How has that dynamic been?
LaJoie: It has been phenomenal. I would love to describe my relationship with Ahad. To start off, he is the biggest sweetheart you'll ever meet. I don't know where you got the "hardcore Greco coach" description, but that is just not true. He is the sweetest man I've ever met. I'll go into practice and he is just smiling, and everyone is like, Ahad! Hello! I'll tell him I love him every time we're on a trip. I'll go, Ahad, I love you. Then he'll say, I love you, too, buddy. Oh, he's so amazing. He is a sweetheart.
He will make Persian food for us. He just cares so much. Whether he sees us win or sees us lose, he is emotionally invested. We're not just competitors to him, which I think is really cool. He cares about us. This is his life, and he loves it with a passion.
5PM: Last season was a unique year to begin this college journey. That said, how have you reconciled the relationship between striving towards becoming a successful D1 college wrestler with Greco at this stage? How long did it take you to feel comfortable there with what you're trying to do?
LaJoie: I'm with the other greyshirts so it was easy to get comfortable because we were all going through the same experience. It's not like I was thrown in with the Cornell team right off the bat. It was all brand new and we were figuring it out together. It has been a really comfortable experience, honestly.
5PM: The Junior Nationals in November. When did you know you were going to prepare for that tournament given the restrictions that had been in place in and around Ithaca? Did you always plan on entering that event?
Chayse LaJoie: I planned on it, but I wasn't super-committed to it. I was doing freestyle and Greco for a while. I was having fun messing around with freestyle, but also having a lot of fun just messing around with Greco. It wasn't a focused training until about two weeks out and then it was, I can probably do this if I really try (laughs). I started working with Jessy (Williams) and "Phoomey" (Phillip Moomey) a lot more, and working more intently.
5PM: Do you have different attitudes when wrestling one style over another, be it in competition or practice? Or do you keep the same mindset for all of them?
LaJoie: I feel like it's hard to have the same mindset because it's such a different sport. Even if you try to go in there with the same mindset, subconsciously you change it. Because, it's different. With Greco, I'm a lot more cheery. I'm happy when I'm wrestling Greco. It's just something that I am really passionate about it.
When I am wrestling folkstyle or freestyle? It's fun. I like it. But it feels more like a grind — so I have to work harder, focus more, and take everything super-seriously. Which, you don't know me that well, but I don't really like that. I like to be a little more cheery and enjoy the time that I have. And through that, enjoying the time I have, I feel like I become substantially better.
5PM: In the pantheon of your various Greco-Roman accomplishments, how encouraging, how big of a deal was it to get that title at UWW Juniors in November?
LaJoie: It was completely different from a Fargo title. I had won a Fargo title and then gone to Juniors before and just did not show up well. So, it was really good. Especially with COVID, because there wasn't a lot going on, there was no competition, and I had kind of forgotten how to compete and work for something.
Once I got that little momentum — Wow, there's something here, I can do something — I started getting ideas that I could at least make the Trials and then try to set low and high goals. Like, a low goal — Okay, I'm going to try to make the Trials; a high goal, of course — Alright, we're going to try and win it. I don't know, it really lit a fire underneath me that had kind of simmered down.
5PM: You've also got this crew with you now in Ithaca, wrestlers who are all basically in the same boat in that they have NCAA goals but they're also top young Greco athletes. I imagine that helps.
LaJoie: It's cool, because it isn't a situation where it is just any college kid or wrestler you live with. We're in the same spot where it is like, Man, we really like Greco, but we're at a folkstyle school. It's nice because we have conversations about it and help each other out. We're not in a situation where it is, I love this sport but I'm being pushed and catered to with folkstyle. We can just talk to each other. It's a great support system. We all love it equally.
For example, when Fagen won, I was so excited. Oh my gosh, it's so cool! But when Phoomey lost, I was torn. It is really nice to be connected and care about your teammates and how they do. It's a cool spot.
5PM: As offensively-effective as you were at the Junior Trials, I also thought there was a stoicism, a patience to how you competed. That's how I interpreted your matches, a high degree of confidence. With that in mind from a couple weeks ago, how does that equate to the importance of the November tournament?
LaJoie: The November tournament didn't really matter. You talked about the stoicism and patience from the Trials. That is honestly something I'm surprised you noticed, but it was something that I had been working on for the past few months. When I went to the Last Chance Qualifier… You know, I have a lot of offense, and I make up a lot of my offense. I try to be different, create different stuff. Not just "normal Greco". For me, that's not fun; and if it's not fun, it's not worth doing. So I try to make my own moves and use different things from all of these good coaches I have, and then make it my own.
But I was way too offensive at Last Chance and it was noticeable. I was out of position. So, what I tried to work on was staying a lot more patient with letting a lot more things come to fruition, and then take advantage of the positions and try to score. That is exactly what I was trying to work on, trying not to force everything.
5PM: You're on the Junior World Team now. You also do not have a scope of overseas experience, and you're shrewd enough to know that foreign wrestlers are different. In your mind, how are you seeing this in terms of scouting and/or preparation?
LaJoie: I need to dive into it a lot more. I know that I wrestle differently compared to normal Americans as it is, so I want to keep some of these attributes from American Greco while also understanding more what they do. Because, I had gone overseas and it blew my mind once before, so I need to become more familiar with that.
5PM: With all of the success you've had at still such a young age, how do you refuel yourself from a motivational and passionate standpoint?
Chayse LaJoie: Purely, the only motivation I have is that I want a really cool life and to experience a lot of cool things that a lot of people can't do. I think this is such a great opportunity. In just a few years, I might have the opportunity to represent the US at a higher level. What's cooler than that? There's not much. So, I need to work hard. I need to focus. I need to keep my feet moving.




Listen to "5PM47: Nate Engel and Xavier Johnson" on Spreaker.
Listen to "5PM46: Taylor LaMont and Jessy Williams" on Spreaker.
Listen to "5PM45: Chatting with Dennis Hall and Max Nowry" on Spreaker.
SUBSCRIBE TO THE FIVE POINT MOVE PODCAST
iTunes | Stitcher | Spreaker | Google Play Music
Notice
: Trying to get property 'term_id' of non-object in
/home/fivepointwp/webapps/fivepointwp/wp-content/themes/flex-mag/functions.php
on line
999