"In all labor there is profit, but idle chatter leads to poverty" — Proverbs 14:23
If there is one thing 2021 Junior World Team member Luke Luffman (130 kg, IRTC) relishes, it is hard work. And not just in a manner of speaking, or in the way all wrestlers supposedly have a constant hankering for exhaustion as a form of validation. One of the sport's cornerstone attributes to which Luffman finds himself most attracted is its deep well of intricate obstacles. He is never in short supply of motivational factors.
Be it success or disappointment, one match or an entire tournament, Luffman is at peace when poking and parsing in an effort to mine improvements. The word "tweaks", that's what he uses. Refinement. Tinkering. Experienced wrestlers rarely require a complete overhaul of their skill-sets, yet minor adjustments can often make an enormous difference. And it just so happens that Luffman rather enjoys shaking sand through a sifter if it means the promise of a gem.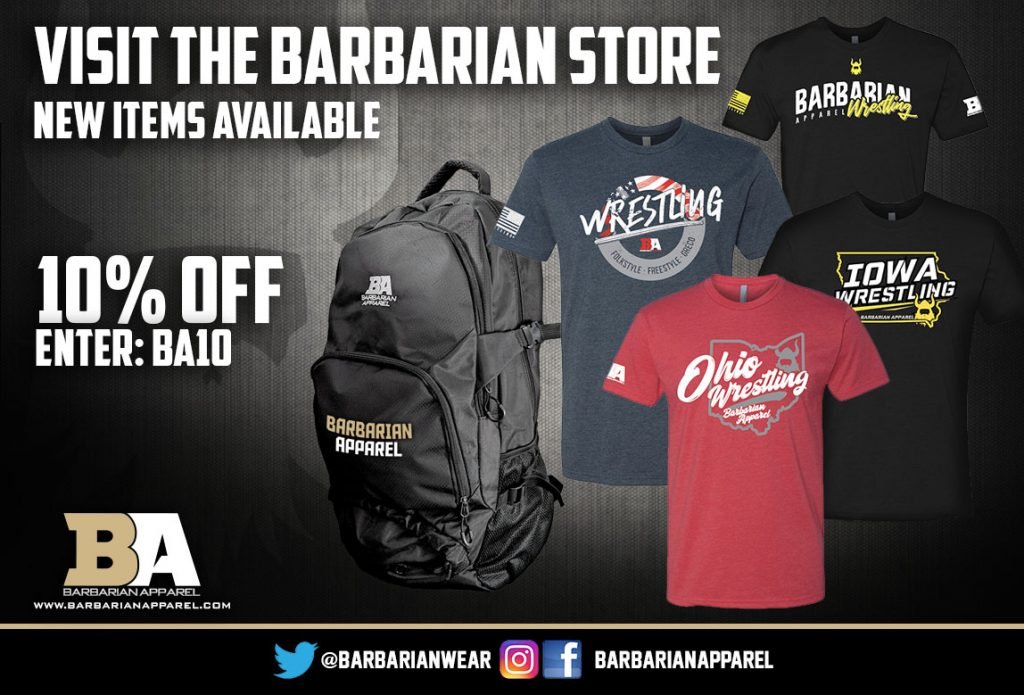 Luffman is a heavyweight who kind of thinks like a lightweight. He also moves nimbly enough to wrestle like one, too. Not an everyday bruiser. Some 130's see their bodies as battering rams, which can be an effective strategy. They collide, push, churn their legs, paw with their meathooks. Nothing wrong with it. Greco needs its big men to wrestle like big men. Luffman, as he grows older, will also inevitably adopt at least a few of these typical brutish mechanics. But for now, he is, certainly when compared to most others in his weight division, a smooth operator.
The United States first got to know Luffman in 2018, the year he made the Cadet World Team. Back home in Illinois, he was already a two-time state champion, a multi-style threat of the highest order. What helped Luffman in folkstyle likewise aided him in Greco: movement with intent. It's one thing to wrestle for scores; it's quite another when an upper-weight is contesting positions normally relegated to afterthoughts. Luffman wanted the business, so he attacked to ensure that message got across. It did.
At the '18 Cadet Worlds, Luffman went 1-1, with an unquestionably inaccurate call late in the match responsible for his early exit from the tournament. He shrugged it off admirably, choosing not to be jaded by his first overseas experience. An opportunity to regroup came around the corner soon enough. The following year, he won another state high school title, and capped the summer of '19 with a Fargo crown.
We look now, and it is… Three years since the Cadet World Championships; two years past his Fargo triumph; and, two years into his career at the University of Illinois with two straight appearances at the NCAA Division I tournament. Luffman's achievements, which have arrived in what one might define as reasonably short succession, are, in fact, not indicative of a rapid rise. This isn't the profile of an athlete who has suddenly come of age and is merking heads all over the joint. Nope — it is the byproduct of consistency combined with the wrestling-centric gifts that are so hard to miss. The difference between Luffman and too many others is that said gifts aren't taken for granted. Give him a reason to work hard, and his labor won't be in vain.
Luke Luffman — 130 kg, IRTC
5PM: What was the most challenging part for you this past season as a collegiate student athlete?
Luke Luffman: I would say getting used to the new COVID protocol. We were nose-swabbed and spit-tested every morning at 7:45. That was definitely something we had to get used to. But overall, I was just thankful that we were even able to have a season, and that made getting used to the testing schedule a little easier.
5PM: How did you deal with the general management of your schedule when combined with classwork? I'm imagining that there were classes online which used to be in-person.
Luffman: I thought it was actually easier to deal with that schedule because all of my classes were online; and because they were all online, I was still able to attend class when we were on the road going to duals. So, it was nice not having to miss any material. It made it so that traveling wasn't that big of a hassle.
5PM: You qualified for the NCAA Division I National Championships in 2020, your first season. That tournament was canceled. This year, it wasn't. Did qualifying for it this year feel differently than doing so last year?
Luffman: I would say that it felt different because of how last year ended. We were talking about getting ready to go, we were doing our tapering, and packing up to get on the bus — and then they said it was canceled. It was kind of a shock and left a bad taste in my mouth. To be able to get back there — after it seemed like we were never going to get back there — that was definitely a different feeling. A good feeling, just to see where I'm at in the National tournament. That helped me reflect after this season to see where I'm at and where I need to go.
5PM: Some of our Greco athletes who also wrestle in college have mentioned that they sometimes feel opponents are weary of getting into certain positions with them due to their Greco backgrounds. Have you encountered this at all?
Luffman: You know, I haven't heard too much about that, but I can definitely see how my positions transfer over to college folkstyle, positions that would be considered Greco. I can remember a specific point in the season when I knew that I was going to wrestle someone who was super-comfortable in over/under's. I was like, Oh, this is great, because I'm comfortable there, too. I was able to utilize that position, but I wasn't under the impression that he thought I was competent in that position. To be able to turn the tables on him was cool. But I don't think anyone has really had to prepare for that because I'm not too upper-body when it comes to folkstyle, anyway.
5PM: You stepped up for the Senior Nationals in October. I know you're a college wrestler and were on the Cadet World Team, but a Senior tournament is an important marker. I know you wrestled your teammate (West Cathcart) there, too. What were your expectations in that event?
Luke Luffman: I was very pleased with my performance overall. I'm always super-excited to compete. It just so happened that we sent three guys from our team, and all three made the semis. That reflects on our training situation, which is awesome. It's always great to have really good partners who can push you.
5PM: What came to mind insofar as the components of your skill-set that you would want to shore up for your eventual jump to full-time Senior?
Luffman: It was a thing where I just needed to tweak some positioning and a little bit with my hand-fighting. I was getting into positions sometimes where I would, not hold, but not move into a position to score. That is something (Bryan) Medlin is always pushing hard for, to be able to realize that and work on it and adjust that for Juniors. That was huge for me, not only to wrestle your partners and receive feedback, but to get feedback so we can keep tweaking stuff.
5PM: The Illinois RTC, if it's not the place to be, it is one of two places to be when it comes to Greco-Roman heavyweights. You were going to end up in that RTC, anyway, but then West entered the fold and Tanner Farmer after him. What is this dynamic like for you on a daily basis? I'm sure you realize it's a unique situation. 
Luffman: Oh, for sure. I'm super-thankful for my current training situation, to be able to wrestle two guys on a daily basis who really care about wrestling — and care about me, and I care about them. To have a relationship where I would do anything for them and they would do anything for me is something unique and special. I am super-appreciative of it.
5PM: What was the best thing about making the Cadet World Team three years ago?
Luffman: The best thing is that it was my first time going overseas. I had always just wrestled in America, so I had never gotten that feel. Wrestling overseas had a different feel. I think that really helped my development as a wrestler. It was a way for me to expand myself as a wrestler, and it definitely helped me realize where I was at. That whole Cadet tournament lit a fire under me to make sure something like that doesn't happen again, and it was definitely a place I wanted to get back to.
5PM: I thought, along with others, that you were on the receiving end of a horrible call at the Cadet Worlds. Did you feel bitterness about that afterwards?
Luke Luffman: I would say that one hurt pretty bad but I think it was beneficial in the long run. I know people always say, You learn more from your losses than you do your wins, and that's just one of those generic quotes. But — I've always thought that. For example, if I have to lose a match like that to be able to win the next one, then so be it.
5PM: Exiting the college season, you had your sights on the Junior World Trials and all that comes with it. Did you require any downtime or rest following the NCAA's?
Luffman: I tweaked my knee a NCAA's, so I took a few days off just to kind of rest that up. I knew that we were going to get back on a few-week training cycle and get ready for Juniors. I've always been one of those people who works through things by actually working through them, by practicing and working out. I don't like to take too much time off. But, time off can also be a super-important part. Whatever I do, if I take some losses or I'm not pleased with my performance, it always makes me feel better to get back after it right away.
5PM: You had a dominant performance at the Junior Trials, and you had been in this spot before. Even still, did this feel like a milestone to you?
Luffman: For sure, yes. Ever since I made the Cadet Team, I have wanted to get back to the World Championships. To be able to get back there is huge. I feel like I have developed my skills and my body since the last Worlds I've been to, and feel ready to really make a splash at this next one.
5PM: Is it cool, going to the country where the tournament will be held? 
Luffman: Yeah, I have always wanted to go to Russia. The fact that it is in Russia is pretty cool.
5PM: What is the general gameplan as far as training for this thing? Is there a blueprint for your preparation that has been talked about at the IRTC?
Luke Luffman: We haven't really talked too much about it. I know that Medlin has a good plan for how we are going to prepare and manipulate our training so that I can be at the highest level possible. I can say that it will be super-important to be focused on training to score a lot of points, as well as to tighten up a few of my positions. You can always get in better position.




Listen to "5PM47: Nate Engel and Xavier Johnson" on Spreaker.
Listen to "5PM46: Taylor LaMont and Jessy Williams" on Spreaker.
Listen to "5PM45: Chatting with Dennis Hall and Max Nowry" on Spreaker.
SUBSCRIBE TO THE FIVE POINT MOVE PODCAST
iTunes | Stitcher | Spreaker | Google Play Music
Notice
: Trying to get property 'term_id' of non-object in
/home/fivepointwp/webapps/fivepointwp/wp-content/themes/flex-mag/functions.php
on line
999