Day 2 at the 2019 Junior World Championships is in the books with Cohlton Schultz (130 kg, Sunkist) coming away with silver, Alston Nutter (63 kg, Sunkist/OTS) storming back for bronze, and Peyton Omania (67 kg, MSU/CYC) advancing to tomorrow's bronze round following a tremendous run to the semifinals this morning.
As has already been reported, Schultz fought valiantly against Aliakbar Yousofiahmadchali (IRI) but was downed on criteria 1-1. The Colorado native, who entered this week as a returning bronze medalist, pushed and pulled throughout the contest while Yousofiahmadchali did not seem to carry the same willingness to engage. Even still, it bears mentioning that Schultz placing second in the World is an incredible accomplishment, which Junior World Team coach Nate Engel speaks to, as well.


Nutter's bronze match has almost taken on a life of its own. Down 6-0 to Kamil Czarnecki of Poland in the first period, Nutter countered a headlock attempt and threw Czarnecki down, essentially planting him in place for the fall. Omania is waiting for his shot at redemption after a points-scoring blitz that escorted him into the semifinal, where he fell to '16 Cadet World champ Giorgi Shotdaze (GEO).
Just like yesterday, Engel answered a handful of pressing questions after the day's action in Tallinn, Estonia had come to a close.
5PM: Cohlton was always trying to engage and hand-fight to his underhook, and used his feet well. His opponent mostly just held the wrists. What was said to Cohlton between periods, and also, what was your personal opinion of Iran's tactics?
Nate Engel: During the break, we told Cohlton that he was going to have to come out hard, that the Iranian was going to have about :30 for him to push because he was trying to get Cohlton put down (in par terre). We just told him to keep moving his feet, to keep the pressure on so he could get to his attacks. And really, to wrestle hard for three more minutes and to leave it all out there. That's what he did.
Unfortunately, the passive call was hard but we can't blame the referees. Cohlton is an amazing human being. Not just a great wrestler, but all around. He's an outstanding, outstanding person, so I know his future is really bright. He's going to come back even harder next year and he is going to get that belt. It wouldn't be a surprise to me if he made the Olympic Team and won an Olympic gold medal. I truly believe that he has that in him. I know that when he goes off to college he is going to work hard for them (Arizona State) and do some great things.
It hurts because we care so much about these athletes, and when you lose a close match like that, where one little thing can go in a different way, it just goes in a different way. But hats off to Cohlton. He's a great leader for United States Greco-Roman, and the United States in general. The sun is going to rise tomorrow and he's going to get up and be a better version next time around.
5PM: How was Cohlton afterwards and does he understand that he was essentially hosed?
Engel: It definitely stung for him. You could tell. When you train your whole life for this and you come up short, it stings. But he's really thankful for everything, as he always is, whether he wins or loses. He's just that type of young man and that comes from being raised by great parents and having great coaches in his corner throughout his life. But we really didn't talk too much about it. I think tomorrow we'll talk about it and go over what happened. I guess today is probably not the right time to talk about it. He'll be more clear-headed tomorrow and we'll go from there. But like I said, Cohlton is just a great kid. He is going to learn from it and get better, and be a World Champion next year.
5PM: Nutter not only bounced back from his semifinal loss, he also recovered from a takedown and trap-arm gut in the bronze round. Describe what you saw out of Nutter today and how it was coaching him this year. 
Engel: From the moment I started talking to Nutter after weigh-ins, he was in really good spirits. He had a tough semifinal loss against an extremely good Russian (Abu Amaev). We knew that whether he got the guy from China or the guy from Poland, we were in a good spot to win the bronze medal. Last year, he went 0-2 and I know it stung him a lot. But he made the adjustments — and he made everybody wrestle his match.
In the bronze-medal match, he got caught in that arm spin and I thought his arm was about to break off. Usually they stop it. But, he wrestled through it, got trap-arm gutted, gave up two turns, and was down 6-0. But you could see his face when the ref blew the whistle and he walked back on the mat. He stuck to his plan and started attacking and got to what he wanted to do, what he had talked about doing. And then he came out on top and got the pin.
I think all of his coaches lost about five to six years of our lives during that match. Nonetheless, hats off to Alston. He's one of the hardest-working guys in the country, if not the world. It's a long time coming for him, and it's just the start of many, many World medals for him and the United States. I'm just excited for his future. He's fun to watch, he puts himself in his positions, and that's what it takes to win. You have to score points, and you have to go out there and battle. If he gives up a couple of points, he is going to score more and get his hand raised.
So hats off to him, and hats off to Lucas Steldt and his club for getting their first World medal. That says a lot about Lucas, his program, and the type of person he is with his athletes. Hats off also to Andy Bisek for all of the work he puts in up there, as well as Rob Hermann, who was with Nutter for the first two years up there (at NMU). Nutter is a perfect example. If you want to wrestle Greco-Roman and become successful, Northern Michigan is a great place. Nutter left high school for this very reason, to win World medals, so I'm proud of him. Extremely, extremely proud of him.
5PM: Omania has had a very impressive run thus far and just ran into a very experienced, decorated athlete who kept superb position and scored when he needed to. Like Schultz, how was he afterwards? And also, what can you say about a day at the Worlds that was just so remarkable for Omania?
Engel: Peyton was in a great mood all day, he was out there having fun like Nutter. Last year, he went 0-1 and I know he was really discouraged because he works so very hard. Mark Halvorson, who has been a staple in the Greco-Roman community for many years and has coached Peyton since he was very young, knows what it takes to be at the top.
Peyton had a lot of good game plans. He did his warm-ups right. He cut his weight the best I've ever seen him do it, which at this level you have to do in order to be successful. Everything has to line up, you have to be doing the right things. And Peyton has been unbelievable with just a year's difference. All of his matches, same thing as Nutter. He wrestled from his positions — and when he didn't like the positions, he opened the guy up, got to his positions, got to his headlock and arm spins. He was throwing people around and it was so exciting to watch. That's what is so fun about Greco-Roman, when you see stuff like that.
Going into his semifinal match, we knew it was going to be tough. We watched a lot of film and the coaches talked with Peyton, and he was ready to go. He fought for six minutes and never gave up. He walked off the mat and held his head high. He cut his weight and is ready to go for tomorrow. There is no doubt in my mind that Peyton Omania is leaving here with a bronze medal to bring back to the United States.
We'll be ready to go tomorrow and come home with three medals, which I think will be huge. I don't want to speak too soon, but that's the goal — to keep winning more medals and improving Greco-Roman. Like I said yesterday, it is a really fun time to be a fan of Greco-Roman wrestling. Especially as a coach. You can sit back and watch these athletes gets after it, do exactly what they want to do, and get their hands raised against some of the best guys in the world.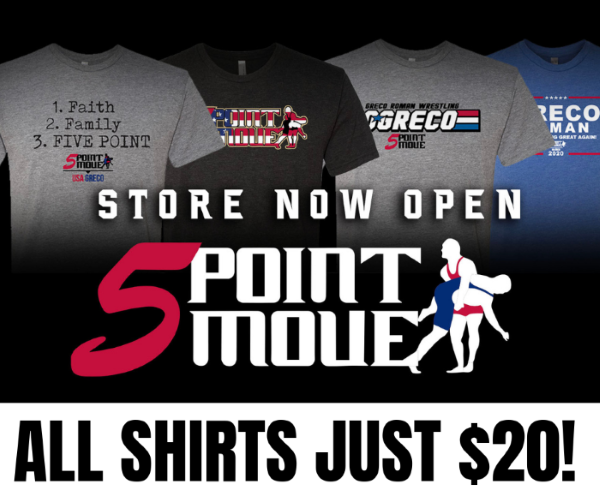 Listen to "5PM26: Princeton's Lenny Merkin and new USOTPC Greco-Roman athlete Nolan Baker" on Spreaker.
SUBSCRIBE TO THE FIVE POINT MOVE PODCAST
iTunes | Stitcher | Spreaker | Google Play Music | RSS
Notice
: Trying to get property 'term_id' of non-object in
/home/fivepointwp/webapps/fivepointwp/wp-content/themes/flex-mag/functions.php
on line
999