Peyton Omania (MSU/CYC) didn't just close out the 2019 Junior World Championships with a bronze medal, he did so in style. And he also helped the United States Greco-Roman program make history in the process.
The medal round on the third and final day of Greco action at the 2019 Junior Worlds in Tallinn, Estonia began at 6:00pm local time (11:00am ET) and aired live in the US on Trackwrestling.
Omania had his work cut out for him in Xin Huang (CHN), who was 5th in the World last year. If there were nerves for the American, it was hard to tell, as he prodded for openings throughout the early stages while leaning on his footwork to keep Huang on target. It was not an open pummel; Huang wedged his elbows in tactically but still engaged in earnest. Thing was, if Omania didn't press the issue, Huang likely wasn't going to.
So the CYC product took the initiative. As he had done numerous times on Saturday, Omania went to his duck-under. When he popped up, he wrapped Huang for a headlock near the boundary that netted four. Now operating with a brighter flicker of confidence, Omania wanted to check back into the tie-ups and fight for more scores. But they jousted for the remainder of the frame and USA entered the break ahead 4-0.
Huang demonstrated a touch more urgency in the second, naturally. He closed the distance and tried getting to work inside Omania's clutches. He'd pay for it, however. Following an exchange towards the edge, Omania yanked over another headlock, this time for two. But — Huang reversed and then exposed Omania for four more to trim his deficit to 6-5.
Omania kept his resolve. At the reset, he hand-fought searching for a handle. Even with enjoying the lead, he didn't want to rest — he just wanted to avoid unnecessary risk. That meant Huang had to come to him, which he did. But he wasn't going to threaten Omania any longer, not today.
The 6-5 decision provides Omania with his first World medal and gives the United States program its third from the Junior tournament this year — a history breaking feat in the modern era of international competition following the alteration in format (and expansion).
Notes:
The United States finishes the 2019 Junior World Championships in 7th place. Originally (and as reflected here), the expectation was a tie with Armenia for 5th place. Instead, Hungary with a bronze at 97 kilograms passed both the US and Armenia.
We will have a lot more in terms of follow-ups, including one more Q&A with Nate Engel, words from both Omania and fellow bronze Alston Nutter (63 kg, Sunkist/OTS), and a definitive wrap-up regarding notes and other particulars in tomorrow's Monday Roundup. 
2019 Junior World Championships
August 16-18 — Tallinn, Estonia
TEAM USA FULL RESULTS
55 kg — Dylan Ragusin (Izzy Style) — 19th
LOSS Mukremin Aktas (TUR) 8-0, TF
60 kg — Mason Hartshorn (NMU/OTS) — 19th
LOSS Mukjammadkodir Yusupov (UZB) 3-0
63 kg — Alston Nutter (Sunkist/OTC) — bronze
WON Zaur Nuriyev (AZE) via fall
WON Assaukhat Mukhamadiyev (KAZ) 5-2
LOSS Abu Amaev (RUS) 9-0, TF
WON Kamil Czarnecki (POL) via fall
67 kg — Peyton Omania (MSU/CYC) — bronze
WON Lee Jaewon (KOR) 13-5, TF
WON Ignazio Sanfilippo (ITA) 13-3, TF
WON Saurabh Saurabh (IND) 10-1, TF
WON Mohammad Mokhtari (IRI) 7-3
LOSS Giorgi Shotadze (GEO) 7-0
WON Xin Huang (CHN) 6-5
72 kg — Tyler Eischens (CARTC) — 10th
WON Deividas Subotkevic (LTU) 9-0, TF
LOSS Igor Bychkov (UKR) 5-2
77 kg — Jack Ervien (Takedown Express) — 23rd
LOSS Sajan Sajan (IND) 9-0, TF
82 kg — Zac Braunagel (IRTC) — 10th
WON Toyly Orazov (TKM) 9-0, TF
LOSS Satoki Mukai (JPN) 3-3 (criteria)
87 kg — Cameron Caffey (MSU) — 8th
LOSS Ilya Ermolenko (RUS) 10-0, TF
WON Kumar Sunil (IND) via fall
LOSS Jacob Logaard (SWE) 8-7
97 kg — Nick Boykin (Sunkist) — 20th
LOSS Markus Ragginger (AUT) 9-0, TF
130 kg — Cohlton Schultz (Sunkist) — silver
WON Dariusz Vitek (HUN) 10-2, TF
WON Aawesh Aawesh (IND) 9-0, TF
WON Youssef Ah Issa (EGY) 5-0
WON Lu Zhang (CHN) via fall
LOSS Aliakbar Yousofiahmadchali (IRI) 2-1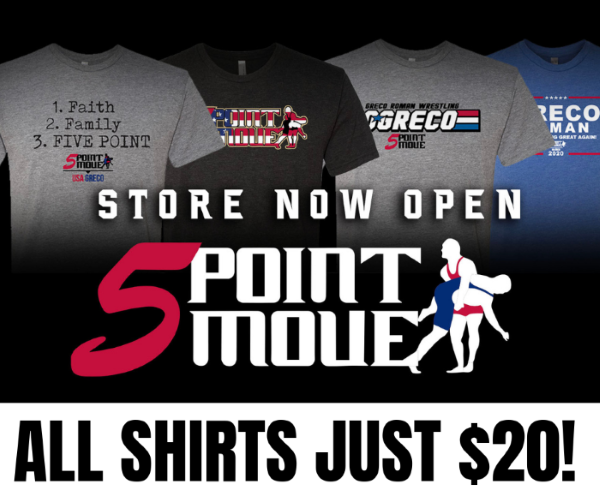 Listen to "5PM26: Princeton's Lenny Merkin and new USOTPC Greco-Roman athlete Nolan Baker" on Spreaker.
SUBSCRIBE TO THE FIVE POINT MOVE PODCAST
iTunes | Stitcher | Spreaker | Google Play Music | RSS
Notice
: Trying to get property 'term_id' of non-object in
/home/fivepointwp/webapps/fivepointwp/wp-content/themes/flex-mag/functions.php
on line
999