There was never a point between late-April and this past week when Nate Engel exhaled even a breath of doubt pertaining to the 2019 Junior Greco-Roman World Team. Not one.
Some of that, to be fair, has to do with Engel the human, not the coach. An optimist by nature who leans on positive thinking to guide his decisions, he can't help but search his mind for the best possible outcomes and do whatever he can to turn them into a reality.
When it comes to coaching wrestling, what with its litany of external factors, he plies his trade confidently and highlights attributes. Take the 10 athletes who comprised the Junior squad at the World Championships in Estonia and their collective makeup. Even though experience varied up and down the lineup, Engel consistently only saw strengths where others pained themselves to find weaknesses.
USA Greco Operations Manager Gary Mayabb is like that, too. It's why, during a relationship that now spans over a decade-and-a-half, they work so well together. And Engel, especially this year, has had plenty of other resources on the ground to consult with, as well. Men like Mark Halvorson, Bryan Medlin, Lucas Steldt, James Johnson, and of course, Herb House. When you say "World Team", reducing it to just the athletes falls a little short of painting the big picture.


That big picture for all intents and purposes in 2019 reads like this: the USA Greco Juniors are leaving the World Championships with three medals for the first time since these Worlds became certifiably legit. Cohlton Schultz (130 kg, Sunkist) took a step up the podium from last year with a silver — and Alston Nutter (63 kg, Sunkist/OTS) and Peyton Omania (67 kg, MSU/CYC) both earned bronze, with the latter winning his medal earlier today with an awe-inspiring effort against an excellent opponent in Xin Huang of China.
We talked to Engel following Day 1 on Friday. We talked again last night on the heels of Schultz and Nutter receiving their hardware. Therefore, it is only just and appropriate to close out what has been a thrilling and encouraging weekend by going back to the well one more time with the Junior World Team coach before he heads home from Estonia.
5PM:  Athletes, especially US athletes, have to create their own scores to win World medals. Is that one reason why you felt confident about Peyton, because you knew he'd give himself a chance offensively?
Nate Engel: Yeah, I can't agree with you more. For us to score points, we have to get to our attacks, move people, and score points to win matches. You have to score more points than your opponent to get your hand raised, and Peyton does a phenomenal job at that. He was moving guys the whole tournament. I mean, from his first match to his last match, he was so confident. I think one of the biggest things for him too was that his weight cut was unbelievable. This was the best I've ever seen him down to weight, and ahead of time. He was even a pound under this morning. Hats off to Peyton, he is really, really coming into his own.
I think a lot of that credit goes to Coach Mark Halvorson, who has been a backbone of Greco-Roman wrestling for so long. And also, Chris Williams over at Michigan State this past year. Peyton has such a great support system and I am extremely, extremely proud of him.
5PM: Was there anything special either Halvorson, Williams, or yourself had to say to Peyton after weigh-ins this morning?
Engel: You know, after weigh-ins, there really wasn't much said. Peyton got breakfast and was relaxing. Coach Mayabb told him not to gorge himself and to treat it like any other weigh-in, because there were more hours than usual after weigh-ins to compete. Just to treat it the same way so that he wasn't feeling heavy when it came time to compete. And Peyton did a great job at that. I am sure that Chris (Williams) said some stuff to do him. Halvorson, he is such a student of the game. He is watching film all the time and scouting opponents. His coaching is tremendous and a lot of it is broken down into a science and he does a great job at that. You look at Robby (Smith), Lucas Sheridan, Kenny Cook, and the guys who have come through CYC.
So, not much else was really said to Peyton. He's a veteran at this age group and he knew what he needed to do.
5PM: Was there a point during this bout where you felt convinced Omania was in the clear? I mean, you're never sure until time runs out, but was there a moment for you where watching it clicked and you were like 'Oh, he's got this…?
Engel: When it was the repechage and we scouted Peyton's potential opponents — whether it was going to be the Ukrainian (Vlasyslav Kravchenko) or Huang — we as a staff felt really confident no matter who it was he was going to wrestle. Peyton was just wrestling so well, with his style it doesn't matter if he's down by two or winning by six, he can always score points because he's so explosive. So when China won in the last :20 against Ukraine on a nice little slide-by, we all thought it was a great match-up for Peyton. But regardless of who was going to step up in that bronze medal match, he was going to put himself in his attacks and score points. And that's exactly what he did.
During the match itself, he started hitting his ducks and getting to the body. Then he hit that duck and took the guy to his back to score four points. We were in the back watching with Nutter, Coach Steldt and Coach Mayabb, and the rest of the guys were up top watching. From then on I thought, He's in control of this match. And then he got taken down and at one instance I think it was a two-point match, and then a one-point match. Peyton's par terre defense was unbelievable this weekend. If you watched all of his matches, he defended so well.
I felt from the time he slapped hands that he was going to win the match. Nothing was going to stop him. It's his last year of Juniors and he had come up short before. He wasn't going to let that happen. He wasn't going to leave Estonia without a medal. Hats off to him. In my mind, it was the toughest weight of the tournament and it was the biggest bracket of the tournament. He beat a lot of good guys here. I am excited to see what he's going to do at the Senior level and during his Division I career, as well.
5PM: This is historic, three medals and a finish among the powerhouse nations. You aimed high entering this week. Now that it's over, do you see this as possibly the beginning of a new standard of expectation? Or it it too soon to say that?
Engel: It was a tremendous weekend for Greco-Roman as a whole. The night before the tournament, my wife was over here talking to me like we always do before a tournament, just putting my mind at ease. She looked at me and asked, "What's going to make you happy, medal-wise?" I said, "I want to see us get three medals." Last year we got two and finished 10th and came up a little short of what I thought. The past couple of years I've said that we can bring home a trophy — and I still believe that. If a few things go differently for us, we can win a trophy. But I think three medals is awesome and we're only going to build off of that.
But it's been a long time coming from when Steve Fraser was there and left, and then Matt (Lindland) took over and hired Coach Mayabb. Those guys are working really, really hard, so it's awesome to kind of see that fruit fall off the tree. It's the first time in 35 years that we've won three medals and the first time with the new Junior age group.
I think as a whole that we've got to get back to work. There is so much more work. We finished in 7th place. We had a lot of coaches come up to us and they were like, Wow, USA!, and giving us a thumbs up. Georgia even came over and now they want to set up a training camp with us. I think a lot of people are seeing that it's changing. And like I said, credit to Coach Lindland and Coach Mayabb. I don't think those guys sleep. I mean, I've had to tell Coach Mayabb both last year and this year to make sure he gets some sleep because his brain is always thinking. They are amazing at what they do.
For us Greco-wise, we had to stay patient because we knew at some point it was going to happen, and it happened this weekend. I think it will bring momentum for the Seniors because I know the Senior athletes are working hard and they're going to start camp on Tuesday. I am excited to see what they can do in Kazakhstan, to get qualified and bring home some medals.
I don't think it's too soon to say that this sets a new standard or sets a new expectation. But as soon as we get back to the United States, these guys have to get back to work. Enjoy the medal for a week, enjoy the tournament. But then get back to work because there's a lot of work to be done. 7th isn't good enough, we want to finish first, we want to be the best country in the world just like we were in 2007. I truly believe that can happen. I know I'm always super-positive, but I've been able to see behind the scenes the past few years at training camps and by talking to Matt and Mayabb. They're putting the time in.
On top of that, we have a lot of coaches all over the country — Zac Dominguez, Coach Steldt, Coach Halvorson, Coach Medlin, Coach Brandon Paulson and his father Doug Paulson. That's where we're seeing the groundwork get laid down so that wrestlers become excited about Greco at a young age. They are successful and then they fall in love with it. So they keep working. They make U15 Teams, Cadet Teams, Junior Teams. They are used to being at the World Championships, and then when they get to the tournament, it's just another tournament for them. They don't get jazzed up like, Oh, it's good to just be a World Team member, because there are a lot of those.
I think Greco is in some great hands and I'm excited for the future. I appreciate all the support back home in the States. It was awesome to read Twitter and to see everyone talking about Greco. And now is the time for that because our athletes deserve the recognition and to see their hard work pay off.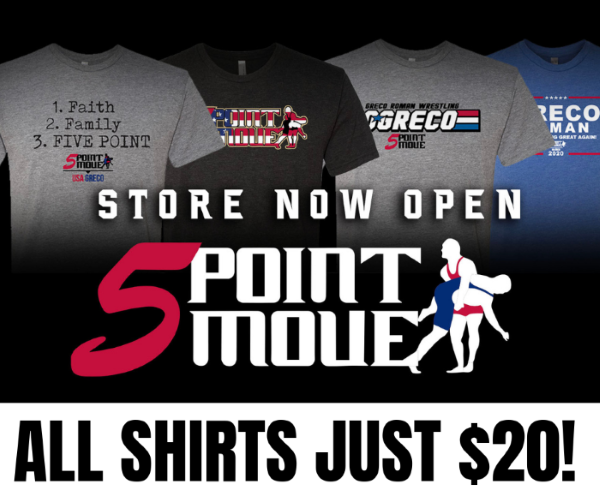 Listen to "5PM26: Princeton's Lenny Merkin and new USOTPC Greco-Roman athlete Nolan Baker" on Spreaker.
SUBSCRIBE TO THE FIVE POINT MOVE PODCAST
iTunes | Stitcher | Spreaker | Google Play Music | RSS
Notice
: Trying to get property 'term_id' of non-object in
/home/fivepointwp/webapps/fivepointwp/wp-content/themes/flex-mag/functions.php
on line
999