Youth. The United States program is overflowing with it, and now the younger generation is in position to make a sizable impact on the Senior level come September.
The Last Chance Qualifier for the 2021 US World Team Trials began at 10:00am local time on Friday in Fargo, North Dakota and aired live on FLOWrestling.
All of Robert Perez III's (67 kg, Sunkist) triumphs inside of the Fargodome prior to Friday were as an age-grouper but the native Californian is now developing into a promising Senior, as evidenced by his run to third in March's "Last Chance" event. 67 kilograms boasted only six participants. Alas, six is enough for a standard bracket, providing Perez with the opportunity for three matches.
All three were logged in his favor via stoppage.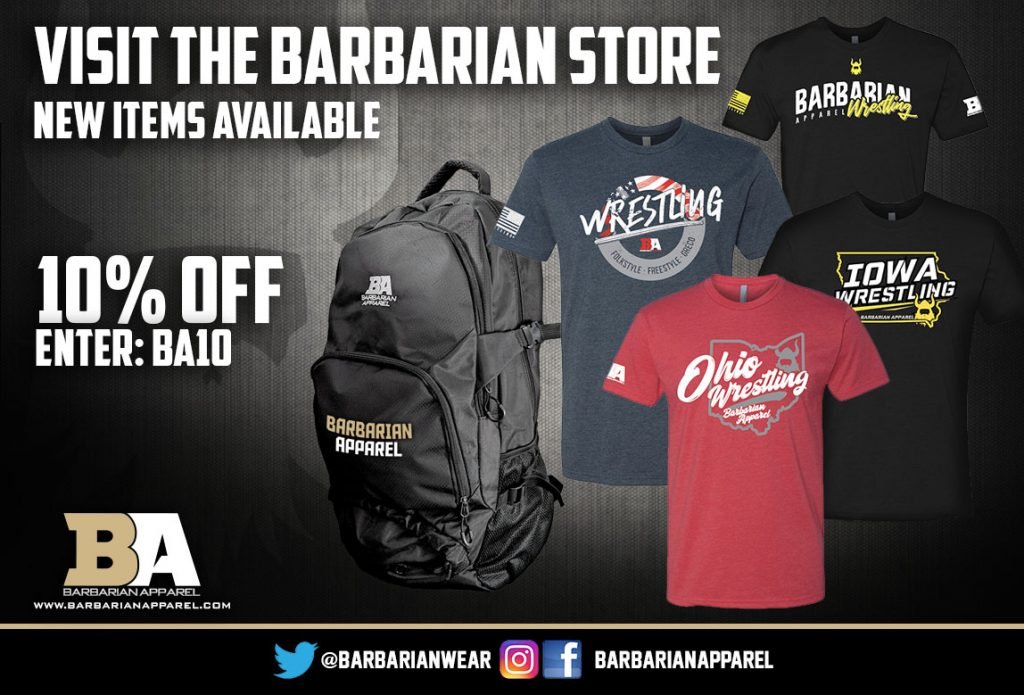 After downing both Justin Feldman (Betterman Elite) and Justin Kopet (MN) via tech, Perez found himself in the final round opposite Logan Savvy (Rise RTC). The pair divvied in the ties, with Savvy committing just a little more to the pummel than Perez. Workrate matters, particularly in opening periods, and it was Savvy who received the first passivity/par terre chance of the contest. Nothing was doing, and back up they were with just over a minute remaining before intermission. Following the reset, Perez underhooked and ambled his way to a takedown that he used to quickly convert a gut. Entering the second, Perez owned a 4-1 lead.
A step-out point shortly into the conclusive frame boosted Perez's advantage to 5-1. Time started becoming a factor for Savvy, whose sense of urgency compelled diligent, snappy attempts — the last of which led to his vanquishing. Looking for a big score coming off of an exchange, he had locked double-under's and went to arch. Perez quickly adjusted for the land-on-top and, in spite of Savvy doing all he could to escape from his back, the signal for the fall arrived with 1:14 left in the match.
Perez was a multi-time Fargo titlist in both styles as well as a member of the '19 Cadet Greco-Roman World Team. This past November, he also finished second at the UWW Junior Nationals held in Nebraska.
Two JR World Teamers Prevail
Billy Sullivan (55 kg) and Justus Scott (72 kg) — Legends of Gold-Las Vegas stablemates and members of the '21 Junior World Team — both secured first place in their respective weight categories on Friday, but in different ways. Sullivan, he took two straight in one-sided fashion from Cole Smith (Army/WCAP). Scott, on the other hand, engaged in a back-and-forth battle with Gabriel Lewis (Viking WC) that ended in his favor 10-7, with a late lift from Lewis responsible for closing the gap in their Round 1 bout. To close out his bracket spot in the Senior Trials, Scott won over former Williams Baptist athlete Zach Revier (MN) by sticking to a methodology that he will witness on full display at the Junior Worlds.
In the first period, Revier was dinged for passive and Scott after cranking a gut he had to fight hard in order to execute; in the second, Revier was again called for passivity, and Scott capitalized with another gutwrench. Two passivity points, two guts, and six points for Scott, who kept Revier off of the scoreboard till the end.
The scheduling of "Last Chance" coincided with the Nevadan tandem's preparation for the Junior Worlds in August. In past years, Junior World Team members had often received opportunities to compete outside of the country, or to at least participate in an overseas camp as a measure to hone in on foreign opponents. With '21 cutting short the availability of said trips and tournaments, Sullivan and Scott felt that throwing their proverbial hats in the ring this week was the next best option. Maybe their opponents weren't foreign Juniors, but both acknowledged live matches in a domestic Senior tournament can also serve a purpose with the right attitude.
"I originally wasn't going to wrestle in this but I decided to get some matches in beforehand to see what I could improve on for Worlds," Sullivan said Friday evening. "Also, I just didn't know that I wasn't qualified yet (for World Team Trials), so I figured I'd give it a shot and qualify for Seniors."
Sullivan spoke to another key point, as well: the routine of making scratch weight and then competing, something he had not done since winning the Junior selection process event back in the spring. That he has put on a little size (as planned) kept it fresh in his mind once the summer hit.
"I have actually been sitting fairly heavy with my weight, so a lot of this was to get down to weight and start trying to maintain where my weight is," the top lightweight prospect explained. "Here, we could simulate the same-day weigh-in and getting matches in, and making sure I'm still fluid."
Scott quickly agreed with Sullivan pertaining to the idea of having leveraged Friday's tournament into a training op for Russia. But it was also a marker in terms of confidence. Before he set fire to the Junior bracket in May, Scott was not a well-known national commodity. Fast-forward a few months later, and he has now won two important domestic tournaments back-to-back, one of which on the Senior level. Achievements such as these aren't lost on Scott, and he admits to taking notice of what has transpired for him career-wise recently.
"I think this says a lot," Scott remarked. "I think it helps with confidence, winning tournaments like this again. It really helps with my momentum going into Worlds."
Fanning Has His Day
One of the more eye-opening performances of the tournament belonged to Keaton Fanning (NMU/NTS), who was up at heavyweight on Friday. All told, Fanning had to fight through four matches to gain his spot, and not one of them was a breezy technical fall.  Fanning owned a criteria edge in the second period against Tom Foote (Southside WC) when the passive/PT chance arrived. There wasn't a turn on the mat, but Fanning touched up Foote with a late takedown for a 4-1 decision. It was an identical score in the next round for Fanning's encounter with Jay Miron (Southside), except the par terre shot yielded two of the NMU student's four points.
Round 3 of the bracket saw Fanning square off with former Olympic Training Center resident athlete Michael Rogers (NLWC) — but just after that match began, Rogers came down with an injury and was forced to default. That put Fanning in the "true final" against Courtney Freeman (Marines).
Fanning unfurled an arm spin that was good for two, and Freeman reversed ahead of coming through with a follow-up gut. They plodded a bit, but both were explosive in their entries. Pensive prodding would set up darting scoring windows, creating a juxtaposition of intent when it came to the hand-fight. Freeman seemed to prefer body attacks at the hips, while Fanning felt more comfortable availing opportunities around the arms and head.
They were evenly-matched otherwise, with the action towards the end of the first demonstrating each wrestler's strengths. Freeman zipped to a meaningful attempt near the edge — to which Fanning responded by looping the arms for a salto that tallied four. Scoring bogged down in the second, a natural byproduct for a rather up-tempo heavyweight clash. Freeman got a run on a takedown to make things interesting with a minute left, but Fanning stood his ground for the remainder — thus, like the rest on Friday, earning his first Senior tournament win.
Kukowski, Cunningham, & Hannah
Two young upper-weights who have the attention of the US program are Tyler "Truck" Hannah (87 kg, Combat WC) and Mac Kukowski (Minnesota Storm). Hannah is an exceptionally-experienced age-grouper with whom most of the country's feverish Greco base has come to appreciate; and along with Perez, was on the '19 Cadet squad along with having previously won in Fargo. Kukowski's name hasn't reached the rafters just yet, but he is an iron-tough, devoted full-timer who has begun to impress the more he is on a national stage.
Friday was proof of that.
Brandishing steely patience in addition to opportunistic technical know-how, Kukowski cut through the 97 kilogram bracket like a buzzsaw. In bunches the scores came, such as the Storm rep's opening-round win over Miguel Bray (River Valley) that eventually served as the clincher — and his proceeding victory at the expense of '20 Division III All-American Duncan Lee (IA), which ended early thanks to Kukowski's methodical par terre mechanics. Storm teammate Christian Rouleau touched Kukowski up in the first period of their match and led 3-1 heading into the break. Soon after the second period got underway, Kukowski countered a Rouleau throw attempt by wrapping for a hip toss variation. The sequence resulted in an immediate four points, but Kukowski held Rouleau on his back to nail down the pin.
Hannah earned his berth in the '21 Senior Trials needing to get past only one opponent: Lukas Poloncic (Minnesota Storm). Similar to Sullivan/Smith at 55, 87 kilos gave way to an automatic best-of-three. Hannah and Poloncic delivered an entertaining dustup to kick off their series. Arm spin attempts from the Wisconsinite were a featured technique from the outset, though Poloncic defended each try with nary an issue. It was 1-1 (criteria for Hannah) in the second when the floodgates opened.
First, Poloncic was credited with two for stymying an arm throw try and spinning behind, only to have Hannah gain back two of his own from the ensuing scramble; a big over/under throw for Hannah came next, lofting four more in his direction. Then, Poloncic scored on a takedown before a ketchup time-out broke up the party. A reset, and Poloncic — who appeared as fresh as could be late in the game — blasted forward on a high dive. He got to the body and was in position, yet Hannah still managed to turn it into his own scoring hold and pound out another huge throw. Poloncic challenged but the call was upheld, giving Hannah one more point in what read as a 12-5 decision.
Match 2 did not carry forth the same element of drama. Hannah bodylocked Poloncic twice, both holds netting four, and the series was in the books :90 into the first period.
No, it wasn't the toughest tournament in history for Tyler Cunningham (82 kg, MWC). One match. That's it. That is all it took. But one match, for a prospect like Cunningham, can set the record straight.
Cunningham duked it out with Jordan Lara (505 WC) in Round 2 of the 82 bracket and, a minute into the first, bombed a five. He wasn't finished, of course, as Cunningham added a takedown and another throw to force a halt to the match. A showdown with teammate, '19 Fargo champ, and recent Junior Trials runner-up James Burks was in the cards for the final round of the bracket, but the bout was not contested.
Hicks, Nutter, & Perez
Marine Corps newcomer Thomas Hicks went 2-0 in the three-man round robin at 60 kilograms to qualify for his first Senior Trials. Hicks struggled with Johnny Masopust (Betterman Elite) in the opener, while '19 Fargo titlist Camden Russell (MWC) got going quickly against Masopust in the proceeding round en-route to an 8-0 tech. On paper entering the final, Russell owned the edge in experience and credentials, but it was Hicks who wouldn't be denied. A long, long challenge review which saw Hicks ahead 1-1 was but a mere preamble. When action resumed, Hicks gained four off of a throw near the boundary. A short time later, Russell locked the body but Hicks countered with his own lock and torqued his antagonist over for four more. Russell opted for a challenge, and the call was not changed — adding one more point to Hicks' ledger in what became a startling 10-1 VSU for the upstart.
Aiden Nutter (Combat WC) — younger brother to '19 Junior World bronze and National runner-up Alston Nutter (67 kg, Sunkist/NTS) — had never registered for a Senior competition before Friday. By the time wrestling was halted in the afternoon, that little piece of trivia was hardly a footnote. Nutter took three bouts in the 63 bracket (plus a forfeit). Two of his wins were recorded via technical fall, while the lone decision was a 5-0 shutout at the expense of elder statesman Farrokh Safaeinejad (SWAT), who was one of their weight category's more underrated yet capable entrants. Nutter was decisive in the right spaces on Friday, and his timing and feel for on-the-mat offense appeared to come naturally. He is an athlete who has options at his disposal should he choose to pursue a full-time career.
Multi-time NCAA Division I qualifier for Campbell University, Quentin Perez (Navy/USMC RTC), hadn't been pegged as a contender for Senior Greco — but a pin, three VSU's, and first place can alter perceptions in an instant. Perez, aside from surrendering two from a correct hold against Tony Raupp (Minot MatWrats), was virtually untouchable at 77 kilos.
After he rolled through and pinned Raupp, Perez went to work on Rashad Kennedy (MN), Austin Farabaugh (Army/WCAP), and Jared Fekete (NC). There is rawness and the need for a climb in authentic classical style nuance (much of Perez's dominance hinged on his ability to scramble and then capitalize); but the blueprint is clearly available, and now Perez will be one of several intriguing new characters demanding attention once the Trials arrive in September.
2021 World Team Trials Last Chance Qualifier
July 16 — Fargo, ND
FINALS RESULTS
(*Note: finals are designated as matches determining first place for the victor; or in the case of 55 and 87 kg, the series outcome.)
55 kg
Billy Sullivan (LOG-LV) def. Cole Smith (Army/WCAP) 2 matches to 0
Match 1: Sullivan def. Smith 8-0, TF
Match 2: Sullivan def. Smith 10-2, TF
60 kg
Thomas Hicks (Marines) def. Camden Russell (MWC) 10-1, TF
63 kg
Alston Nutter (Combat WC) def. Farrokh Safaeinejad (SWAT) 5-0
67 kg
Robert Perez III (Sunkist) def. Logan Savvy (Rise RTC) via fall
72 kg
Justus Scott (LOG-LV) def. Gabriel Lewis (Viking WC) 10-7
77 kg
Quentin Perez (Navy/USMC RTC) def. Rashad Kennedy (MN) 8-0, TF
82 kg
Tyler Cunningham (MWC) def. Jordan Lara (505 WC) 11-0, TF
87 kg
Tyler Hannah (Combat WC) def. Lukas Poloncic (Minnesota Storm) 2 matches to 0
Match 1: Hannah def. Poloncic 12-5
Match 2: Hannah def. Poloncic 8-0, TF
97 kg
Mac Kukowski (Minnesota Storm) def. Miguel Baray (River Valley) 10-2, TF
130 kg
Keaton Fanning (NMU/NTS) def. Courtney Freeman (Marines) 6-5




Listen to "5PM50: Mr. Fantastic Benji Peak" on Spreaker.
Listen to "5PM49: Robby Smith on coaching, fatherhood and mentors" on Spreaker.
Listen to "5PM48: Austin Morrow and Gary Mayabb" on Spreaker.
SUBSCRIBE TO THE FIVE POINT MOVE PODCAST
iTunes | Stitcher | Spreaker | Google Play Music
Notice
: Trying to get property 'term_id' of non-object in
/home/fivepointwp/webapps/fivepointwp/wp-content/themes/flex-mag/functions.php
on line
999