"The reason I play so hard is that somewhere out there is some kid who has never seen me play before, and I don't want to disappoint him." Attributed to Joe DiMaggio, this quote has floated around the periphery of baseball and other "major sports" for the past six decades. The reason why it still resonates is not abstract. DiMaggio — despite a litany of off-the-field perceived character flaws, most of which have long since been well-documented — treated his given profession with the accountability he thought it deserved. Therefore, so too should every athlete, or so it goes.
Was DiMaggio equally motivated by team wins, stats, and the Yankees' bonus structure of his era? Presumably. Pride, certainly, factored into the equation, as well. The all-time great's bullish insistence upon his own athletic superiority when compared to contemporaries is the stuff of legend, and makes for entertaining reading even when the words are off-putting. But DiMaggio also recognized that everyday people were watching and, what's more, that they cared. They were passionately invested in his performance, which was enough for him to maintain effort at a constant.
He never took it for granted, what happened on the field.
In the same way elite-level wrestlers who make Olympic Teams never take for granted what happens on a mat.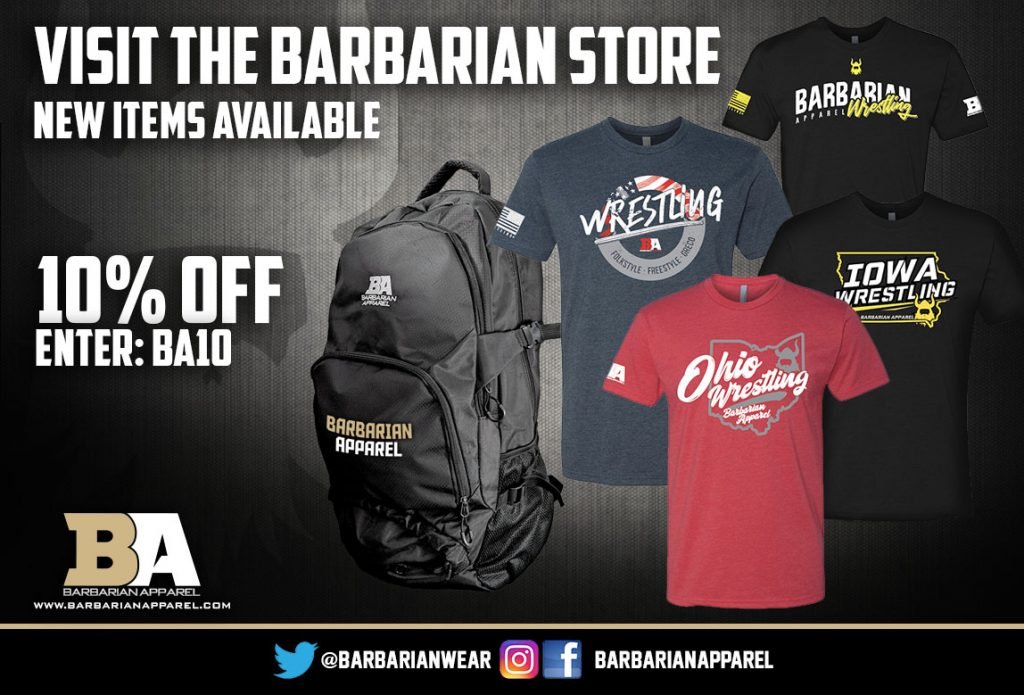 It is not money what gets wrestlers out of bed. Particularly American Greco-Roman types, who rarely enjoy the relative fruits of their labor in the form of sponsorships or other facets of extracurricular financial support. How about statistics? Neither of intense interest to combatants, although ruminating about numbers might help to generate conversation. Team wins in the most individual of individual sports likewise matter only to a degree, and more from an emotional standpoint than an incentivized one.
Fame? For Greco wrestlers? In America? Nah, too many jokes, not enough time.
Is pride a source of motivation? Insofar as proudly having the opportunity to represent the United States on the grandest sports stage of them all. Tis where it ends.
Greco, on every continent, in every nation, does not center around pride, but rather, dignity. While battle is being waged, all realms of the superficial cease to exist. Greco-Roman athletes are not elbowing, clubbing, and throwing because doing so offers thrilling theater to onlookers. They would, to a man, gladly engage in all of their bruising but fleeting skirmishes for free inside of mostly empty arenas (which in Tokyo, unfortunately, will be the case).
Greco-Roman wrestlers most assuredly want you to watch. But whether you do or not is inconsequential to the objective. Such is life when mired in an activity that necessitates fighting another human for every square centimeter, trying like mad to manipulate one position and translate it into a scoring hold. Wrestlers are indeed aware of their surroundings, and fan support can sometimes help carry a weary soul to the finish line.
But they don't do it for that. For any of it. The shadows cast by flashier, glossier freestylers doeth not allow for United States Greco-Roman competitors to enjoy the warmth of a midday sun. Thus all of their most meaningful moments transpire in the shade, forcing many of us to drag ourselves under a tree to ensure that we don't miss a thing.
And now the Olympics
Over the past four years, Ildar Hafizov (60 kg, Army/WCAP, world #1), Alex Sancho (67 kg, Army/WCAP), John Stefanowicz (87 kg, Marines), and G'Angelo Hancock (97 kg, Sunkist) have each — in their own ways and often under unique, difficult circumstances — expressed uncommon ability and fortitude while devotedly trudging up the pathway that will lead to Tokyo early next month.
People noticed. Many people noticed.
Just not enough people.
On rubbery legs and with burning lungs, this foursome, at various times, trained and competed on four continents, in over a dozen countries, and did most of their bidding apart from the lights and cheers and adoration normally associated with athletes who have reached the pinnacle of their sport. It has made no difference to them. They never expected to be followed or embraced. Unlike DiMaggio, the 2020 Greco-Roman Olympians were without the luxury of an eyes-glued segment, or a cognizance that each pummel and clutch score had the potential to make a lasting impression on first-time viewers.
Instead, they always had this upcoming tournament wedged somewhere in the back of their minds.
Now awareness has, thankfully, increased. An unsurprising occurrence, for Olympiads have a tendency to shine a begrudging light on the good and great work achieved throughout the previous four years.
Their Two Most Meaningful Victories
Eight matches fall woefully short of providing a fair and full rendering of the '20 Greco-Roman Olympians respective capabilities. The purpose is not to embark on a grand exploration into each of the four Olympic Team members' careers, but merely to illustrate context. They are who they are, and where they are, for a reason. And with the most significant, high-profile event of their lives now less than two weeks away, an arrow pointing towards appropriate frames of reference is in order — especially for those who might feel inclined to dig a little deeper when time allows.
Ildar Hafizov — 60 kg
1. vs. Andres Montano Arroyo (ECU)

WHEN: March 13, 2020
WHERE: Pan-American Olympic Qualifier quarterfinal – Ottawa, CAN
Montano was identified as a severe obstacle for all involved in the 60-kilogram bracket at the '20 Pan-Am Qualifier — and some in the US prior to the tournament had a feeling that Hafizov would be paired with Montano in the first round. Their instincts were correct. In what was the most tense bout for any American that day, Hafizov was sharp, poised, and opportunistic during the match's most crucial moments. A counter double-overhook toss near the edge in the second period proved the difference for Hafizov, who eventually advanced to the final, thus qualifying 60 for Tokyo. 
2. Sailike Walihan (CHN)
WHEN: October 23, 2019
WHERE: Military World Games quarterfinal – Wuhan City, CHN
A month following the '19 Senior Worlds — where Hafizov was decisioned by '18 bronze Lenur Temirov (UKR) and eliminated — invited a quick turnaround for a few on the US Team, including Hafizov. He was disappointed with not qualifying in Nur-Sultan, and the Military Worlds offered at least the chance to right the ship. That it did. In his second match, Hafizov launched World bronze Walihan for four late in the second period, and those four points held up the rest of the way. The victory provided a catalyzing effect. Hafizov did drop a decision to Ri Se-Ung (PRK) in the semis, but torched Armenian Tigran Minasyan for bronze. 
Alex Sancho — 67 kg
1. vs. Mate Nemes (SRB)
WHEN: March 11, 2017
WHERE: Grand Prix Zagreb Open final – Zagreb, CRO
A sizable portion of Sancho's international reputation stemmed from this tournament, and this match in particular. It wasn't just that Sancho defeated Nemes — who earned World bronze in '19; it was how he scored. There was no ordered par terre that season, which was intended to prod more scoring chances on the feet and increase overall initiative. So, when Nemes hawked over the top of Sancho during an exchange, the American capitalized by injecting dose of innovation. He reached up and around Nemes, shifted his hips, and pulled the Serbian over the top for a precious haul of points that resulted in his first overseas gold. 
2.  vs. Ellis Coleman (USA)
WHEN: April 3, 2021
WHERE: US Olympic Team Trials finals, Match 2 – Fort Worth, TX
The danger posed by Coleman in Match 2 of April's Trials was more than significant. The decorated warrior had held a 1-0 passive lead heading into the second period; and, due to the nature of the rule-set, it was assumed that if no scores were recorded within the next :90, Sancho would have his shot from top PT. Although the passive point brought with it a criteria advantage, Sancho had to score, lest he risk Coleman turning up the jets with time a factor. Lifts, of any variety late in important matches, are often difficult for elite athletes. Add in that Coleman knew very well what to expect and how to defend, and it was harder still. But with all his might, Sancho got his lock and was just able to turn Coleman at the boundary. The most clutch score of his career thus far. 
John Stefanowicz — 87 kg
1. vs. Alan Vera (USA)
WHEN: April 2, 2021
WHERE: US Olympic Team Trials Challenge Tournament semifinal – Fort Worth, TX
Cut the pretense: Vera was viewed by the overwhelming majority of the US wrestling populous as the odds-on favorite at the Olympic Trials. He had earned this distinction by running roughshod over virtually everyone in the US at 87 kilograms not named Jon Anderson. Stefanowicz was more than a sleeper in the bracket, certainly, as a returning World Team member. But the optics were the optics, regardless of Stefanowicz's own substantial body of work. Most also failed to account for the Marine's brushless motor that hums at the highest gear. Deep into the second period and trailing 3-2, Stefanowicz bodied Vera for four to the shock of many, and yet again demonstrated how a stubborn refusal to lose can lead to unforgettable moments. 
2. vs. Geordan Speiller (USA)
WHEN: May 17, 2019
WHERE: US World Team Trials semifinal – Raleigh, NC
One of Stefanowicz's most relevant wins came against Speiller in the '17 Trials semis thanks to a timely correct-throw-arm-throw. That match was expected to be tight, and it was, but Stefanowicz was physically viable enough to deliver in the clutch. Two years later in the '19 WTT semis, Stefanowicz was operating on what was essentially one leg and hadn't trained, not adequately, anyway, in nearly a month. And it…did…not…matter. A canvassing of dominance few could have saw coming. Stefanowicz hit one arm spin, received a chance on par terre top, and gutted the talented Speiller twice for a dazzling VSU one might suppose helped propel the popular Marine to the lofty status he now enjoys. 
G'Angelo Hancock — 97 kg
1. vs. Nikolai Bayryakov (BUL)
WHEN: August – 2018
WHERE: Wladyslaw Pytlasinski Memorial final – Warsaw, POL
Hancock had bodylocked and pinned multi-time World/'16 Olympic Champion Artur Aleksanyan (ARM) in the semifinal, which is easy to peg as the biggest triumph of his career up to that point. But, it wasn't. Everyone thought it was, many likely still do. There is no doubt that Hancock's destruction of Aleksanyan is defined as a "signature win". Except the problem is that Nikolai Bayryakov (BUL) still awaited in the Pytlasinski final. Bayryakov was the furthest thing from a pushover; and though he is without the glossy credentials beholden to someone like Aleksanyan, the Bulgarian was more than capable of ushering Hancock into a letdown following such a momentous victory. What Hancock did to ensure that didn't occur was simple: he patiently and systematically broke Bayryakov down to where he could not be threatened. It was a beautiful match. Hancock completely stymied Bayryakov in the ties by moving in and out of angles that forced constant adjustments. Par terre scores in both periods equated to four points in a 6-0 shutout that saw the opposition gasping for oxygen once the conclusive whistle mercifully sounded.  
2. vs. Fatih Baskoy (TUR)
WHEN: February 23, 2019
WHERE: Hungarian Grand Prix final – Gyor, HUN
Wrestlers control only one variable in each and every match: their own output. And output largely hinges on two factors, conditioning and decisiveness. 
Hancock and Baskoy had met once before their '19 Hungarian final. In the qualification round of the '17 Worlds, the American had earned a 3-0 decision that brought with it his first look at Aleksanyan. 18 months later both were improved. What's more, there was familiarity. Hancock knew he could keep Baskoy honest in the footwork department, and Baskoy understood that he had to meld his shorter frame into deeper, longer-lasting positions. Because forced par terre was back in the curriculum, both seemed to deploy solid strategies. It was 1-1 for the Turk more than midway through the second period when he busied Hancock down and off the line for two points. Hancock rose wearing an expression that suggested he just about had enough. And on the very next restart, he quickly shucked behind Baskoy and forcefully pulled him down to the tarp for a takedown. No emotion, no overtrying. He knew had to score, he knew he could, and did not hesitate. The fact that it had also meant gold at one of international Greco-Roman's cornerstone events only served as a reminder of Hancock's immense capabilities. 




Listen to "5PM50: Mr. Fantastic Benji Peak" on Spreaker.
Listen to "5PM49: Robby Smith on coaching, fatherhood and mentors" on Spreaker.
Listen to "5PM48: Austin Morrow and Gary Mayabb" on Spreaker.
SUBSCRIBE TO THE FIVE POINT MOVE PODCAST
iTunes | Stitcher | Spreaker | Google Play Music
Notice
: Trying to get property 'term_id' of non-object in
/home/fivepointwp/webapps/fivepointwp/wp-content/themes/flex-mag/functions.php
on line
999