Christmas is here, 2020ne almost is, and seemingly out of the clear blue sky, a surge of positive vibes can be felt, which underscores this latest report with US National Team head coach Matt Lindland.
The theme is activity, both in the recent past and, perhaps, in the near future. First on the agenda is the lightweight camp held earlier this month at Legends of Gold in South Dakota. For those who might remember, the collective at LOG was comprised of many top age-group athletes mixed in with just a few more established names. Wrestlers in attendance had the opportunity to train and lodge within LOG's "bubble" setup, and it was also Coach Lindland's first appearance at a major camp since prior to the pandemic.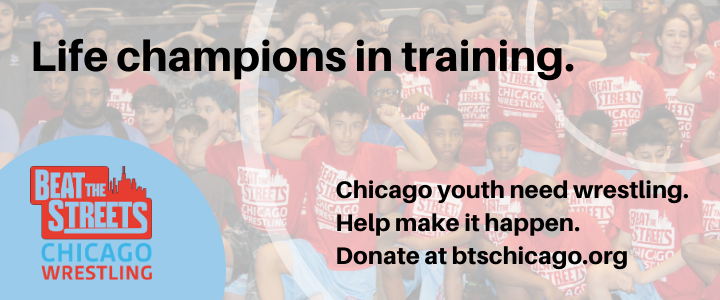 A quick look at international competition follows. Just short of two weeks ago the Individual World Cup dominated the news thanks to its generous helping of elite-level competitors. Lindland provides his perspective on the event and why he was glad to witness the proceedings unfold as seamlessly as they did.
What comes next is of particular importance for the US program. Earlier this week, United World Wrestling announced that the Matteo Pellicone "Ranking Series" tournament that was originally scheduled for January had been moved to March. This change in plans could prove to offer a substantial benefit for the Americans, provided restrictions fail to hinder potential travel. But that's not all. The Ukrainian International Tournament in late-February is expected to become availed, as well; plus, momentum is headed in the right direction when it comes to a potential US clubs duals series even before that event takes hold.
To close out, the Coach shares what this Christmas means to him on the heels of what has been a turbulent year for most everyone.
5PM: South Dakota camp at Legends of Gold had the "bubbled" aspect, and of course many young, up-and-coming lightweights along with a few veteran guys. First, what was your impression of the bubble setup? And second, given that some athletes had been active recently and some haven't, how did you feel about what you saw in terms of on-the-mat concerns?
Coach Matt Lindland: First of all, I was just pleased to have the opportunity to work with athletes again coming off of a big turnaround in Canada. We had that big high of qualifying four weights and feeling really confident that we had multiple paths to getting 77 and 130 kilos qualified. And, I still feel good about that situation. But for me, I was just thrilled to get back and work with athletes again. I certainly made an effort to get to both camps. I drove up the night before and spent a couple of sessions with the upper-weights.
The South Dakota athletes were just a little younger. I think Sammy Jones was kind of our elder statesman there and he is still a pretty young guy. But other than that, you know, Benji Peak would still claim that he was the best guy in the camp. Just ask him, he will tell you (laughs). Most of the guys at the Legends of Gold camp were young dudes but really talented. I mean, Robert Perez just battling with these Senior dudes. We also had Zane Richards and Nick Dardanes there, a couple of freestylers, and those guys were just a pleasure to have as part of this camp. They were just like our Greco athletes — grateful for the opportunity to get together, train, interact with one another, share ideas and concepts.
There are all of these things that you think about while in quarantine. You are watching video and trying to do some pummel bands or strength-and-conditioning stuff, but there is nothing like grabbing hold of a guy and throwing him to the floor. It was just fun to see these guys experience a lot of joy. There was a lot of joy in both camps. I thought it was going to be exclusive to our (lightweight) camp just because it was a bunch of younger guys with only a few elder statesmen mixed in there. I was thinking, These guys are just happy to be here and have the opportunity to work out together. But then I went to Omaha and you've got Pat (Smith) and Adam (Coon) up there, true veterans of our program, and they had the same attitude. They were happy, they were smiling, and just grateful to get on the mat, grateful to connect with one another and with the coaches. It couldn't have been a better experience.
At South Dakota, we tested that "bubble" theory that the NFL and NCAA programs have put in place by spending millions of dollars so they can make billions of dollars for their sports. Meanwhile, we were doing it just so we can get guys back on the mat and prepare for the Olympic Games. But we did an outstanding job of following our COVID advisory panel. Our trainer, Corey James, helped us come up with a strategy to stay safe and protect one another from the virus stuff. All in all, it went well.
We are going to up our numbers and do another camp in January. The travel dates for that with be the 10th and the 23rd. For a lot of guys, it might not be the right time to go overseas or they are unable to prepare themselves. I mean, training has been tough. You know what I'm talking about. Training has been tough and just to get consistent good training partners, so it was great to have that first camp go off without any issues.
5PM: The Individual World Cup just came and went. Sure, there were more than several prominent programs missing, but plenty of medalist-types were there. How did you yourself enjoy the event, assuming you caught some of it?
ML: It was fun to watch some international action again at the highest level, although like you said, some of the top guys weren't there. The US wasn't there and I consider us one of the top programs in the world. But you saw teams like Russia step up and put on a great performance. The Kyrgyz team, I love that program, the coaches. I mean, they don't have a lot but they are very thankful for what they do have and they fight with every ounce of their energy and spirit. I have gotten to know some of those guys since my first World Championships as National coach in Uzbekistan. The Kyrgyz team was bringing me food in between sessions and all kinds of stuff (laughs). I have really gotten to know those guys and appreciate them. I root for them, but I typically root for anyone who is going against the Russians. I just like their program, their people and the coaches. I like the Kazakhs, as well, but it was good to see competition again.
I think it spurred some conversations at UWW to make some calendar adjustments — and, those adjustments were being thrown around on Monday and then we all saw what happened on Tuesday when they restructured our schedule.
5PM: Okay, so there we go, let's get into this a little bit. The Matteo Pellicone "Ranking Series" tournament has just been pushed back from January to March. US athletes were not going to participate in that if it were in January, though March one might think there is a good shot of that happening. At the same time, that is also two weeks and change from the Olympic Trials. Meanwhile, there are other opportunities which could open up after the New Year. At this time, what are the options and will you be able to mobilize training and travel plans?
ML: You're right about just getting that information. We received it early in the morning yesterday. I was expecting it today, but we got it in the morning yesterday. We already had backup plans in place. We had backup plans upon backup plans. We were hoping Pellicone was going to occur and that we would be able to take some athletes over there; but honestly, after talking to more guys and seeing who was ready, I think everyone saw the writing on the wall that January was a little early. We had been hearing that it was unlikely even though it was still on the schedule. A lot of people around the world were looking at that UWW schedule and making plans specifically around those dates. But we had an inkling that things were going to change.
After the Individual World Cup, I think there were some meetings to be had and some real positive things came out of that if you listen to the congress meeting UWW posted on YouTube. We got hit worldwide by this pandemic that took over and we have been able to adjust. Who adjusts better than wrestlers? It (Individual World Cup) was scheduled to be a World Championships. In fact, it wasn't even on the schedule originally. Then it was a World Championships, then it was a World Cup. They got through it and learned a lot of lessons, and I think they just said, Let's push some of these dates back. 
Like I said, I had backup plans. One of them was Zagreb and that kind of got taken out from underneath us. USA Wrestling is going to send an entire delegation to Nice, France for the Henri Delgane tournament. We will have the Marine program, who have been consistently training but have not competed — any of them — since back in March at the Pan Ams. The ranking event in Rome will be almost a year for them, which is why I think it is critical for them to get over there and get on the mats in France. For their health, for their psyche. Physically and mentally, they are ready to go compete. I am so happy that they are going to get that opportunity.
Joe Rau has already been in Europe training. He has changed his plan from Pellicone to getting some matches in Nice and then he'll stay over and train a little longer. Pat Smith — who is always eager, willing, ready, and has been training — is the other athlete who is going over at this time.
I'm supporting that, and I am supporting the guys who come out to our camp in South Dakota in lieu of going over to Europe right now. I think it is really critical for our athletes because things are starting to happen now. It's Christmas, the first of the year will be here soon and we will have the opportunity to get our first camp in. It will be a typical January camp that we normally see before our winter tours, but winter tours for us? That first one is going to be March. We will be taking a big delegation with us to that Rome ranking tournament, which will be the first one for us.
We are also working on a Clubs Cup event at the Emerald Queen Casino. It looks like we will be traveling into Seattle on the 15th of February, have a short mini-camp there, and then have two days of competition from the 20 to the 21st. Then the Pellicone trip will follow that. So, we'll get some training and competition together in Washington and then get ready for our first international event.
I think the timing couldn't be better. I think we're lucky as far as the date being moved for Rome, but all of us coaches and our stakeholders have been talking about how to get our guys back on the mat training and competing. So, we started working on putting this Clubs Cup thing together about a month ago; and then yesterday, the new schedule popped. I also think there might be an opportunity for guys to go to Kiev (Ukraine) from February 25th through the 27th and then go to Rome. We will take our #1's over to Rome the following week. We'll get our guys a little more recovery time. Ideally, for our guys who want to get overseas, I think looking at that even in Ukraine is going to be a great opportunity and then we're going to take our National Team guys to Rome. Two really good opportunities for everyone six weeks before the Trials. After we get back from Rome, guys will have over a month to prepare themselves with their personal coaches and clubs for the Olympic Trials. And then, it will be time for to select a Team.
5PM: When Christmas comes each year, it seems to bring a time for reflection. This is has been for you, on the mat and off, quite the year, to say the least. What does this Christmas mean to you?
Coach Matt Lindland: Well, I think Christmas always means a lot to me. First off, it is the birth of our Savior. That is what I always have to put first and foremost and remember why we celebrate, why we take that day off. It is about Who we are celebrating and Who we are worshipping, and that is our Savior, Jesus Christ.
But yeah, it has been quite the year. I lost a friend on the river, I found out I had cancer, the whole world got shut down and everyone has been dealing with that. But at the end of the day, I just feel so blessed.
I don't care what's going on around us. The world could be in chaos — which it is. We've seen riots, we've seen pandemics, we've seen everything during this year in 2020. But I have a lot of peace in my soul. Maybe part of it is that I am back in the woodlands for Christmas. I spent the first part of the spring here after I got back from Colorado. Right after the lockdown ensued, I came out here to the woodlands in the Pacific Northwest. Just being connected with nature on a constant basis and living amongst the trees and the forest, I don't know what it is, I just feel so blessed.
During the summer in July, my daughter got engaged and had the opportunity to baptize her in Big Creek, which is only about a mile away from my cabin. Even got down and caught a couple of salmon. Life is good. This year it will be 30 years that I have bee married to the most amazing woman I ever met. My kids are adults. They have their own lives, and this will be the first Christmas I don't spend with my daughter, Robin, because she is going to spend this one with her in-laws in Bend, Oregon, on the eastern part of the state. We had a Christmas on Sunday where James and his girlfriend, Robin and her fiancee, and my mother-in-law showed up and we had a Christmas dinner. After that, we headed back to the cabin. James is coming over for Christmas. You know, he's had a tough year, too. He works in the medical field, right at the hospital, day-in and day-out. He has had a tough year, I've had a tough year… Everyone has had a tough year.
But I feel great. I feel so blessed and happy. Optimistic. Wrestling is coming back. We have schedules, plans… Things are happening. We are going to start executing plans. We just had a successful camp and the next one is coming up on the 10th of January. Things are happening and we're moving forward. Our boss Rich Bender likes to say "The morning's coming". Sometimes, it looks bleak and it is hard to believe that, but I can definitely see the daybreak right now for the entire world and especially our program.
It is early in the morning. It is time to get up now, get after it, and have that sense of urgency our program aspires towards. We need to not just talk about it but also show that we have a sense of urgency.


Listen to "5PM43: Christmas Time with Millersville's Kerry Regner" on Spreaker.
SUBSCRIBE TO THE FIVE POINT MOVE PODCAST
iTunes | Stitcher | Spreaker | Google Play Music
Notice
: Trying to get property 'term_id' of non-object in
/home/fivepointwp/webapps/fivepointwp/wp-content/themes/flex-mag/functions.php
on line
999