Three for three. That's your tagline.
The second day of Greco-Roman action at the Pan-Ams went according to script in terms of the outcome. With the manner in which the weight categories were separated, only three wrestlers for Team USA had assignments: Olympic Trials runner-up Peyton Walsh (77 kg, Marines), Ben Provisor (82 kg, NYAC), and Olympic Team member John Stefanowicz (87 kg, Marines). They all earned gold, as expected — though that doesn't mean it was always a walk in the park.
The final round on Day 2 of the Pan-American Championships began at 5:00pm MT (7:00pm ET) and was broadcast live in the US on FLOWrestling.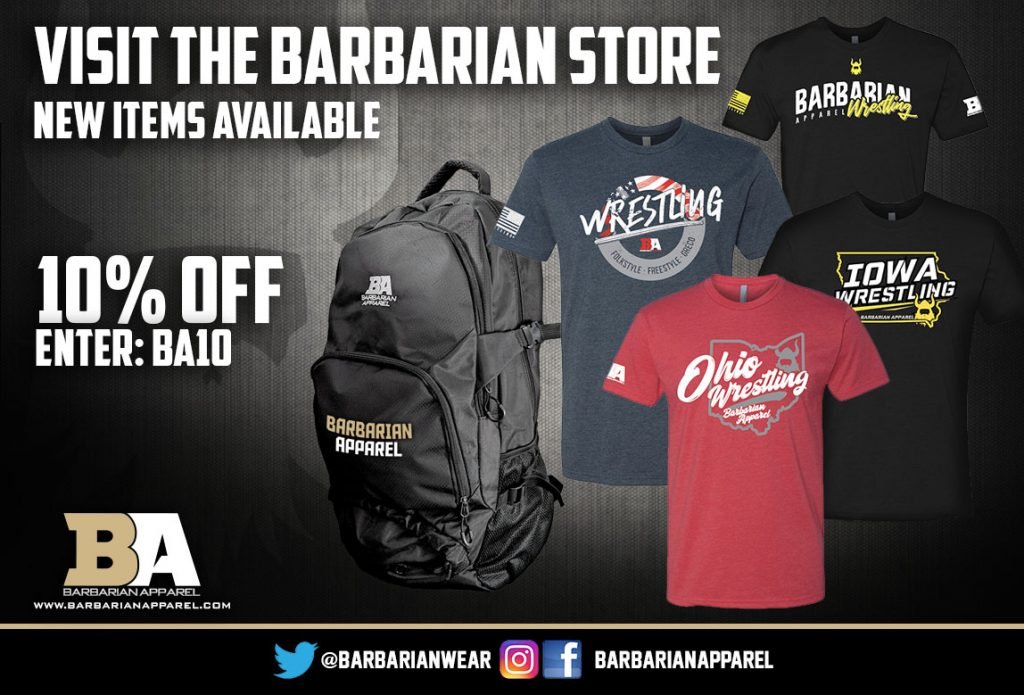 Walsh raced to the final round after throttling both All-Marine teammate Marciano Ali (PUR) and Enrique Cuervo Ortiz (ECU). Waiting in the gold-medal round was noted Brazilian Joilson de Brito Ramos, who came in with a nice little history against the American program. Over the course of this Olympic cycle, de Brito Ramos scored wins against Ellis Coleman (Army/WCAP), and was edged via criteria at last year's Ottawa Pan-Ams by former Marine athlete Ray Bunker. As it would turn out, Walsh found de Brito Ramos similarly challenging.
The difference for Walsh, specifically this abbreviated season, has been his lift. It was a tool requiring some sharpening. Now that it has undergone refinement, it is no longer a tool, but an actual weapon. When passivity rang in the first, Walsh clasped and launched to immediately jet out to a 5-0 lead. But the whole deal tightened in the second period. de Brito Ramos cut a little corner near the boundary and snagged a takedown, drawing within three.
Then as the bout started to ebb towards dismissal, Walsh was dinged. de Brito Ramos fought for a gut, got it, and knotted the score. Walsh still held criteria, for his points were accrued from a higher-scoring maneuver. de Brito Ramos hustled in the waning stages looking for a point. It wasn't going to happen. Walsh, one of the country's best grinders when necessary, did not struggle to maintain his slim margin en-route to victory, which in this case represented both his first Pan-Am win as well as his first career international gold.
"Big Ben" & STEF
Unlike his two US teammates on Friday, Provisor was done before lunch. In the opening bout of his three-man round-robin, the two-time Olympian had to chip just a little to tech out David Choc Huoc (GUA). It was 1-0 for Provisor when passivity arrived. From top, he wrangled a gutwrench for two, and then Huoc was penalized for fleeing-the-hold caution. For some reason, the Guatemalan corner wanted a review. They got one, and it didn't go their way, giving Provisor an additional point and a 7-0 lead. Back in par terre, Huoc was gutted again, and that was it.
Round #2, which for Provisor was the final, did not offer any confusion. He simply bombed Alexis Martinez Sanchez (MEX). Provisor raked the body for four; reset; and then threw Sanchez again. The snappy but domineering 8-0 victory provided "Big Ben" with his third Pan-Am Championships title.
Stefanowicz, he had to work a little more to collect his second-straight crown. And, his day actually started off with a buzzer-beating loss at the hands of Ariel Alfonso Rodriguez (HON). Stefanowicz busied up Rodriguez throughout the first period, coming away with a 3-0 advantage heading into intermission. It was more of the same in the second, and Stefanowicz appeared to be well on his way to a decision win. But — with time nearly expired, Rodriguez managed to divvy off the ties into a four-pointer at the boundary. It was a shocking turn of events, though not a major cause for concern since 87 was pooled into the semifinals, meaning there was a shot for Stefanowicz to seek a measure of vengeance.
After downing both Jose Murillo (COL) and Ronisson Santiago (BRA), Stefanowicz was in the finals. As was Rodriguez. And it ended in bizarre, embarrassing fashion for Honduras.
What could, and should have been a tough, ultra-physical match that tested the attrition of both men instead wound up a confusing storm of chaos. They jousted in the ties, with Stefanowicz more committed to purposeful footwork. Still, Rodriguez was the beneficiary of the first passive, but from top par terre couldn't budge the Marine. Back standing, and Stefanowicz was pawing in the trenches as Rodriguez occasionally sought handles to grasp. Actual scoring positions were hard to come by, and to their corners they went with Brazil leading 1-0.
Then, absurdity.
Early in the second period, Rodriguez shoved Stefanowicz in the face, warranting an attention from the referee. After the restart, Stefanowicz got his hooks inside and ran Rodriguez down and out at the boundary. They crashed to the surface, and Rodriguez — from his back and in apparent frustration — threw a punch at Stefanowicz, who was on top. Next, Stefanowicz fell to his own back, appearing to be knocked out. Rodriguez was immediately disqualified, thus putting an end to the 87-kg final. A bewildering and disappointing conclusion to an international wrestling match.
Notes:
USA Greco won the 2021 Pan-American Championships by a verifiable landslide with 205 points. Second-place Brazil clipped Mexico 95 to 94.
Of the Americans' 25 combined victories, 15 were recorded by technical fall.
The next stop for members of the US Olympic Team is Poland's annual Wladyslaw Pytlasinski Memorial, which begins on June 8 in Warsaw.
2021 PAN-AMERICAN CHAMPIONSHIPS
May 27-28 — Guatemala City, GUA
TEAM USA FULL RESULTS
60 kg — Ildar Hafizov (Army/WCAP) — silver
WON Josh Medina (PUR) 9-0, TF
WON Marat Garipov (BRA) 10-1, TF
LOSS Dicther Toro Castaneda (COL) 7-3
63 kg — Randon Miranda (NYAC/Rise) — silver
WON Victor Mena Vergel (COL) 8-0, TF
WON Juan Rodriguez Jovel (ESA) 10-0, TF
LOSS Andres Montano Arroyo (ECU) 5-0
WON Emerson Felipe Ordonez (GUA) 11-2, TF
LOSS Andres Montano Arroyo (ECU) 7-6
67 kg — Xavier Johnson (Marines) — gold
WON Dan Coles (CAN) 9-0, TF
WON Nilton Soto Garcia (PER) 7-3
WON Enyer Feliciano (DOM) 11-0, TF
72 kg — Jamel Johnson (Marines) — gold
WON Juan Ruiz Lugo (MEX) 9-0, TF
WON Carlos Fuentes Peralta (GUA) 7-3
WON Gerardo Oliva Montes (PER) 8-5
77 kg — Peyton Walsh (Marines) — gold
WON Marciano Ali (PUR) 11-0, TF
WON Enrique Cuero Ortiz (ECU) 8-0, TF
WON Joilson de Brito Ramos (BRA) 5-5 (criteria)
82 kg — Ben Provisor (NYAC) — gold
WON David Choc Huoc (GUA) 9-0, TF
WON Alexis Martinez Sanchez (MEX) 8-0, TF
87 kg — John Stefanowicz (Marines) — gold
LOSS Ariel Alfonso Rodriguez (HON) 4-3
WON Jose Mosquero Murillo (COL) 8-0, TF
WON Ronisson Brandao Santiago (BRA) 6-0
WON Ariel Alfonso Rodriguez (HON) via DQ
97 kg — Braxton Amos (Sunkist/Wisconsin RTC) — silver
WON Rafael Escamilla Sanchez (ESA) 8-0, TF
WON Santiago Echeverri Osoria (COL) 11-0, TF
LOSS Kevin Mejia Castillo (HON) 9-0, TF
WON Igor Alves De Queiroz (BRA) 3-0
LOSS Kevin Mejia Castillo (HON) 9-0, TF
130 kg — Donny Longendyke (Minnesota Storm) — silver
WON Luis Barrios (MEX) 5-2
WON Catriel Muriel (ARG) 8-4
WON Isaque Medeiros Conserva (BRA) 6-1
LOSS Leo Santana Heredia (DOM) 3-0




Listen to "5PM48: Austin Morrow and Gary Mayabb" on Spreaker.
Listen to "5PM47: Nate Engel and Xavier Johnson" on Spreaker.
Listen to "5PM46: Taylor LaMont and Jessy Williams" on Spreaker.
SUBSCRIBE TO THE FIVE POINT MOVE PODCAST
iTunes | Stitcher | Spreaker | Google Play Music
Notice
: Trying to get property 'term_id' of non-object in
/home/fivepointwp/webapps/fivepointwp/wp-content/themes/flex-mag/functions.php
on line
999