When the dust finally settles either tomorrow or later this week, the optics will be that Joe Rau (87 kg, TMWC/IRTC, world #7, 5PM #2) had a very a solid performance at the Zagreb Grand Prix. He earned a pair of lopsided wins, was in the medal hunt, and finished with a 2-2 record — not bad for an American who hasn't tasted top-level overseas competition in quite a while. Of course, Rau will initially struggle to see it through this lens. Primarily because similar to the outcome on Saturday, that last match has a habit of hanging around in the catacombs of the mind a little longer.
Day 2 of the 2021 Grand Prix Zagreb Open began at 10:30am local time in Zagreb, Croatia and streamed live on YouTube and on the official event page.
Rau opened Sunday's action in the hunt for his third career medal from Croatia's flagship tournament. Yesterday, the two-time World Team member went 1-1 with both bouts proving quite memorable. In his first match, Rau waffled a front headlock to flatten Filip Smetko (CRO) but then saw a 7-0 lead on Aleksandar Stjepanetic (SWE) disappear in the latter stages of the second period before eventually falling 9-7. Stjepanetic then drummed up another impressive victory in the semifinal by overcoming Ali Cengiz (TUR), which provided Rau with a new lease on life for this morning's repechage round.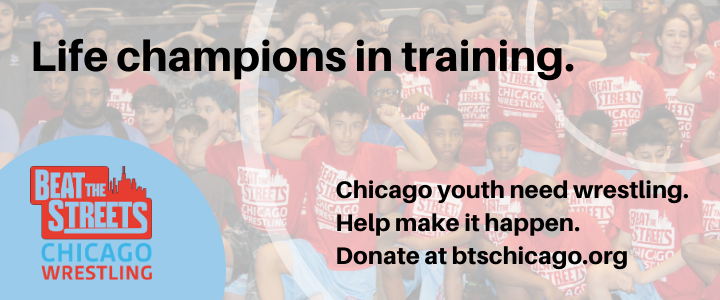 And he got moving on Sunday in vicious fashion. In the repechage, Rau faced off with Finland's Juuso Pahikainen (FIN) and physically asserted himself soon after the whistle, brushing into his opponent in an effort to crack open the jousting. Pahikainen did come close to nudging Rau off the edge in the early going, only to have the Chicagoan flip the script and earn his own step-out point.
After the reset, Rau shrugged off a loose exchange and forced a takedown. The action resulted in Rau behind Pahikainen already holding a trap-arm gutwrench on the right side, which he was able to rotate once (in the opposite direction). Pahikainen managed to scramble out of further danger and rose to his feet clasping a loose headlock. When he did, Rau re-engaged his lock around Pahikainen's body and escorted him to his back near the edge. Just like that, the match was over with Rau now shifting his focus to Cengiz.
A bit of preamble introduced the bronze-medal round. The pace was fairly even, though Rau's natural style tends to elevate the tempo. Even still, Cengiz received the first passivity/par terre chance. From top, he maneuvered towards Rau's head and switched over for a reverse lock. Rau hardly budged, save for an "Open, red" plea on the part of the official. Back on the feet, Rau immediately snapped Cengiz into a front headlock. But unlike Saturday's triumph over Smetko, the clamp wasn't airproof. As Rau bucked and arched to take the hold over his shoulder, Cengiz wriggled free and wound up on top — but no points were awarded as it was ruled a slip.
Another restart. Cengiz chipped from a distance, using his extended arms to negotiate a clearing to the body. Rau responded with one more front headlock. Again, the hold wasn't completely secure. With his back towards the edge, Rau attempted to finish the action only to have Cengiz land on top for two points. Then with :12 left in the period, Cengiz picked up two more on a correct hold at the boundary.
Behind 5-0 as the second period got underway, Rau was not keen on waiting until the match's waning stages to mount a comeback. Though he operated patiently when entangled, he was more aggressive in his intent, as evidenced by a pair of level changes that put Cengiz on his heels. But — quite curiously — despite this noticeable effort from Rau, the officials chose him for the passive knock.
A brief moment of hope. Cengiz again looked to amble towards the front for a reverse lift. Rau knew it and, in a flash, nearly caught Cengiz over-head for a reversal. Unfortunately for Rau, Cengiz quickly recovered. Rau pursued for the remainder, coming close on a few workable attempts. But they would not become availed. Cengiz took the 6-0 decision along with the bronze medal as Rau officially concludes his latest Zagreb showing in fifth place.
An additional recap with a full list of placewinners and notes from the tournament will be included in tomorrow's Monday Roundup. 
Grand Prix Zagreb Open
January 16-17 — Zagreb, CRO
TEAM USA RESULTS
Joe Rau (TMWC/IRTC) — 5th
WON Filip Smetko (CRO) via fall
LOST Aleksandar Stjepanetic (SWE) 9-7
WON Juuso Pahikainen (FIN) 10-0, TF
LOST Ali Cengiz (TUR) 6-0


Listen to "5PM43: Christmas Time with Millersville's Kerry Regner" on Spreaker.
SUBSCRIBE TO THE FIVE POINT MOVE PODCAST
iTunes | Stitcher | Spreaker | Google Play Music
Notice
: Trying to get property 'term_id' of non-object in
/home/fivepointwp/webapps/fivepointwp/wp-content/themes/flex-mag/functions.php
on line
999