The door can be heavy, difficult to nudge open. What one needs to do is jam a foot against the bottom of the frame and don't let it shut.
Although neither is yet considered a true Senior competitor, that is all Camden Russell and Conor Knopick are thinking about at the moment. Hailing from Nebraska's MWC, the 60-kilogram tag team has signed up for this US Nationals this week in Coralville, Iowa (beginning Friday on FLO) due to in large part to an unusual opportunity.
Alas, these are unusual times.


Russell, 20, won the Fargo Junior Nationals in '19, and following high school graduation, enrolled at Iowa Western Community College. He wrapped up his freshman season in March. Like virtually everyone else, he expected to make a run in one (or more) of the age-group Trials tournaments last spring. We all know why that didn't happen. Knopick — just 17, seasoned in his own right, and an Iowa State commit who recently kicked off his senior campaign of high school — was a Cadet World Team member a year ago and hunting for bigger game until 2020's slate of competition was postponed.
If COVID never struck, Russell and Knopick, together or apart, would both either be focusing on their impending folkstyle seasons or recovering from a summer's worth of match experience. One thing they wouldn't be doing is preparing for a Senior National event. However, the entire Senior population is in the same boat, in a sense; but the space found in the schedule for what is the most unique Open in American wrestling history is allowing for participation from otherwise unlikely entrants. All this means is that it's a great chance for several prized prospects to go ahead and establish themselves instead of having to wait another year. Or more.
For Russell, Iowa is not a first-time foray. He competed in the November '17 Schultz at the same age Knopick is now. A different wrestler three years hence, is Russell, and he wants to demonstrate such. As for Knopick, this weekend's tournament will be a baptism. Far, far away from the Jordan River, he is interested in discovering what the competitive difference between Cadet and Senior truly represents. Is there something to prove here, for either or both? Maybe, maybe not. The only thing we know for sure is that they are simply pleased to be involved.
Conor Knopick — 60 kg, MWC
5PM: You won a state title and then you're looking forward to the spring, the Cadet Trials, all that. And then everything gets postponed. Did you think back then that this would wind up becoming such a big deal, this time between tournaments?
Conor Knopick: I really didn't at all see that coming. It kind of took me by surprise that everything everywhere was being shut down. I don't even remember hearing about COVID outbreaks. I just remember there being a bad flu; and then next thing you know, everything is being shut down and I hear that Ohio isn't having their state tournament. Then I was like, Wow, this isn't good.
5PM: Did you have a backup plan in mind for what you wanted to work on during the proceeding months of the summer?
CK: For me, no. Because, you know how Zac (Dominguez) is. If it's freestyle and Greco season, then we're doing freestyle and Greco. So I wasn't worried about it like, Oh no, if there's no Greco and freestyle, does that mean we're going to do folkstyle? I was already assuming that no matter what, Greco was going to happen — even if there was no actual Greco season. I was kind of ready to do Greco.
5PM: Dominguez was fortunate enough to host a pretty major Senior camp at your club that had a lot of very experienced, skilled lightweight guys. What was that like for you?
CK: It was mostly fun, being able to wrestle someone who is very experienced in Greco. There are not a lot of high schoolers and middle schoolers who do enough Greco to where they live and breathe Greco. It was fun being able to watch how the Seniors compete and wrestle Greco. It was fun to wrestle and watch all-around.
5PM: Did you come out of that camp feeling encouraged about your skill-set and ability?
Conor Knopick: Yes, and there was also the thought of having room for improvement and to always continue learning more stuff so I can surpass those guys and reach a higher level in Greco.
5PM: You wrestled overseas a few years ago, you made the Cadet Team. At the same time, you're an established folkstyle wrestler who will be attending a flagship collegiate program in this country. How does folkstyle help your Greco? How does it hurt? And vice-versa?
CK: I think Greco is a completely different style — no, not that I think, I know it is a completely different style overseas than it is here. In the US, a lot of people don't take risks. They don't go for throws. Instead, they try not to get thrown as opposed to going for throws. I think that limits a lot of Greco wrestling in the United States. And then there a lot of people who when they go to wrestle folkstyle, they are completely different. They are the opposite, they go right for it.
You should have the mentality, I'm going to go and score, rather than saying, I'm winning by four points so I will try to hold onto the lead and not try to score. I think that hurts every style. Just going in and attacking — in freestyle, folkstyle, and Greco — is the best way to wrestle those styles. That helps me and a lot of my peers. We've learned from Zac that you have to take risks in Greco in order to keep scoring and putting points up on the board. In folkstyle, it also helps you to not settle and hold onto a lead. It helps you to keep scoring and working towards a tech fall, a major (decision), or a pin. In that way, both styles correlate with each other.
5PM: What prompted you to register for the Senior Nationals?
CK: I didn't get to wrestle any Greco tournaments this past summer. That was pretty bumming, because, I won't lie, Greco is my favorite style. I like to grab legs sometimes but Greco is my favorite. I like to wrestle that the most. I saw that the Senior tournament was coming, and also, that Juniors was being pushed back and still happening. I figured that I need to go to Seniors and wrestle, and that would help me get ready for Juniors. Plus, I thought it would be a great opportunity to show people what I've got.
5PM: You have Camden. When he was your age now, he entered the Dave Schultz tournament. Has he discussed with you the difference in competitive level between age-group and Senior and what you should expect?
CK: Yes, we have talked about it before, and the main thing is that Seniors take risks. They will go for throws just to get correct throws and put points up on the board. They are not going to just sit and hand-fight while staying in position, although position is key for Greco. But they are not going to sit there and keep hand-fighting. They are going to try to score and keep you off-balanced so they can create openings for themselves.
5PM: Whatever happens at Nationals, I guess the next step is to just deal with the quick turnaround before the Junior tournament whether it's a Trials or not?
Conor Knopick: Yeah. Me, Zac, and my dad looked at both of these tournaments and where they fall on the schedule. We thought it was a great opportunity to go wrestle at Seniors, compete, have fun, and see what I've got. And then when it comes time for Juniors, if they have Worlds, make the World Team. If they don't, then just go win the Nationals.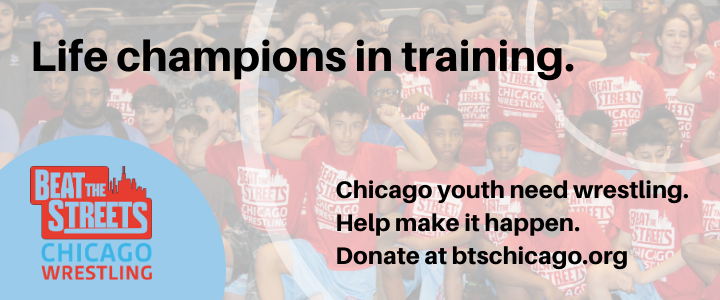 Camden Russell — 60 kg, MWC
5PM: As far as Greco goes, when did you first start getting back to practicing either during or after quarantine in Nebraska?
Camden Russell: We had Nationals for JUCO in the beginning of March. We finished that and didn't have any practices, and then COVID started. I didn't get to practice again until mid-April. I began practicing again with Zac, and since then I haven't stopped.
5PM: Now that you have a college season under your belt, what has been the biggest difference you have noticed? Is there something you have been able to take from college and translate it into your Greco game?
CR: My drilling changed a little bit in college. Towards the beginning of the season, my coach didn't like how I was drilling, so he changed it up a bit. I'd say I drill a little bit harder now. I don't know, it's just a different environment in college. I don't know how to put it.
In folkstyle, I wrestle differently than I do in Greco. A lot of people like to implement their Greco stuff into folkstyle. That's not really me. I feel like I need to do better with that. I talk about this with my teammates. It's like, Ohhh, I'm a Fargo National champ in Greco, so they ask, Why aren't you doing more of that stuff in matches? And for me, it is, You know what? You're right. I don't know why I'm not doing this stuff in matches. I'm going to work more on that this year, that's for sure.
5PM: Zac had a Senior camp at MWC over the summer of which you were a part. What was it like, given the scope of partners available in the room during that week?
Camden Russell: I went into that camp just super-excited. I was super-blessed to be able to be around all of these great Greco wrestlers. I don't know, it just opened up opportunities for me, I think. I talked to Taylor (LaMont) a lot. He was teaching me some things. I felt good about myself when he was doing that. It made me think, Well, maybe I should be doing this more often. Maybe this is what I need to be doing. I went with him, Sammy (Jones). I drilled with Zane Richards a lot. I know he's not a Greco guy, but I drilled with him and I liked him a lot after that.
What I took away from that camp the most is the talent that we have in Greco. We may not show it that much, or year after year we may not show it. But — I think we are a super-talented country for Greco. Zac brought in some kids, like Conor, Jack Huffman, and a couple of other young athletes from out of state. Even if they weren't from MWC, Zac knew who they were and invited them. I was just happy. We had a tremendous amount of fun. Half the time I was getting my ass kicked, and the other half I was giving ass-kickings. It was a lot of fun.
5PM: You wrestled at the Dave Schultz in 2017. How do you feel going into this Senior Nationals compared to that Schultz event in '17 when you were 17?
CR: When I was going into that Schultz, I was just going there to wrestle and see how I could do against Seniors as a 17-year-old. Now, I am going to Senior Nationals believing I can do very well and perform at my best, and actually be able to beat guys who I may not have thought I could beat in the past. There are also plenty of guys going who I have wrestled before and know for a fact that I can beat them. It's just a matter of how I perform and how I prepare for it. I think I have been preparing for it damn well with the time that I've had and all the bullsh*t I've dealt with regarding college. My preparation has been way better than it was for Schultz, and probably way better than it has been for a lot of tournaments, Greco-wise.
5PM: After the Nationals, what we do know is that there is another tournament in November. First, are you planning on entering the Junior/U23 event in November? Second, if it works out scheduling-wise, are you also potentially eyeballing the Last Chance Olympic Trials Qualifier in the spring?
Camden Russell: I will be wrestling in Juniors. I am going 60 (kilos), because the last time I made 55 for Juniors it didn't go so well weight-cut-wise. I didn't wrestle very well, so I feel like me being on the older side of Juniors, I think I can make the Team — if there is a Team — at 60. So I am going to go 60 and prepare for that. That will actually be in Omaha. I will have to look at my availability, but I am sure that (the Last Chance Trials Qualifier) is something I will be eyeballing 100%.


Listen to "5PM40: Sam Hazewinkel and Jesse Porter" on Spreaker.
SUBSCRIBE TO THE FIVE POINT MOVE PODCAST
iTunes | Stitcher | Spreaker | Google Play Music
Notice
: Trying to get property 'term_id' of non-object in
/home/fivepointwp/webapps/fivepointwp/wp-content/themes/flex-mag/functions.php
on line
999