The wedding was finally approaching on the calendar. Like so many other important, personal, milestone events over the past year, just inching closer to the date felt tantamount to a victory. The world had seen enough postponements. Enough letdowns, enough sorrow, enough heartbreak.
If Luke Sheridan (97 kg, Army/WCAP) had the opportunity to watch his bride, Jesslyn, walk down the aisle at any point in 2020, his longtime coach and revered father-figure Mark Halvorson would have been seated near the front.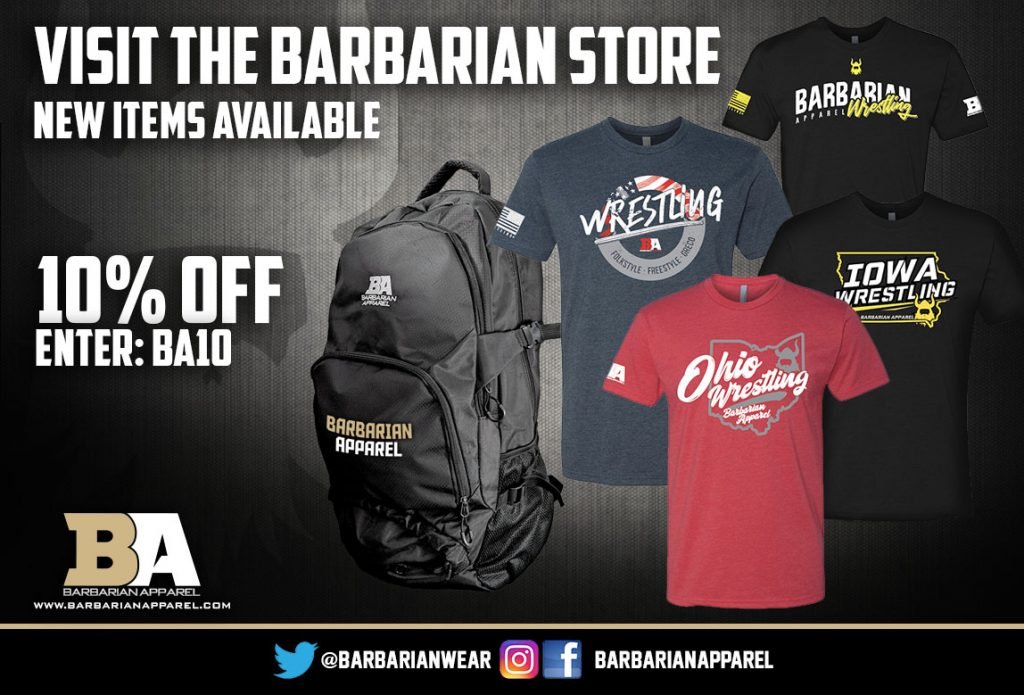 Would he have worn his glasses? While Robby Smith's voice bellowed out the formality of nuptial instructions, would Halvorson have become lost in a rabbit hole of memories, compulsively recalling all of the little and big conversations, hard moments and triumphant ones, they all shared with one another for over two decades? Would tiny trickles of saltwater have found their way onto his sportscoat, only to quickly fade into the fabric and disappear?
Oh, but the laughs they would have had after the ceremony. Old tales and new reminders. Stories everyone knows by heart being retold and punctuated by the glee that comes with the realization even more yarns will be created in the future. Except, no. Halvorson was not physically in attendance on May 30 when Sheridan and Jesslyn said "I do" to each other. But, because it was indeed necessary for reasons obvious and perhaps not-so-much, Sheridan's mother Cindy still made sure to assign a seat for Halvorson. The way she saw it, he would still be there and her son needed to know that.
He did.
He does.
— TH
Prologue
My wife and I have been together for five years and she has never seen me cry. Maybe once or twice a tear has rolled down my face, I don't know. Maybe I'm not the most emotionally available person in the world. I don't care.
On February 15, Robby called to tell me the news as I was driving home from Idaho. It was a long drive. 12 hours, eight or nine hours, whatever. Something like that. I got home, parked the car, walked in the door, and then I literally just broke. I started crying my eyes out. I had held it together for as long as I could, but no more. My wife is good at knowing how to deal with me when I'm upset, sad, or frustrated. I don't need someone sitting close by going Awww, it'll be okay. Not my cup of tea. But she told me something that wound up being responsible for the only reason I got any sleep that night. She said, "He's never gone. All of you guys — Robby, Stevie, Peyton, Tyler, all of you — are going to teach your children. You are going to tell your children his name. And then their children will teach their children. He will never go away." She brought up how the concepts, the morals, the philosophies, they weren't going anywhere.
I'm sitting there and in my head all I kept saying was It's not fair. And the reason why I thought that was because I had Halvorson for over two decades. There are kids in our community who didn't get him for one month. There are kids who didn't get him at all. So I just said that "it's not fair". There is so much good that he can still do, so much of an impact he can still have. That is why I felt, This isn't fair. I don't get it. It doesn't make sense to me, why did this have to happen? I don't get it. 
But she said, "It will be okay because you will teach our children." The same with Robby, the same with all of us. Nothing he imparted on us — none of his warmth, thought processes, philosophies, and foundations to relationships — is going anywhere.
The Community Youth Center Through Sheridan's Eyes
When I was really young back in the day, CYC was one building. Now it is four, but back then it was one. We had a t-shirt program and that's how you knew which class you were in. There were blue shirts, gold shirts, and I think the first level were white shirts. You had different age groups from beginners to advanced, and that was how classes were separated. I remember Halvorson coming up to me on the bleachers. I was young, you know? But he walked over to me on the bleachers asking what I had planned to do to earn the next shirt color. All I could think was, This is the high school coach. What is he talking to an eight-year-old for?
Walking into a practice, just like it is anywhere else, you kind of sniff out who the top dog is. Back then, CYC was led by Bill Martell, who was a four-time Olympic Team coach and he is the one who started the program. Then you had Scott Osterholt, who was the youth coach from my understanding at that point. Halvorson was the high school coach. So him asking me what I was going to do in order to earn the next shirt color I thought was just kind of strange.
Door to door from my house to CYC was 15 minutes. We moved when I was in fourth grade and it was trimmed down to 14 minutes. We lived down the street and this was man was simply the coach I walked into. I never had an understanding of comfort versus discomfort. It was just, Hey, this is the guy. Trust him. That's how it was. But from a really young age, Coach knew that I could be something, which I never understood. There were so many times that I would lose a match and, he wasn't laughing about it by any means, but he did just sort of smirk and shrug it off. To him, losses were less than a step. They were just you walking towards the staircase that held the steps, which is how you would get to where you wanted to go.
He already had a timeline set out for me by then. When they announced the Youth Olympic Games in Singapore for 2010, it was 2007 and I was in middle school. He said, "You are going to do this." I was sitting there thinking, I can't even win a freaking local tournament, what's this guy talking about? But from the beginning, he did a good job of picking some of us out. He did the same thing with Robby, with Nikko Triggas, with Peyton (Omania), my brother Tyler, and myself. Even though I wasn't one of his students yet, the small interaction we had that day made me Halvorson's guy.
I automatically found myself getting pulled more towards him. I wanted to be around him. It was as though we both knew where we were going, but he believed in me more than I believed in myself. I wasn't the kid who was winning every tournament. I wasn't winning something like the Tulsa Nationals, taking home Fargo "stop signs", or anything like that. But I did have a sense that this guy was interested in the long run. We were looking at the big picture. We weren't looking at whatever little tournament I entered in my own age group or in my own weight class. Instead, it was How many matches can we get? How many different brackets can I enter?, and, Can I wrestle my weight class and the next heaviest one? Honestly, I think he just wanted to see how many times I would lose so that he could learn what it was I needed to work on based on the map in his mind. It was never just about the present when it came to me. I wasn't the most confident person when I was younger and I couldn't even picture myself in the places he discussed — yet, he turned out to be right. He always knew where I was going. Everything we practiced in every single tournament was considered a step in the right direction. The color of the medal didn't matter because we had other things we were moving towards.
That was the mindset he instilled in me, and that actually began to build my confidence. I was sitting there talking about making a Youth Olympic Games team when I was maybe winning local tournaments, or losing in local tournaments. I wasn't even placing at Fargo, but I'm shooting for the Youth Olympic Games in Singapore in two years? It was almost like, What are you talking about? But that was the mindset from the beginning. There was always more to look forward to. We didn't worry about what had just happened last weekend, or whatever the result was. We had more coming eventually. That's how we saw it.
You could ask Stevie (Gee) or Robby. Maybe not Peyton, but within the entire CYC family at that time, I was Halvorson's baby. The seed was planted with Stevie. Halvorson got Stevie to trust him and that was the seed that grew the CYC tree. Once he had Stevie, he got Robby; once he got Robby, he got Nikko; once he got Nikko, he had my brother, and from my brother he had me. There was a longer break between Peyton and I, so for a while I was the baby of the group. There was a period when Stevie was back from college, Robby was at NMU (Northern Michigan University), and Nikko and my brother were in high school. I was in middle school. I was the baby, and no one was allowed to mess with the baby. I was the "Golden Child". No one could screw around with me. Halvorson wouldn't let it happen. He would yell at the older guys if they did.
Everything about our relationship and career together by that point seemed to be building up to when I hit high school. We were getting ready to take off. If we were a band, that was set to be our first concert tour. The sky was the limit. The great thing about that was I had my brother with me for the first two years of high school, which provided me with a shield so that no one else could pick on me there, either. But with that, Coach had an incredible ability to understand when to implement other people in my life.
At the end of my sophomore year, I had a 2.3 cumulative GPA. The year prior, my freshman year, I was on academic probation with a 1.9 GPA because I wasn't listening. I was the typical kid who didn't apply themselves, focused only on sports, and so on. I wasn't getting the job done. I wasn't listening to Halvorson.
So what does he do? He knew I already had a relationship with Robby, so he inserts Robby. He also had my brother, who is my best friend and my hero. Halvorson would use them. He had an amazing ability to step back and let someone else say the same thing he had just said because he knew I'd listen to them. He was telling me the same thing everyday, but it was different. Years later, when Peyton was in high school and I was at Indiana, he had me call Peyton. Halvorson told me what to say to Peyton, I did, and Peyton listened to what I said and did what I told him. Then it hit me, so I called Halvorson back. "Is this what you used to make Robby do when I wasn't listening?" I asked him. "Yeah", he said, "because I knew you would listen to him."
Sometimes, I was sophomoric with Coach. I wasn't the only one. If you were being hard-headed and not listening, he found a way to implement everyone else so that you would continue to grow as a wrestler, as a student, as a son, as a person. Earlier on in high school, I had Tyler there to guide me, particularly when I was struggling academically. I wasn't making the best choices. Luckily, by the time my brother left for Columbia University, it was my junior year and I had gotten my head on straight. I didn't have that shield anymore and needed to get it done.
I remember walking into the CYC the first week of my junior year. Halvorson's office was in the corner of the building. It had two plexiglass sides and he'd knock on it. He would have this face. We used to call him "The Grinch" because if you could get him to smile we would cry laughing. I walked in and he knocked on the window. That was how he would tell you to come in and see him. It's like, I'm in trouble, so I took my backpack and threw it into the cubby next to the door and walked in. He was asking me all these questions, but it was at that point when he realized that I didn't have Tyler there, so now he was going to have to take up that mantle. What is strange is that year was also the first time I got a 3.0 GPA in my entire life. I started to make these gains because I had started to trust him so much.
He did this time and time again, knock on that plexiglass window for us to come inside. Without me saying anything, he would be able to tell how my day was just by the way I did the 20 by 20 yard walk to his office. It was a square. I'd walk through the door, hang right, walk 20 yards; hang left, walk another 20 yards, and hit his office. Then he would bang on that plexiglass. He would tell me how my day was based on my mannerisms, and he'd guess my weight within .2 plus or minus on the scale. Halvorson would say, Why are you so heavy? or, Why are you so light? He would put me on the scale and he was always correct. It was almost creepy how well this man knew me. My demeanor, the way I held my head… Everything about me as a young man, he knew. I can tell you, most high school kids probably do not get that opportunity with their coaches.
"Wrestle Through It"
I did not adjust well in college without him. I was stuck in the mud. It was really difficult. Looking back on it, there is an intense appreciation for the Indiana coaching staff because I must have been a mess to deal with. Halvorson and I were together for a decade by that point. I had been coached essentially by one man my entire life, and then it was off to college. We had a bond, a decade together building that relationship within my family. But entering college, I had become a small fish in a big pond again.
Offseason, we still talked two or three times a week. During the season, we would talk every day I had practice, a duel, or a tournament. That is just how it was. I'd go up, call my dad, and call Mark. That was just the routine. But, it was also difficult. It was hard. That junior year in high school when I got my act together, I had really gotten my act together. That was the year I won Fargo, that was the year I beat Kevin Mejia Castillo from Honduras at the Pan Ams to qualify for the Youth Olympic Games in Singapore. We had taken off on the path just as he had planned, so it was difficult to go away. I was lost for a while, and the Indiana coaching staff knew it. That year I was the only wrestler going to Junior FILA's (Junior World Team Trials) and we were the Hoosier Wrestling Club. I looked at Duane (Goldman) and asked if I could put HWC/CYC. He said, "Of course." He acknowledged my relationship with Coach, and that is when I began building a similar relationship with Duane to where I could trust him. He saw how important it was to me that I represent Coach and the CYC as a whole. But I would be lying if I said it was an easy transition, because it wasn't.
When I got to the Senior level, we were looking for more, but without getting dragged down by results — which is hard to do. Every Senior athlete is their own worst critic if they are serious about making Teams and winning medals, though that can also be a challenge for us mentally. But Halvorson had three phrases that he said all the time, or on average at least five times per week: Stick to the plan; trust the process; wrestle through it. I can't recall the first time I ever heard him utter these concepts. Before every single match and after every single match: stick to the plan, trust the process, and wrestle through it.
He had really driven those phrases into my head. Plus, he and I had a plan that went beyond any single match. The plan was that we were going to make it to the Olympics and win World and Olympic medals. That is what we were going to do. We had planned on it forever. We had our plan and we were sticking to the process. "Wrestle through it" was probably the hardest one to learn. During my senior year of high school, my grandmother who had been living with us for over a decade passed away the week of the state tournament. It was hard to see Coach, because he knew me so well. Outside of my parents and Tyler, he is the one who knows me the best, or better than anyone else in the world. But, "wrestle through it". We had a job to do, we had to stick to the plan, trust the process, and wrestle through it. Those concepts were also part of the '16 Olympic Trials where I had went 0-2. It was disappointing, but it was all just part of the process. One thing to add would be that WCAP (Army's World Class Athletes Program) allowed Halvorson to coach me at tournaments. They too understood his role in my life, what that meant. I've always appreciated that.
Those of us from the CYC, we had zero clue whatsoever that what we had was anything outside of the norm. That's what people don't understand. The way that Coach treated me is the same way he treated everyone else. I was no different than the other hundreds of CYC kids. When he knocked on that plexiglass, it wasn't just for me. He could have been calling one of my buddies into the office.
When we were getting ready for his service, people were calling me with questions and I respectfully declined everything with the exception of a podcast Robby and I did with a close friend of ours. And the idea was sort of how Robby, Peyton, and myself are "The CYC boys". So then I asked, Have you heard of Curtis Siegfried? Nick Jansen? No? Then you will never understand the impact this man truly had. Halvorson absolutely turned some of us into Senior-level athletes — but he also welcomed every single person who walked in that door and invested every single ounce of himself into them. What he put into Robby, me, or Peyton, he put into everyone. When Robby made the Olympic Team, sure, that was a different thing, but how about when Nick Jansen won the North Coast sectional semis? Or when Curtis Siegfried won the North Coast sectionals? That was the epitome of everything Halvorson wanted.
This isn't meant as a slight to anyone, but the CYC is not and has never been about just a few guys who happened to continue on as Senior wrestlers. Halvorson didn't have 15 kids under him, he had hundreds and hundreds. At this stage, there are probably thousands upon thousands of young men and women he poured himself into every day. The day that I found out Coach had passed, my wife showed me an Instagram story from my brother which said "Mark Halvorson was an Olympic level coach who dedicated his life to coaching under-privileged youth at his local youth center." Nothing could be more spot on. He put everything into each young man or young woman who walked through that door, and that is all we knew. That was his way, and that concept carried forward. I remember Stevie picking me up for pre-Fargo camps in his doorless Jeep when I was 12. We were, are, a family.
We literally didn't know what we had was any different from other kids and other club programs. Maybe we still don't. But these relationships? For instance, right now in my kitchen I keep Tostitos, pizza rolls, and Goldfish just in case out of nowhere Peyton shows up at my house. It is this type of thing that Halvorson, I don't want to say "drilled" into us because he didn't press the issue, but instilled in us. The first thing that comes to mind is when I bought my house in 2016 after joining WCAP. Two or three months after moving in, I remember standing in the foyer at the top of the staircase looking down into the living room and there were eight or nine CYC kids sleeping on the floor. They stayed with me for about two weeks and I would take them to practice at WCAP.
This is the thing that we built. It has all been natural, and all because of him. Peyton stood in my wedding. Robby officiated it. Stevie was there. I can see now that it is an interesting dynamic, but we had no clue that it was outside of the norm because Halvorson made building these types of relationships normal to us.
Epilogue
The phrasing my brother used that I referred to, how Halvorson was "an Olympic level coach who coached at a youth center", the only thing I would disagree with is the word "coach". The reason I say that is because I'm older now. I've been on a lot of teams, I've been around a lot of other wrestlers and coaches, and that word is, in my opinion, almost disrespectful to Coach. I've thought about it, but it really didn't click until Robby was speaking at his service. To call Halvorson a "coach" undermines what this man did. He wasn't a coach. He wasn't a leader, he wasn't a mentor, he wasn't an instructor, or any of those things. He was our dad. He was our father. This man had homecoming pictures of my brother and I on his fridge at home. Who else would do that other than a father?
The #1 question that I get asked is Why didn't Halvorson come to the OTC (Olympic & Paralympic Training Center)? Or, Why didn't he take this coaching job or that coaching job? Because he was never in it for the money, status, glory, or to sit in someone's corner. He directed the entire play that was our lives. He implemented the right people at the right time to get us through each stage of our lives. Halvorson wasn't always in my corner for wrestling matches, but he was always right there. Again, it was all just part of it — stick to the plan, trust the process, wrestle through it.
When it comes down to it, whatever I am doing in the future… Whether I'm a drill sergeant in the United States Army, or I get the opportunity to coach young men and women, if I can impact one kid the way that he impacted thousands, then I will be able to sleep a little more easily at night.




Listen to "5PM48: Austin Morrow and Gary Mayabb" on Spreaker.
Listen to "5PM47: Nate Engel and Xavier Johnson" on Spreaker.
Listen to "5PM46: Taylor LaMont and Jessy Williams" on Spreaker.
SUBSCRIBE TO THE FIVE POINT MOVE PODCAST
iTunes | Stitcher | Spreaker | Google Play Music
Notice
: Trying to get property 'term_id' of non-object in
/home/fivepointwp/webapps/fivepointwp/wp-content/themes/flex-mag/functions.php
on line
999