The kinds of gifts the United States Greco-Roman program would like to receive this Christmas do not fit neatly into stockings, and Santa doesn't have enough space on his sled to drag them all around later on this evening.
But Christmas wish lists were never intended just for kids to send to Jolly Ol' Saint Nick. No, they are an exercise for children and adults alike. Visualization at its finest, an excuse to put things down on paper in an itemized fashion and hope that eventually — be it December 25 or any time thereafter, really — there is a return on the whole wishing and thinking investment.
Only the most hardened of the lot would mutter These aren't gifts, you've got to earn 'em! You could just hear Dennis Hall all the way from Wisconsin ranting and yammering about how only hard work, more hard work, better positioning, and iron-fisted resolve have a say in whether or not this here Christmas Wish List comes to fruition. Surely he's right, but where's the fun in that? He'll complain, anyway, though this Christmas it won't be due to the climate. Most of Wisconsin is going to hover around 50 degrees on Wednesday.


It should be pointed out that Greco in the US did receive one gift already: a deeper field at 67 kilograms than even originally thought. Thanks to the fire-breathing runs of Calvin Germinaro (Minnesota Storm), Xavier Johnson (Marines), and Nolan Baker (NYAC) — and the emergence of Jason Chamberlain (TMWC) and bounceback effort from Junior World bronze Peyton Omaina (MSU/CYC) — the US Nationals brought forth the very real possibility that both top guy Ellis Coleman (Army/WCAP, world no. 14) and eventual champ Alex Sancho (Army/WCAP) could be in for one helluva dogfight come the Olympic Trials in April. And that brand of depth is what every weight class needs.
Greco's Christmas Wish List
A real list would be too long, cumbersome, and incite too much debate, too many arguments. So let's keep it simple.
1. Everyone qualifies in March
The Pan Am Olympic Qualifier, set for March 13-15 in Ottawa, Canada, is, right now, the most important tournament of the season for US Greco athletes (understatement). The 2019 World Championships represented the first opportunity for wrestlers to qualify (by virtue of placing in the top six), and that didn't happen. Unfortunately.
But Nur-Sultan is in the past. All that matters right now is getting all six guys from the '19 World Team ready for Ottawa, where in a best-case scenario, they will all make the finals and accomplish the mission before the Trials…and avoid the "Last Chance Olympic Qualifier" in Bulgaria. Because that tournament might be even tougher, or at least as tough, as anything that takes place in Tokyo.
2. Health
As of now, several top Seniors, including Ottawa-bound Coleman and Joe Rau (87 kg, Chicago/RTC), are recovering from injury and in the throes of the rehabilitation process. Both Coleman and Rau are on target to be ready for March, but it's not just them. A few others are dinged up, as well, and while the panic button doesn't need to be pushed, the US program would  certainly prefer the lion's share of athletes stay out of the trainer's room during the most crucial stage of the season.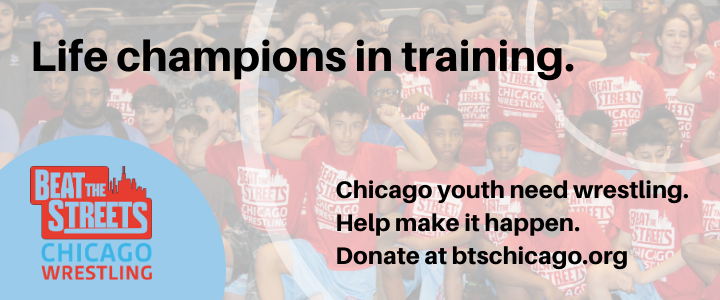 3. More Coaches
Regional training centers are still the craze and Greco wants as many of them as it can get. What that means at the moment is simply the availability for Greco athletes to train at RTC's, not that there is some litany of Greco-friendly/Greco-only rooms scattered around the country. While it is a big positive that more training centers have opened their doors to Greco guys, only a few have actual Greco coaches patrolling the mats. This needs to change. The Olympic Movement should be about both international styles, not just one. The US is a country that needs to develop its Seniors, not just the current generation of age-groupers. Then again, those wrestlers need more coaches, too.
4. More Funding
It takes a lot of financial resources to bolster any program, and Greco requires a little extra. The NGB does its part, and arguing otherwise is difficult if you look at the numbers (even though cash-rich freestyle, perennially replete with donors, private and corporate, does not necessitate much aid from USA Wrestling yet certainly still receives its allotment; not to mention enjoys the fruits of a scholastic system that has basically automated the success of its freestylers. But, no judging here).
If this is going to be Greco's problem, then Greco has to solve it. An impassioned effort from all involved (including this platform) is the answer, if not the only answer. There are efforts behind the proverbial scenes to raise funds in perhaps (and hopefully) creative ways. Also, it is very easy for "normal" people to simply donate directly to the US Greco program. Here is the link. Each and every penny goes to Greco, nowhere else.
5. DE-FENSE
However it has to happen.
US Seniors have improved their par terre defense this quad. Sometimes that has meant more than just breaking the lock or simply staying heavy, as several experienced success last season hip-heisting and/or stepping over gut attempts. Even still, giving up points from par terre bottom led to most of the losses at the 2019 Worlds.
The best defense might be a good offense, but at the highest level, which is to say the 2020 Tokyo Olympics, guys are going to have defend. That's just how it is. Par terre defense is the biggest obstacle separating the US from consistent World achievement. If the Tokyo Olympics are to end with American medalists, this is the one item Santa can't forget in his sleigh when he bounds down the chimney.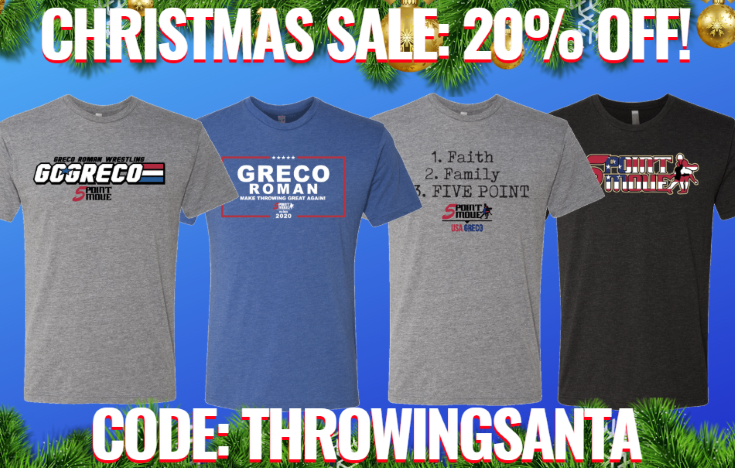 Listen to "5PM32: Previewing Senior Nationals with Dennis Hall" on Spreaker.
SUBSCRIBE TO THE FIVE POINT MOVE PODCAST
iTunes | Stitcher | Spreaker | Google Play Music | RSS
Notice
: Trying to get property 'term_id' of non-object in
/home/fivepointwp/webapps/fivepointwp/wp-content/themes/flex-mag/functions.php
on line
999