The United States is leaving Hungary and its much-talked-about Grand Prix with only one medal — but it is a gold medal. G'Angelo Hancock (97 kg, Sunkist) ran the table on Saturday, dispatching three quality opponents en-route to the finals where he defeated two-time University World Champion Fatih Baskoy (TUR).
Hancock and Baskoy first locked horns in the qualification round of the 2017 Paris Worlds, and Hancock won that one, too. On Saturday, it was a little different. Both athletes were clearly improved and Baskoy was in position to steal the match late in the second period thanks to a takedown at the edge. However, Hancock immediately answered back on the next restart, as he raced to Baskoy's body, locked around, got behind, and collected the two points necessary to come away the winner of a 3-3 criteria decision.


Combining the 12 "Ranking Series" points Hancock received due to his bronze in Zagreb with the gold he just earned in Hungary, the new total rings in at 30, which as it stands now, would elevate him to #3 in United World Wrestling's top-20 rankings.
UWW posted a brief highlight video that beautifully captured the tension available in Hancock's final against Baskoy.
Tracy HANCOCK (USA) wins gold at 97KG in a passionate back and forth affair. #unitedworldwrestling #wrestling #hungariangp2019 pic.twitter.com/G424q990Zp

— United World Wrestling (@wrestling) February 23, 2019
2019 Hungarian Grand Prix Quick Facts:
Of the nine US athletes who competed in Hungary, seven were previous World (and/or Olympic) Team members:
Dalton Roberts (60 kg, NYAC/OTS), '18
Kamal Bey (77 kg, Sunkist, world no. 7), '18
RaVaughn Perkins (77 kg, NYAC), '18
Patrick Smith (77 kg, Minnesota Storm), '17
Patrick Martinez (87 kg, NYAC), '15, '16 [W], '18
Ben Provisor (87 kg, NYAC/NLWC), '12 [O], '16 [O], '17
Robby Smith (130 kg, NYAC/Chicago RTC), '13, '14, '15, '16 [O], '17
Four Americans in their first matches competed against wrestlers who had either won or earned medals at previous World-level events (counting age-group):
Perkins — Ilie Cocojari (ROU, bronze at '16 Worlds)
Martinez — Robert Kobliashvili (GEO, world no. 4, bronze at '18 Worlds)
Provisor — Erik Szilvassy (HUN, '16 University World champ, '17 U23 World champ)
Hancock — Lee-Se-Yeol (KOR, silver at '10 Junior Worlds)
Four Americans dropped matches to eventual medalists:
Travis Rice (63 kg, IRTC) — Erbu Tuo (CHN, gold); Sailike Walihan (CHN, bronze)
Perkins — Kim Hyeon-Woo (KOR, world no. 3, bronze)
Provisor — Szilvassy, bronze
R. Smith — Marko Koscevic (CRO, bronze)
Hungary won the team race with 91 points; Iran came in second with 86, and Ukraine followed with 83. The US came in 11th carrying 45 points, just ahead of Serbia which had 42.
The Medal Count
We are holding off on presenting the USA Greco-Roman Overseas Medal Count until after both the Austrian Open and Thor Masters are completed.
Erickson answers some questions
As he was waiting to board what eventually became a delayed flight from El Paso back home to Colorado, 2016 US National Champion Toby Erickson (130 kg, Army/WCAP) went on the record. On Saturday after Hancock had just sealed his win in Hungary, Erickson was about to put the finishing touches on the Army's 18th consecutive Armed Forces title. There was some individual significance involved for the big man, as well. Erickson is now a three-time Armed Forces gold medalist following his own dominant performance.
5PM: You had done this before, scoring the last win of the deciding dual between the Army and Marines, but the teams scores have all been decided by the time you take the mat thus far. Is it difficult for you to maintain a sufficient level of intensity?
Toby Erickson: No, because the whole match is intense. It doesn't matter how one match goes ahead of me. I still have to go out there and attack, I still have to go out there and do my job, and win my match. I just try to keep the same intensity as when we started.
As Max (Nowry) said last week, we start it off at 55 kilos and end it at heavyweight with the same intensity all the way through. With this dual, it was, We start it with Max, we end it with Toby, and we need to keep the intensity high. We all have to do our jobs.
Just because the dual may be decided and we may have already won, doesn't mean that I can go out there and slack. I still have to go out there and do my best to try and put on a show and get the win any way I can.
5PM: We didn't talk immediately following Schultz. You had an injury to your arm last year and now you're two competitions in this season. How has everything been responding so far?
Erickson: Everything is starting to click really well. I'm finding my groove again. I'm at the point where I'm not worried about injuries anymore, I'm not afraid in my training anymore. I am going out and giving everything I've got. It's like taking the shackles off.
Last year sucked. I was beat up as all get out, and that made it hard to train. But this year, I am finding that I'm doing everything right. I might be taking a little longer to warm up, or maybe I'm moving a little slower when we start; but by the time I'm warm, everything is firing on all cylinders.
My training is going awesome right now and it's starting to show a little more here and there in my matches. Schultz was good, I should have won the match against the Georgian. I'm kicking myself for the mat awareness on that one. That is just something I need to knock out of my system. At this last tournament, I was feeling good, getting a little more refined. I'm looking to really dial it in once the Open comes in April.
5PM: Speaking of that, you have about eight weeks, give or take, until the Open. With everything starting to click again, do you change anything about the way you prepare? Are you going to build, taper, build? How is it you're approaching it this time around, especially with the Trials and Final X Series following somewhat closely?
Erickson: This time around, I am going to build up the intensity, get the cardio back to where it used to be up at before. I also want to make sure that while I am ramping my training up, I'm not overdoing it. And I think that's what happened to me before, I would overdo my training. I would run too much, I would lift too much, and it would just hamper what I'm doing on the mat.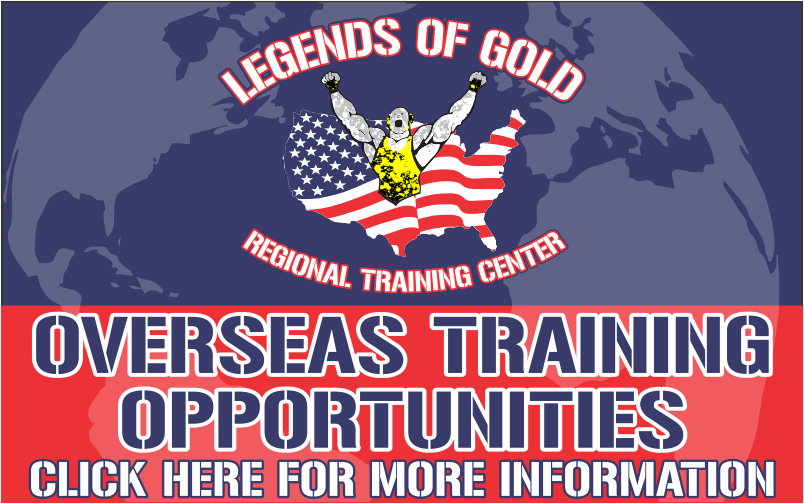 Now, I'm dialing it in more. I'm listening to my body. Okay, I'm hurting today, let's maybe dial it down on the run a little bit and let my body recover. That is what I think has really helped me along this time. I am finally listening to my body and I think right now it's starting to make everything else click again. My body will let me know when it's time to taper down, and when it's time to go. I'll definitely feel that big peak coming once April arrives.
Denmark Next on the Docket
The annual Thor Masters Invitational represents the United States' next overseas foray, taking place March 15th-16th in Nykobing Falster, Denmark. As you might already be aware, 2016 Olympian Jesse Thielke (63 kg, NYAC/LOG) and Cohlton Schultz (130 kg, Sunkist) are both going, but they certainly won't be alone.
Thor Masters is perhaps the most fan-friendly foreign event each year for serious Greco fans. There are plenty of high-caliber athletes, and because it is run in the Nordic system, there are also a high number of bouts to look forward to. It's a full scope of elite Senior Greco with a lot of fun matchups waiting to be enjoyed, and we will be previewing all of it fairly soon.
However, some troubling news unfolded in Denmark on Monday.
Brydeklubben Thor, the club that runs the tournament and recently unveiled its new state-of-the-art training facility, had two new UWW-approved mats stolen right from its floor. Details are lacking at this point and there is still no word if those responsible have been apprehended. This development won't affect the running of the tournament, but instead serves as a sobering reminder that no matter where you go, poorly-intentioned idiots are unavoidable.
Questions? Concerns? Feel like reaching out? Do so on Twitter, Facebook, and Instagram!
Listen to "5PM21: Paul Tellgren, Ellis Coleman and Alec Ortiz stop by the Five Point Move Podcast" on Spreaker.
SUBSCRIBE TO THE FIVE POINT MOVE PODCAST
iTunes | Stitcher | Spreaker | Google Play Music | RSS
Notice
: Trying to get property 'term_id' of non-object in
/home/fivepointwp/webapps/fivepointwp/wp-content/themes/flex-mag/functions.php
on line
999