Last week came and went the Russian Nationals. If you are squinting your eyes and scratching your head because it seems like that event had already recently transpired, you needn't feel vexed. This past October offered the "Russian Cup", which despite a very slight tweak in the format basically served as a fall edition of their flagship domestic event. A month later welcomed in the "Moscow Grand Prix", which brought forth competition only in the six Olympic weight categories.
Held in Rostov, the 2021 Russian Nationals for Greco-Roman did not see participation from multi-time World/Olympic star Roman Vlasov, who is hoping to qualify 77 kilograms (for Tokyo) in March. Reigning two-time World champ Musa Evloev (97 kg, world #1) was also missing in action. Both Vlasov and and Evloev triumphed at the inaugural Individual World Cup last month after appearing in October's "Russian Cup".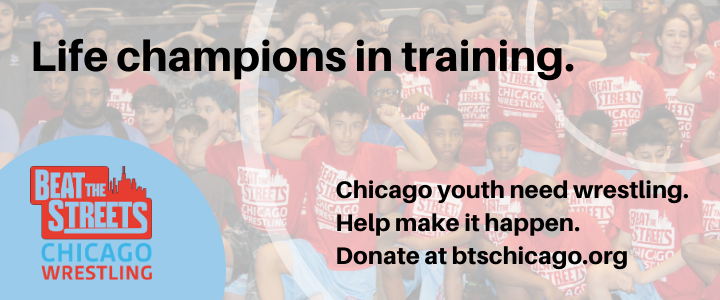 One of the more interesting notes regarding the tournament was that it marked the return of '18 World Champion/three-time medalist Artem Surkov (67 kg, world #6). Surkov, 27, had been out of action since the '19 Alrosa Cup and, in the many months since, has had a full plate. Surkov was unable to enter December's Cup in Serbia due to contracting COVID; then on New Year's Eve, his wife gave birth to twins, increasing their family unit to five (the Surkovs' first child was born mere hours after he wrapped up gold at the '18 Budapest Worlds).
It was a momentous occasion for Surkov on the mat last week. Rostov represented his first Russian National crown following a string of close calls previously; it also doesn't hurt that his 2-0 finals victory over '20 Individual World Cup gold Nasir Abdullaev was one of the more gripping bouts contested thus far this season (and included the deployment of a proposed rule update — to be outlined in more detail later this week). 
Surkov received the passive/par terre chance in the first but couldn't budge Abdullaev; he then got another crack at it in the second only to come up empty yet again. With 1:15 remaining, Surkov himself was dinged, giving Abdullaev an opportunity to take a criteria lead (no point accompanies the third passive). Unfortunately for Abdullaev, Surkov defended; when they were stood up it was a race to the finish with Surkov holding on for the narrow decision.
Emelin a First Timer; Sefershaev Goes Up; & Alizaev Sends a Message
'18 World Champion/'19 silver Sergey Emelin (60 kg) also collected his first National crown in Rostov by defeating Anvar Allahyarov — whom in the semis had gotten past well-decorated Stepan Maryanyan. Emelin — another Russian athlete who had prior dealt with COVID — was constantly pushed by Allayarov, but he answered back each and every time he had to. Allayarov took the first passive and had swung around for a front headlock, which saw Emelin simply fight his way to the feet. A step-out later in the first provided the multi-time medalist with criteria, and then he tacked on another shortly before the break. In the second period, Emelin was awarded a passive and two more on an Allahyarov caution for a 5-1 lead. The latter picked up a takedown on the edge with :07 left, but that was it.
In the same bracket, Emin Sefershaev went on his own impressive run. The '19 U23 World silver had competed exclusively at 55 kilograms leading into last week's tournament (and was one of Russia's seven champs in Serbia) but had little difficulty with the climb in weight. He sure gave Emelin a huge problem in the semis. Offensive scores were hard to come by. Sefershaev owned a 2-0 passive lead late in the match and then, similar to Surkov's bout against Abdullaev, a third passive entered the equation. Sefershaev was confused upon the call's arrival. Unlike Abdullaev, Emelin managed to capitalize by nailing a gut for the two points en-route to what was a nail-biting 2-2 criteria win.
Speaking of non-Olympic weight athletes moving up and making an impact, how about '19 U23 World gold Milad Alirzaev? Up to 87 from his now-former standard of 82, Alirzaev outhustled '18 National champ Bekhan Ozdoev from whistle to whistle. Again, this was one more finals bout where scores, either on the feet or from par terre, were absent. That doesn't takes away from Alirzaev's level of effort, however. He mashed Ozdoev in the ties and repeatedly took the initiative to weave (or brawl) his way into favorable positions — though Ozdoev did come close on a takedown until there was leg interference midway through the action. Alirzaev received passivity points in the first and second, the sum of his scoring. But it's still a bout worth watching if only for the work-rate.
As usual, the Russian Nationals comes with significant implications — first pertaining to the European Olympic Qualifier in March, and more so for the European Championships in April. Vlasov is the exception, since he was already entering the fray in Budapest at 77 kilos, and it's the same story for '18 World Champion/'16 Rio bronze Sergey Semenov at heavyweight. But although nothing is decided just yet, it would appear that by virtue of prevailing last week Alirzaev will have the opportunity to qualify 87. When it comes to the European Championships in late-April, most of the winners from Rostov are likely to be used. After that, team selection for Russia should begin to hit the last leg of its convoluted process.
2021 Russian Nationals
January 18-21 — Rostov-on-Don, RUS
55 kg
GOLD: Victor Vedemikov
SILVER: Vitaly Kabaloev
BRONZE: Yuri Tapaa
BRONZE: Dovujon Toshev
60 kg
GOLD: Sergey Emelin
SILVER: Anvar Allahyarov
BRONZE: Emin Sefershaev
BRONZE: Stepan Maryanyan
63 kg
GOLD: Aleksey Tadykin
SILVER: Marat Garipov (BRA)
BRONZE: Abu-Muslim Amaev
BRONZE: Roman Ivanov
67 kg
GOLD: Artem Surkov
SILVER: Nasir Abduallev
BRONZE: Azamat Akhmedov
BRONZE: Alexei Kiyankin
72 kg
GOLD: Chingiz Labazanov
SILVER: Stanislav Zaitsev
BRONZE: Adam Kurak
BRONZE: Islam Aliyev
77 kg
GOLD: Abuyazid Mantsigov
SILVER: Ilyas Magamedov
BRONZE: Ruslan Isakov
BRONZE: Aleksandar Chekhirkin
82 kg
GOLD: Adlan Akiev
SILVER: Shamill Ozhaev
BRONZE: Khamid Isaev
BRONZE: Ramazan Abacharaev
87 kg
GOLD: Milad Alirzaev
SILVER: Bekhan Ozdoev
BRONZE: Vaag Marganyan
BRONZE: Alexandar Komarov
97 kg
GOLD: Artur Sargsyan
SILVER: Alexander Golovin
BRONZE: Nikita Melnikov
BRONZE: Azamat Seitov
130 kg
GOLD: Sergey Semenov
SILVER: Vitali Shchur
BRONZE: Zurabi Gedekhauri
BRONZE: Nokhcho Labazanov
No Grand Prix? No Problem
Hungary has once again managed to find a way to attract many of the sport's best athletes, even in the absence this season of its beloved marquee tournament. In what is essentially a marriage of convenience, Tata — home to Hungary's version of the Olympic Training Center — will act as the site of the "Olympic Preparation Tournament" on February 13 before housing a training camp that begins the proceeding Monday. When the camp wraps is the real newsworthy item. It doesn't end the next week, or two weeks later. Instead, camp in Tata stretches all the way to the European Olympic Qualifier that is set for Budapest starting on March 18.
The tournament itself is said to boast an air of informality. It won't be a United World Wrestling-sanctioned event; also, it may run for two days, not one, depending on the number of entrants. All ten weight categories will be included in conjunction with a two-kilogram allowance.
At least several Americans will wind up making the trip, be it for the tournament plus time in camp, or just the camp. More information will be released regarding the Team USA presence as it becomes confirmed.


Listen to "5PM43: Christmas Time with Millersville's Kerry Regner" on Spreaker.
SUBSCRIBE TO THE FIVE POINT MOVE PODCAST
iTunes | Stitcher | Spreaker | Google Play Music
Notice
: Trying to get property 'term_id' of non-object in
/home/fivepointwp/webapps/fivepointwp/wp-content/themes/flex-mag/functions.php
on line
999