In the United States, outsiders tend to scrutinize the decisions athletes make and then imagine and re-imagine all of the different pathways that could (or if they're being really judgmental, should) result in success. The problem is, none of us are entirely sure what the correct path even looks like, nor do we account for the inevitable customization that enters the equation relative to an athlete's own specific talents and desires.
To put it plainly, we don't know what we don't know. All we can do is observe a baseline and use it to measure progress.
Such an approach makes it easy to understand where Billy Sullivan (55 kg, NV) is coming from.
Sullivan, who just over a week ago blazed through the 2019 Fargo Junior Nationals and was subsequently named the tournament's Outstanding Wrestler, left his home state of Nevada a couple of years back to train full-time at Legends of Gold in South Dakota. During that time — and even before it — he managed to travel to various spots throughout Europe in search of higher-level competition.


Though year-round full-time wrestling opportunities have increased recently, Sullivan is still an outlier. But more than that, he is also proof that when the right age-grouper is suitably motivated and mature enough to walk a different trail, the results will follow. Not only has he amassed a collection of overseas medals, Sullivan also put together an impressive showing at the Junior World Team Trials this past spring, falling only to eventual champ Dylan Ragusin (Izzy Style) in the final.
Of course, after some more mat time and preparation, he dominated Fargo Greco, going 6-0 with five tech falls, one pin, and outscored the opposition 59-0. Lights. Out.
Here is where the path begins to deviate a little more: unlike other youths who have bolted for full-time opportunities while still in high school, Sullivan actually plans on attending Oklahoma City University in the fall of 2020, where the great Sam Hazewinkel serves as head coach. But even with that, Sullivan — together with Hazewinkel — might be on the cusp of breaking more new ground. Do Greco-Roman practitioners who would still like to get a taste of the college experience finally have a home outside of Northern Michigan, Williams Baptist, and Cornell? It would seem so, especially since Hazewinkel is in the process of forming a regional training center.
As it were, Sullivan is his own (young) man and someone who can't help but find himself on the ground floor once again. It helps that he is wonderfully talented and clearly motivated. It helps even more that he is fully cognizant of what he wants  — and what he believes it will take to hold it in his hands.
Billy Sullivan — 55 kg, NV
5PM: How would you compare the differences between wrestling overseas opponents with domestic opponents in terms of the feel, the pace, and the style?
Billy Sullivan: Overseas wrestlers I feel are a lot more open. They engage more, so I find it easier actually wrestling them than I do opponents from the US. Here, they are really tight and closed-up when they're wrestling, so it's harder to get stuff going.
5PM: Fargo is such a massive thing here, just enormous. How do you see it from the athlete side and as someone who has competed internationally? Do you see it as this big, huge deal? Or do you see it differently than maybe those who don't travel out sideof the US?
Sullivan: Hmmm. I think compared to tournaments in the States, freestyle and Greco-wise, the way I see it is that Fargo and the Trials are the only ones that really matter. You can talk about Northern Plains and Southern Plains, and how these other tournaments are tough with good brackets, but I don't think any of those matter compared to Fargo and the Trials. And even then, Fargo is bigger than World Team Trials but it doesn't matter as much to the future for kids our age. You don't have all the #1's and #2's from the World Team Trials at Fargo, because they are all preparing for the Worlds. The stuff that actually matters.
5PM: One of the things we get from Fargo, and it's not a bad thing but it's frustrating, is that there are so many excellent folkstyle wrestlers who enter Greco and do awesome, but they don't have long-term plans in the style. Do you think if we were able to keep all of these age-group kids, our country would be seen differently internationally?
Sullivan: Yes, I think just like freestyle, these kids are folkstylers their entire lives and our freestyle team is incredible from age-group all the way up to Seniors. If they put in the same effort for Greco, we'd be just as good. Everyone here is athletic enough to do it. They don't have to be Greco athletes; so long as they have good mat awareness and they are athletic, they can become good Greco wrestlers from the beginning. If they work on it more, our country would improve drastically.
5PM: Was there a point during Fargo where you knew you had it, even before the finals?
Sullivan: Honestly, as soon as I made that weight class, I thought it was going to be in stone pretty much. I was originally planning on doing 120, but I was weighing 117 the day of freestyle weigh-ins.
5PM: Compared to 99% of the age-group wrestlers out there, you lived a different life. You trained at Legends of Gold in South Dakota, a full-time, year-round program out of state. Did you and do you realize the uniqueness of that situation?
Billy Sullivan: Yeah, when I first received a letter in the mail about it, I knew there wasn't anything else like it besides the (Olympic) Training Center. At the time, I was still wanting to do Greco only, so I thought about it for a bit. And then I looked at it and wanted to do it, because I knew that it would skyocket me to the next level and I would get so much better training there. So I instantly wanted to take a chance with that opportunity. It was really good. I like all of those coaches there and I still talk to them all the time. One of the coaches (Josh Nolan) is actually coming out to Nevada to start a club and that is really cool.
5PM: Jesse Thielke is one of the best wrestlers of his generation and he has been a coach there. What was it like having him in the room and being able to work with him?
Sullivan: I wrestled with him everyday twice a day. He was a little bigger than me, but it was perfect for us training-wise. He is one of the people who helped get me to where I am now. His attitude just completely changes from when he is just walking around to when he goes into the wrestling room, but he is still joking. He is still his normal self, and that makes it a lot better.
5PM: It seems like a special dynamic.
Sullivan: Yeah, he just lightens the mood all the time.
5PM: His style is so adaptive and you have some of that working in your favor, too, insofar as transitions and chaining techniques. How much of that is his impact, and how much of that comes from your own toolbox just naturally?
Sullivan: I'd probably say both, but mainly it was Jesse helping me with that one.
5PM: You competed well at the Junior Trials. It probably didn't go down real smoothly, but it was a very strong performance. With these World events now about to kick off, and with that Junior Team set to leave fairly soon, do you feel left out? Or do you feel more motivated regarding what you might be able to achieve in the future?
Billy Sullivan: I would probably say more the motivated part. I wouldn't say I feel left out because I've been invited to the OTC for all of the camps and overseas trips, and that has allowed me to stay in touch with all of the coaches who are coaching on these Teams. It is allowing me to build these relationships even more for the future.
5PM: Speaking of all that, you were busy all spring, you were overseas, then it was here, then it was the Pan Ams, and then you had to prepare for Fargo. Was that difficult to pull off, and how did you stay fresh and motivated?
Sullivan: I knew that my summer was going to be packed after the World Team Trials. I was at the OTC two weeks prior to Fargo for the development camp and the Cadet (World Team) camp, actually. I was there for that at least. Then I was training with one of my Vegas coaches who is also active on the Senior level, Britain Longmire. I trained with him twice a day every day prior to the Pan Ams getting ready for that. I found that to be really good for me because he is my size.
5PM: You just love to wrestle year-round anyway. 
Sullivan: Yes. The Junior camp is taking place right now at the OTC but I decided to take off this week.
5PM: What was your main motivation in choosing Oklahoma City University as opposed to a Greco environment like NMU (Northern Michigan) or the OTC?
Sullivan: Mainly the coach (Sam Hazewinkel) and the area. I know of a lot of teams around there where I can still go and train. But it was mainly Hazewinkel. Last summer for the Senior camp in Vegas, they brought me in to train. I got to wrestle with him and talk with him. That was mainly it.
5PM: Did you feel conflicted at all when it came to your school choice? Like your "Mr. Greco Guy", so it was expected you go to Northern or Colorado Springs?
Sullivan: No, actually, not at all. I mainly do Greco, just because, that's what I like to do. But that made it easy with Hazewinkel. I'm not a big fan of leg-grabbing, like, at all. Folkstyle though, I could deal with it, and Hazewinkel is really good at it and he's still the Greco guy, too. I knew that I would be able to do everything with him, compared to NMU where it would just be the Greco and not a lot of competition. They do a good amount of competition, but now I will be able to get the college competition as well as the overseas stuff with Hazewinkel.
5PM: There is something to be said for the benefits folkstyle may offer that could make you a more well-rounded Greco wrestler. Is that something you considered, as well?
Sullivan: Yes, because at Legends, I still practiced folkstyle with the club team everyday. Then we would have our IDA practice before our club practice, so I was still doing both and we'd do a lot of the same things from our IDA practice at the club practice that night, from Greco to folkstyle and freestyle, and all that.
5PM: What are you looking forward to most about working with Sam?
Billy Sullivan: I think it will be good for several things, given that he is a multiple-time World Team member and Olympian counting freestyle and Greco. He is super-good at folkstyle, too, so I'm excited.
Follow Billy Sullivan on Twitter and Instagram to keep up with his career and competitive schedule.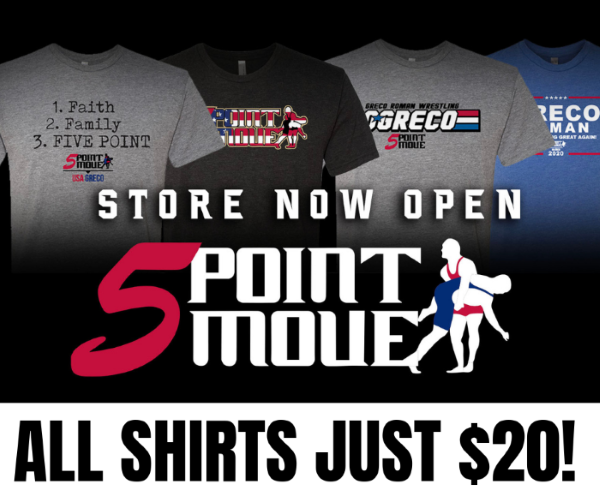 Listen to "5PM26: Princeton's Lenny Merkin and new USOTPC Greco-Roman athlete Nolan Baker" on Spreaker.
SUBSCRIBE TO THE FIVE POINT MOVE PODCAST
iTunes | Stitcher | Spreaker | Google Play Music | RSS
Notice
: Trying to get property 'term_id' of non-object in
/home/fivepointwp/webapps/fivepointwp/wp-content/themes/flex-mag/functions.php
on line
999