The term "blue chip" is tossed about pretty frequently in the sport of wrestling, but it is mostly applied from a statistical perspective. When a wrestler goes and strings together a series of titles, state or otherwise, and the credentials keep piling up with coaches gushing over imagined extrapolations, the chips in everyone's minds are rendered blue. This is a process that repeats itself annually, and it is how programs fill their rosters, and how dreams are realized — or put on hold.
This is how we do things in wrestling.
That doesn't make it right. But it's how we do them.
The best part about James Burks (72 kg, MWC) is that his accomplishments are actually overshadowed by the "eye test". He has four state titles, was a member of the 2018 US Cadet World Team, and just last week prevailed in the monster of them all, the Fargo Junior Nationals. But none of those checked boxes compare with his physical ability as a wrestling athlete. That's another thing about Burks, to pigeon-hole him as merely a "wrestler" would be missing the point. He doesn't have to wrestle, nor does he have to be good at wrestling. Burks, who was also a football star for Omaha Burke (Nice coincidence — Ed.), is the type of rare breed who can convince his body and brain to get on the same page in just about any physical endeavor, and somehow, some way, he'll look just as in command on a field of play as he does a rubberized foam mat.


Naturally, that is precisely why people want him to stay involved with wrestling. And for the purposes of what we do around here, Greco-Roman wrestling. In fact, include his World Teammate brother Jakason in the equation.
Let's go back to Fargo for a second. It's not the end-all be-all for Greco the way so many wish it were, but there is still an awful lot to be said about not only winning the event, but how it's won. And Burks' combined boxscore couldn't have been more outstanding. In seven matches, he outscored the opposition 78-6, amassing two pins, five tech falls, and reached the second period of a bout just once (in his semifinal victory via fall over Aaron Gandara of Arizona).
Throughout the tournament, Burks was a step ahead of each opponent, clawing, scrapping, and then spectacularly igniting an offensive attack that couldn't be stopped. Like, it literally couldn't be stopped. The proof is in the "stop sign".
But where does this all leave Burks, who despite his standing as a prized Greco prospect is targeting collegiate folkstyle at Northwest State University in the fall? Even he's not totally sure just yet. The only thing all parties involved can agree on is this: what we've seen so far is impressive; but it is perhaps nowhere close to scratching the surface of what potential the "eye test" promises.
James Burks — 72 kg, MWC
5PM: Winning Fargo is one thing, but you did it pretty dominantly. Does that matter to you, the fact you were able to carry the same explosiveness from one round to the next and make a statement?
James Burks: Yes, it mattered to make a statement because I am always looking forward to improving my wrestling and helping support the Greco route in wrestling.
5PM: How did you ease back into Greco competition mode so seamlessly? What do you like about Greco the most?
Burks: By getting mentally focused for my matches. I like that it's a thorough beatdown, that's what I go by. I just really like how it's all upper-body and it is really competitive. I like getting to my snaps and my bodylocks, just getting really explosive with my hips and bombing people.
5PM: You have chosen to attend Northern State University. As a former Cadet World Team member who came up under a great coach in Zac Dominguez, why not go for a Greco training environment somewhere else?
Burks: Because I plan on earning my four-year degree and then going into officer candidate school and wrestling for the Army as a higher rank.
5PM: Since you're such a big prospect, do you have goals on becoming a Senior World/Olympic Champion?
James Burks: Yes, I have goals set and that's my big-time goal. Right now, my main goal is to prepare to win a Division II National Championship. After that, it will be making the Junior World Team and winning that gold medal at the Worlds.
Follow James Burks on Twitter and Instagram to keep up to date on his career and competitive schedule.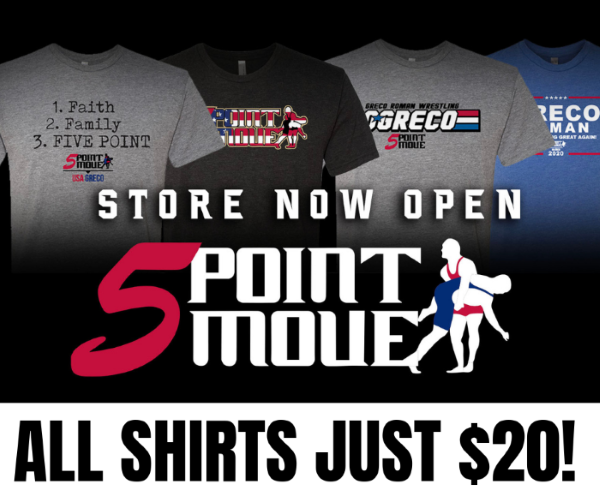 Listen to "5PM26: Princeton's Lenny Merkin and new USOTPC Greco-Roman athlete Nolan Baker" on Spreaker.
SUBSCRIBE TO THE FIVE POINT MOVE PODCAST
iTunes | Stitcher | Spreaker | Google Play Music | RSS
Notice
: Trying to get property 'term_id' of non-object in
/home/fivepointwp/webapps/fivepointwp/wp-content/themes/flex-mag/functions.php
on line
999