On Friday, Camden Russell (MWC) triumphed in a hard-fought final against Cael Swensen (MN) at 126 lbs to come away with his first National title.
Of course, it wasn't just any National crown. The tournament victory took place in (or at, whichever) Fargo, the annual spectacle celebrated for its enormity as much as for its mettle-testing degree of domestic competition. Russell, 19, was one of several legitimate candidates in his bracket — likewise his adversary in the final — so to go ahead and grab this achievement is not something that he is taking for granted at the moment.


But for an athlete like Russell, a win at the vaunted Junior Nationals is observed as a meaningful step towards what will hopefully wind up becoming a successful Senior career, as opposed to the one-off destination it is for so many other US age-groupers. Such is the conceptual tug-of-war Fargo represents to the American program. Competing well at the thing and managing to survive the gauntlet serves as an accurate portrayal of one's skill and tenacity — yet not enough of its Greco participants stick around long enough to actually realize their potential in the style.
That likely won't be a problem for the Nebraskan. Long before his hand was raised under the spotlight in the Fargodome, Russell demonstrated a desire to pursue the classical discipline for all its worth. That was evident when he out of nowhere performed well in Croatia two summers ago; and again the next spring when he went ahead and won the Austrian Open.
Even before that second trip to Europe, Russell received a brief education of what the Senior level looked like by entering the '17 Dave Schultz Memorial. Yeah, he got tossed and turned, but lessons learned the hard way have a habit of eliciting just the right amount of motivation to keep pushing forward.
In other words, we're dealing with a serious athlete who has serious goals, but is also non-committal as to the methodology he will employ to reach said goals. Russell's plan right now is to give folkstyle a second look in college, and part of his curiosity stems from improvements he has made on the leg-grabbing front (Russell was also an All-American in the freestyle division last week).
Nevertheless, you don't really worry too much. Russell's passion is obvious and he expresses his intent to venture forth with a touch of eagerness that is impossible to misinterpret. Plus, he's fresh off of putting a big win in his pocket that if parlayed correctly, will only lead to bigger wins down the road. Another fact of which he is more than cognizant.
Camden Russell — 60 kg, MWC
5PM: Winning a state title, depending on the state, is such a big deal that even if you go out and win at the National level, it still doesn't trump what happens locally or regionally. It's odd, but that is the culture. 
Camden Russell: If you're from Nebraska and are someone who goes into those national tournaments and excels, it doesn't really matter. I mean, obviously, you want to win a state title. That's what I wanted to do this year, win a state title. But my main focus was UWW (United World Wrestling) World Team Trials in Vegas.
That was my main focus before Fargo. Fargo was something I wanted to win — but I wanted to make a World Team before anything else. Fargo? I never really thought too much about winning a "stop sign", but now that it's happened, I'm like, Okay, what do I do from here? I am actually going to wrestle a little bit of folkstyle at community college and get my grades up because my grades in high school were not the best. So I guess we'll just see what happens.
5PM: Does winning this tournament kind of embolden you a little more? You've won big matches in high school and so forth, but getting this out of the way, given the size of the event and its high profile, do you feel better prepared or more assured for say, when you may find yourself in a Trials final?
CR:  Yeah, you know, I had never reached this level before, this was my first National title. It feels like I can step in and hang with anyone now, no matter who it is, how good they are, or how many accomplishments they might have. I know I can do my best and hang with anyone.
5PM: Zac Dominguez had already identified you as an age-group athlete who could have a bright future in this sport, and then you went and competed very well against some foreigners two years ago, winning a silver in Croatia. If it did, how did that change your perception of your potential in Greco?
CR: It honestly changed my wrestling style. Lucas Steldt really helped me. He didn't completely change my style, but he taught me some things that helped me excel against these foreign wrestlers who wrestle Greco way, way better than we do in the United States. That made me think, Wow, I need to get my Greco game up and wrestle a little harder. I don't know, it was just fantastic. That's all I have to say about Greco, because it changed the way I wrestle for the better.
5PM: And then you came back in time to compete in that Fargo (2017).
CR: Yeah, I took seventh and All-American'ed for the first time. I beat Jace Koelzer, who had won the Cadet title the year before. That was a big win for me. I had actually wrestled him earlier in the summer and broke his wrist, and that (Fargo) was his first tournament back.
5PM: The very next March, you went over to Europe and won the Austrian Open. Did you understand going in that this tournament is a pretty tough one and kind of means something for those who do well in it?
Camden Russell: Yes, I knew it tremendously, because Zac had told me that if I won or placed in that tournament, it would qualify me for Trials, even Senior Trials. I wasn't ready to wrestle at the Senior Trials at the time. But I knew going in that it was something else, and I also got to know those NMU (Northern Michigan University) guys and some of the others, and those dudes are awesome Greco-Roman wrestlers. Guys like Alston Nutter, Calvin Germinaro, and Cohlton Schultz.
The Austria trip was a big one for me. Although, I actually didn't get a chance to wrestle at the training camp because on the very first night I was wrestling with Luis Hernandez and trying to defend a gut when I basically destroyed my hand. I didn't break anything but I had bruised six or seven bones in there, and then I was out until the US Open. I was only able to get one practice in before the Open and I finished sixth.
5PM: You tried your hand at the Senior level by entering the fall edition of the Schultz in '17, as well. What's it like to wrestle with a good Senior compared to a Junior? You wrestled Max (Nowry), right? You had to have. 
CR: Yeah, I did (laughs). I knew he was going to have more experience and was going to be way better with Greco smarts. But I went out there, I was hand-fighting well, but then I got put down. I was moving on bottom and then he reverse lifted me and five'd me. But I was doing other things well. I was hand-fighting, pummeling… I just couldn't get to any of my moves. I was a little bit on the smaller side of 55 kilos, and now I can't even make 55, I don't think (laughs). But I'd say it was an honor wrestling Nowry at the age I was. He is the best at 55 right now.
5PM: Do you notice a difference in feel with the older guys?
Camden Russell: Absolutely. They are a lot more aggressive when it comes to their hand-fighting. They don't get too excited looking for big moves, and that's what I have a problem with sometimes. I really like my bodylock and I get way too overexcited to throw it, like you saw in the (Fargo) finals. I probably should not have thrown that first one. I tried it and it brought me straight to my back out of bounds. But those older guys, they just wrestle, they just flow. They don't push anything too quick. They like to make sure they can get what they can get. They don't force things, you know?
5PM: It's like driving on the Garden State Parkway. There are a series of tolls you have to stop and pay, but eventually you get to where you're supposed to be. 
CR: Exactly. That was the plan all along. It's about the experience. It's not like I went out there to win Dave Schultz. I went out there to grow in Greco.

5PM: When it comes to an event like Fargo, which figuratively and literally is an elevated platform, and you're seen as a "Greco guy", do you carry with you a kind of extra pressure?
CR: No, I get really nervous before matches no matter who it is I'm up against. I'll just be like, Okay, I have to wrestle smart. I can't do anything stupid. I know I can win these matches. I'm at that level now where I can win against anyone, but the nerves just get to me sometimes. And I think I've been doing way better controlling that this year, including in freestyle and folkstyle. I think I have been growing way more over the past year when it comes to the sport of wrestling as a whole.
5PM: When you say "nerves", what do you mean by that? Everyone gets butterflies. 
CR: I get anxiety no matter what. Things go through my head that probably shouldn't be going through my head. This year, I let a lot of that stuff go. Obviously I still get butterflies, but it's not as bad as it used to be.
5PM: Does it go away as soon as you make first contact?
Camden Russell: Yeah, as soon as I start wrestling the match everything just goes away. I'm in the moment wrestling hard, and that's all that matters.
5PM: When you're at a domestic tournament like Fargo or the Junior Trials, whichever, and you come up against a kid from a state that is known for Greco, do you acknowledge that and ramp your game up?
CR: I know that these kids have coaches who are experienced in Greco and I just try to wrestle my style. Sometimes it works out and sometimes it doesn't. I think it depends on the matchup. If I have a tall opponent, sometimes it's hard for me to get to my positions because they're so lanky. You'd think it would be easier, but it's not. Like Swensen in the finals. I tried to get to my bodylock but I just couldn't do it.
Back to the coaching standpoint, I know that there are kids who have amazing coaches and that they will be watching film on me and studying what I do, but I don't really think about that too much. It doesn't get to me as much as it used to.
5PM: Who else were you most impressed by from the Fargo finals, with the exception of your teammate James Burks?
CR: Billy Sullivan. Billy is someone I used to wrestle all the time, and I beat him just about every single time. I don't think he scored too many points on me. And then I wrestled him at the Junior Trials this year when I cut down to 55, I had him in the semis, and he just dominated me. I gained a little respect for him and followed him through this tournament.
I knew he was going to dominate his bracket and I had a couple friends in there, too. But I knew he was coming out on top. He was wrestling 113 lbs after wrestling 120 in freestyle. He had a really impressive tournament and I will for sure say that he was one of the most impressive kids I watched.
5PM: It's almost August. Do you have anything laid out Greco-wise, be it for training or traveling, in the immediate future. 
CR: I will be attending Iowa Western College and I told my coach, Hey, I am a big Greco wrestler. I will obviously be here for you whenever you need me; but I would also love to work out with Zac as much as I can Greco-wise, since that's my main style, he's close, and it's so convenient. He said it's totally fine. But I don't have any trips planned. Zac is trying to get me to go to the US Open but I don't know if I can since the JUCO nationals are like, the month after. I don't know if I can for sure go to that, but I will do anything I can to make it to the Open.
5PM: A lot of people figured you for one of these Greco programs, such as NMU or the OTC (Olympic Training Center). What is your main goal here for the next three years leading towards the end of the proceeding quad?
CR: NMU has always been somewhere I have wanted to go, and the OTC has always been somewhere I've wanted to go. But I don't know, I feel like I have done a lot better in freestyle and folkstyle this year than I have in the past. Maybe if I can go to junior college and get my grades up, I can look at wrestling Division I possibly. I don't know. That's the little picture.
The big picture is NMU and the OTC — especially NMU because I have a bunch of friends up there. If I had to pick, I'd probably pick NMU. I talk to all of those guys and they try to get me to go up there. I am going to try to go up there and visit sometime soon. I talked to (Andy) Bisek a couple of days ago and he said they may do a camp during the season for college kids who do want to wrestle Greco. He wants to get a little camp going for those kids who are in college and want to train in Greco, but aren't exactly able to.
5PM: You know what foreigners feel like. How do you use folkstyle to your advantage head-to-head overseas?
CR: Hand-fighting is one of the biggest things in Greco, and it is something that I focus on. You can't get to what you want to get if you don't have great hand-fighting skills. It's just something you have to get down. It is something I focus on, especially for Greco, but it has helped be become better in both styles.
5PM: Do you think that, developmentally, we are not translating folkstyle's effectiveness for Greco appropriately countrywide?
Camden Russell: It depends on the person. Some wrestlers focus on their folkstyle style and they switch over to Greco and they don't know what to do — even if they are good at Greco. But they're so focused on the folkstyle/freestyle aspect of wrestling. I wouldn't say we're doing a terrible job. We could be doing a better job, though. It's just that so many of these kids focus only on their folkstyle.
Follow Camden Russell on Twitter and Instagram to keep updated on his career and competitive schedule.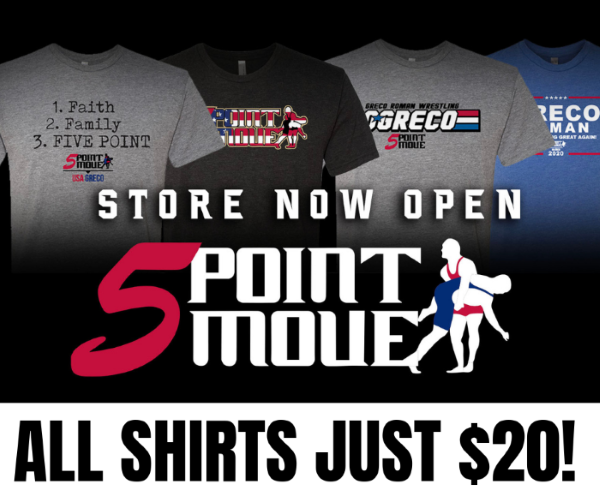 Listen to "5PM26: Princeton's Lenny Merkin and new USOTPC Greco-Roman athlete Nolan Baker" on Spreaker.
SUBSCRIBE TO THE FIVE POINT MOVE PODCAST
iTunes | Stitcher | Spreaker | Google Play Music | RSS
Notice
: Trying to get property 'term_id' of non-object in
/home/fivepointwp/webapps/fivepointwp/wp-content/themes/flex-mag/functions.php
on line
999