Olympic and World silver medalist Brandon Paulson is responsible for what has become a canonical catchphrase: "Love the fight". Three words beseeching the reader to follow an instruction. Love. The. Fight. There is no gerund meddling with the command. Paulson is not imploring you to love "watching" or "feeling" said fight. He's just telling you to love the fight.
There are questions which might, for the un-indoctrinated, arrive in short order. What part of the fight, exactly? Does he mean a single match? A specific situation? No, it's infinitive. Uncapped. In Paulson's view, the fight is the whole thing and it never ends. The entire process. Myriad tiny moments during matches and practice-room battles, forcing extra reps while exhaustion taunts every exerted motion, and shrugging off any residual wear so that the next day you can repeat all of it with the requisite amount of enthusiasm.
Paulson isn't chums with Justus Scott (72 kg, Legends of Gold-LV) just yet, but maybe they should get to know one another.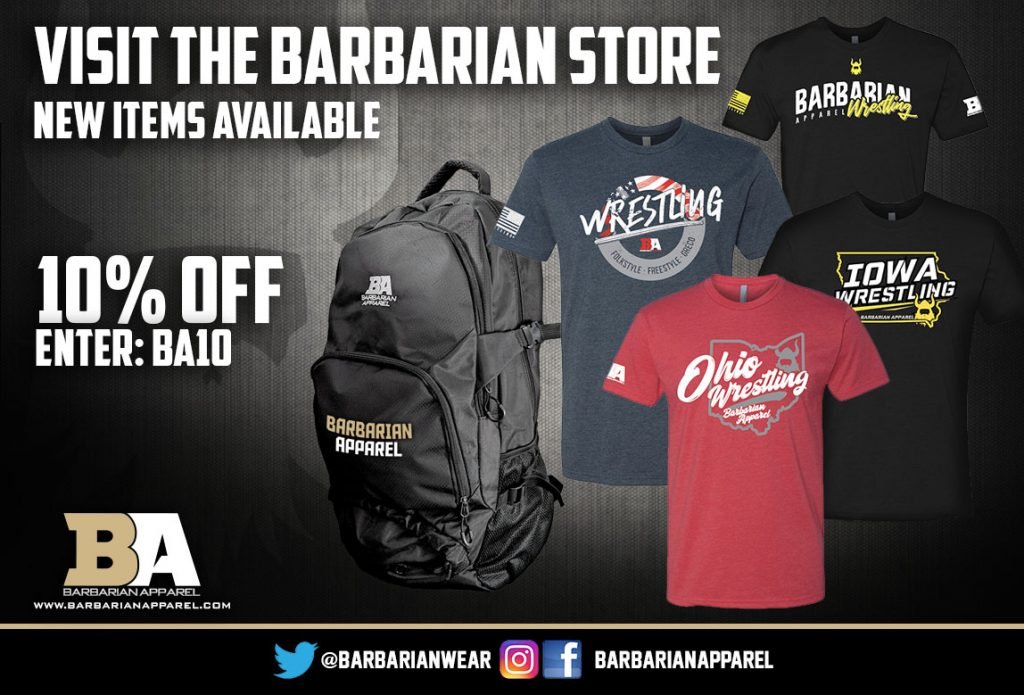 The 2021 US Junior World Team is comprised of ten athletes. Scott, prior to the selection tournament late last month, carried the lowest billing of them all. Outside of Nevada, his home state, and Baker University where he goes to school, he was not very well-known. At the Trials, Scott was practically shrouded in anonymity compared to the brood occupying other slots in his own bracket. But throughout the day, it all began to change. Wrestlers with whom most were familiar went about as expected, which is to say running up scores en-route to the finals. That wasn't how Scott advanced to the World Team-round. He was tested. Hard-style. Scott had to dig deep on multiple occasions in order to even have a shot. When the opportunity did in fact arise, he pounced for all he was worth.
Scott — who defeated seasoned full-timer Noah Wachsmuth (USOPTC) in two straight to punch his ticket to Russia come July — has been on the receiving end of an unusual amount of praise in the aftermath of the Junior Trials. On a Team crammed with exceptionally-talented athletes, Scott made noise based much more on his physicality rather than technical nuance. It wasn't that he won the tournament. It was that he aptly demonstrated a natural, fire-breathing sense for all of the miniature wars a Greco-Roman match has to offer.
People in this sport fall in love with throws and blinking scoreboards. Scott likes that stuff, too; but he is also, at the very least, equally-inclined to club, elbow, and head-whip if it means negotiating a position that holds some promise. He doesn't refer to his style as "brawling", because doing so would almost diminish its intent. Scott indeed has a plan out there — and that plan is to cause as much pain as possible in an effort to soften the opposition up enough to score. Academic in its purpose. If he does not particularly love a position, not a problem. He'll just buzz the other guy a few times and move onto something else.
And that matters. It is why coaches and a pocket of shrewd observers zeroed in on Scott's endeavors at the Trials. Wrestlers can be taught how to back arch. They can get tutored on arm drags and lift defense, underhooks and throw-by's. Scott, reared by Nevada's improved age-group system, has a feel for these fundamental mechanics. But not all wrestlers are prepared for the relative violence it takes to win positions that make a difference. Scott can't imagine doing it another way. He comes ready-made for this line of work.
Justus Scott — 72 kg, LOG-LV
5PM: Throughout your youth, have you always been interested in participating in the international styles once scholastic season comes to an end?
Justus Scott: Yeah, definitely. The very first club I joined had us wrestling freestyle and Greco instantly after our state tournament, as soon as regular folkstyle season ended going back to when I was eight. Ever since that first year, I always liked freestyle and Greco. It has always been something that I've done during the summer. Like, throughout my whole life.
5PM: Given that you are on the Junior World Team for Greco-Roman, the thinking is that you prefer Greco. If that is true, why do you gravitate more towards Greco than legs?
Scott: I definitely do gravitate more towards Greco. I don't know. I'd just say that is fun. It is more challenging, in my opinion. I think since a lot of people don't like it as much as freestyle — it is kind of the more uncommon style that people pour time and energy into — that makes it more attractive to me. Less people want to do it, so I want to try and go out there to represent the USA and hopefully bring home a medal from the Olympics in the future. That's the ultimate goal. Especially looking at how little of an amount of medals we've had Greco-wise at the Olympics has been something that interests me. It is something I want to help out with, to bring home some Olympic and World medals for Team USA.
5PM: A lot of people took notice of your wrestling style at the Trials. It's very gritty, very aggressive. At times, it borders on downright assault.
Scott: Yeah (laughs).
5PM: Have you always wrestled Greco that way? Or as you've gotten older, have you realized that more physicality is necessary?
Scott: That's just how I've always wrestled throughout my whole life. I wrestle very in-your-face. Gritty, hard, intense. I like to make it a fistfight. And I definitely think that I wrestle better when I get into that more intense mindset. That more physical, intense mindset. It helps me set the pace of the match to how I want it and it makes the match more fun for me.
5PM: Also during that tournament, you were one of the only champions who at any point throughout the day had been tested by others prior to the finals. You had a couple of really tough matches. I actually thought those bouts were a benefit to you. Did you consider that, as well?
Scott: I have never really minded back-to-back matches like that, even if they're super-close. I just like going out there and wrestling. I actually prefer my matches to be closer together because it leaves me less time to get out of that mental state. It's less time that I am sitting down kind of stagnant, not doing anything. So I kind of like it when my matches are coming up faster through the whole tournament in one day. I normally don't like waiting around until the next day, and then the next day my first match is the semifinals, or something like that. Then I have to re-warm-up all over again, get back into my mental state, and then get that first match out of the way. I like it when my matches are closer together like they were at the Trials.
5PM: If you need to get into some sort of place mentally, do you have a specific way you like to do that?
Justus Scott: My dad, coaches, and myself, we work on keeping the same rituals for every single tournament. But for this one, I definitely went in with a different mental approach. I was just trying to stay confident throughout the tournament. I was telling myself that I was going to win over and over and over and over again before every single match. After I won my semifinal match, I kind of felt like I had already won the tournament. I was like, Okay, I'm winning this. I'm winning this tournament. Nothing is going to stop me. I'm going to do whatever I can, whatever it takes and for as long as I have to. Nothing is going to stop me today. I was getting locked-in, and once I was locked-in I felt like I could win.
5PM: You wrestle at Baker University. How has college impacted your career as a competitor thus far?
Scott: I feel like it has helped. It helped me get in shape due to the format of the matches. It's definitely a grind when you're going top/bottom. It's a grind on bottom, it's a grind trying to ride the guy out for the whole period. So, I feel like it helps prepare for any kind of match and trying to weather the storm. It's a grind with how the practices are, how long the matches are… I feel like folkstyle is a more grinding-type style, anyways, so I feel like it has helped me in getting into that state during the season. Then I just carried it over into the offseason.
5PM: Nevada has come up in recent years developmentally. You grew up through this system, and you're obviously not far-removed from it. How did participation in Team Nevada activities grow your interest in wrestling Greco?
Scott: It definitely helped out a lot. Growing up through the Nevada wrestling program, I think they do a really good job in getting us to quality tournaments for freestyle and Greco. It also helped having a really tough region. Wrestling at the Western Regionals throughout the years has always been super-tough as a youth and then during high school, too.
And then, having the US Open in Vegas every year. Growing up watching the big-time Olympic-name guys wrestle for spots or a US Open title definitely helped grow my love for this sport. With the US Open, it was cool wrestling on some of the same mats as the other freestyle and Greco guys I looked up to.
I'd say tournaments like that definitely helped grow my love for freestyle and Greco. And just the aspect of Fargo, working towards All-American'ing, pushed my love for the international styles throughout the years.
5PM: There are three athletes on this Junior Team who were on the Cadet roster a few years ago, or they were Fargo champs, or have some other relevant credential. You on the other hand have had to scratch-and-claw and did not have the same resume. The Trials was, for a lot of people, their introduction to you and your brand of wrestling. What is it like to have your biggest win not at Fargo, but at something that matters much more?
Scott: It helps with the confidence a lot. I've always been 'right there', almost breaking through at top tournaments and making a name for myself. And I beat super-tough guys at various tournaments here and there, but no tournaments that mattered, like Fargo or any national tournament or whatever.
I had always been there right there on the brink of All-American'ing or placing, or beating a top-ranked guy to make it to the semis or the finals. It felt really, really good to finally break through, beat some really good guys, and make a World Team spot. I mean, I would take a World Team spot over a Fargo title any day (laughs). So it was good that I had to go through that. It felt really good. Kind of relieving to finally do that. It felt good to have all of the hard work throughout my whole life finally pay off.
5PM: UWW Juniors is different than Fargo Juniors, but the Junior World Championships is different than the Junior Trials. Foreign wrestlers aren't the same and almost unanimously grow up wrestling one style, and they focus much more on par terre. How do you plan on preparing for foreign competition?
Scott: I've already begun preparing since the week I got back from the Trials. I immediately started watching a bunch of foreign matches, the 2019 Junior World Greco bracket, and I was watching a bunch of foreign matches even before the Trials. But, I definitely went on a binge after the tournament to see what I'm up against. I don't know. I'm not too worried about it. I'm going to go out there and wrestle physically like I always do. And then I'll be going to camps, and my coaches will help me clean some stuff up for what we think I need to work on.
Definitely par terre I believe will be a bigger factor than it was at the Trials. I will probably be in a lot more par terre situations in the international matches. But I think I can hang with them. I'm kind of bummed that I didn't get to show more of my par terre offense and defense, especially in my finals matches. But I definitely think I can hang with them, and I understand that par terre is a big thing I am going to have to prepare for leading to the Junior Worlds.
5PM: What is it that you as a competitor bring to the table that will threaten foreign athletes?
Justus Scott: My intensity. I don't think they are going to like how hard I wrestle. I don't think they are going to like how hard I'm clubbing them, how hard I'm going to be engaging, grabbing… I mean, I'll give up a one-point unnecessary roughness call if I have to, but I'm going to keep wrestling that way the whole tournament through. I am going to wrestle mean and physical throughout the entire World Championships.
My coach Bill Mitchell and I were joking about it, but he was saying that he thinks I'm going to get booed out of the tournament or a match for how physical I wrestle (laughs). I definitely think I have that aspect to offer. I'm also long. Kind of funky. I know how to wrestle weird positions. I'll go for awkward stuff if I feel like it's there. That's about it.




Listen to "5PM48: Austin Morrow and Gary Mayabb" on Spreaker.
Listen to "5PM47: Nate Engel and Xavier Johnson" on Spreaker.
Listen to "5PM46: Taylor LaMont and Jessy Williams" on Spreaker.
SUBSCRIBE TO THE FIVE POINT MOVE PODCAST
iTunes | Stitcher | Spreaker | Google Play Music
Notice
: Trying to get property 'term_id' of non-object in
/home/fivepointwp/webapps/fivepointwp/wp-content/themes/flex-mag/functions.php
on line
999