RALEIGH, NORTH CAROLINA — Friday marked the first time Cohlton Schultz (130 kg, Sunkist) was suiting up for a Senior event on domestic soil.
And it wasn't just any event, mind you. It was the World Team Trials Challenge Tournament.
There wasn't supposed to be a lot of pressure on the soon-to-be college freshman, this despite owning a Cadet World title from 2017 and a Junior World bronze earned a year ago.
He could have just hung in there today and put up a somewhat representative effort, and still received pats on the back for a job well done.
Instead, he took out two of his weight class' best competitors and now finds himself in the Challenge Tournament final.
The afternoon session for Day 1 of the 2019 World Team Trials began at 4:00pm ET and was broadcast live in the US on FLOWrestling.


The first major obstacle facing Schultz this afternoon came in the form of Toby Erickson (Army/WCAP), who himself earned a Junior World bronze back in 2011 and in the time since has carved out a firm place among the Senior elite at heavyweight. Early in the first period, Schultz scored on a takedown and immediately followed with a gut to go up 4-0. It was a positional battle the rest of the way that saw Erickson unable to negotiate any advantageous tie-ups as Schultz repeatedly pummeled back to leverage and ultimately emerged victorious on the strength of a 6-0 decision.
Because 2016 Olympian Robby Smith (NYAC/Chicago RTC) entered into the tournament with an automatic bye to tomorrow's best-of-three due to his Pan Ams bronze last year, Schultz and 2018 Open champ Jacob Mitchell engaged in a first-place bout on Friday.
The high schooler assumed a 1-0 passive lead in the first period but eventually found himself down by a pair in the second with par terre looming for Mitchell.
As the WCAP wrestler locked for a gut, Schultz floated and stepped over to reclaim the lead. But the points became immaterial soon enough. From his back, Mitchell tried posting on Schultz to create adequate space to avoid the fall — and appeared close to doing just that. However, Schultz adjusted his position and had plenty of time to get comfortable. There was no longer an escape route. The fall arrived with :37 remaining in the bout to cap a memorable first day of action for the youthful star.
"I wouldn't say I was looking for it (the step-over), but I'm comfortable doing it," Schultz said afterwards. "When he got his lock I felt him going to the left. I was doing my job defending and keeping my composure, not getting ahead of myself. I felt his shoulder slipping and stepped over as soon as I could. Once I got in there I just had to be patient."
Now there is the little matter of a showdown with Smith. Though their relationship, which now stretches back several years, is a strong one, Schultz isn't worried about feelings coming into play when the time comes on Saturday.
"He has helped me out a lot and everything, we're pretty good buddies," said Schultz. "He came over and was joking around after my match (with Mitchell). It's all love now, but as soon as that whistle blows it is game time. You've got to put all that to the side. Can't worry about who it is, I just have to go out there and wrestle my best, and hopefully put up more points than the other guy."
STEF Does It Again; Hafizov & Miranda Advance
The talk of the morning was Geordan Speiller's (Florida Jets) return to active Senior competition, and he breezed to the semis after dismantling Vlad Dombrovskiy (Army/WCAP). Meanwhile, John Stefanowicz (Marines), who defeated Speiller at the '17 Trials with a clutch correct throw, had to fight tooth-and-nail to emerge out of his quarterfinal-round contest with Open bronze Chandler Rogers (CRTC).
Speiller and Stefanowicz hadn't met since that bout two years ago until today. The methodology was a little different on Friday but the result was the same.
After a bit of jousting to open up the proceedings, Stefanowicz found an opportunity for an arm throw that he chucked over near the edge for four, though Speiller bounded up immediately before they both crashed out of bounds. Two more points were awarded to Stefanowciz, Speiller gestured that two should have went his way, and the officials reviewed the sequence. When they came back, the score was adjusted to 4-0 for Stefanowicz and was accompanied by a shot from par terre for the Marine fireballer.
He took advantage.
Stefanowicz clamped around Speiller and then cranked two gutwrenches to put an emphatic end to the rematch. With the win, Stefanowicz is in the Challenge Tournament finals for a second-straight year against Cheney Haight (NYAC), who was also his opponent in the finals of the 2017 best-of-three Trial finals in Las Vegas.
In a match-up that was spotlighted ahead of time as a potential barnburner — but ended in decidedly different fashion — multi-time World Teamer and 2008 Olympian Ildar Hafizov (Army/WCAP) required all of :47 to get past '16 Junior World bronze Taylor LaMont (Sunkist). Hafizov flung LaMont to his back for four early on before executing two high guts with the latter attempt scoring four off the edge to put the bout away.

In the latest chapter of their rivalry, Randon Miranda (60 kg, NYAC/OTS) and '18 World Team member Dalton Roberts (NYAC/OTS) once again offered up a contentious affair. They were back-and-forth through the first half of their semifinal match, but then Miranda seized on a four-pointer and eventually wound up with a surprisingly wide 8-2 decision.
It will not be a completely new experience for Hafizov and Miranda. They also met in the Open semis last month with Hafizov coming away the victor.
Smith/Manville Part III Is Happening; Provisor To Face P-Mart
In yet another highly-anticipated bout that veered in one extreme direction, top-seeded Patrick Smith (77 kg, Minnesota Storm) turned back Peyton Walsh (Marines) via 8-0 first-period tech. On the opposite side of the bracket was a much more even struggle between Mason Manville (NLWC) and Corey Hope (NYAC). The duo comprised the third-place match at the Open last month, a 3-0 victory for Manville, but this time around it was Hope who was in command until one critical sequence took it all away.
Down 1-0 in the second period, Hope received his passivity/par terre chance. He first looked gut before stepping up for a lift and dropping for a collapse-gut that rotated Manville right over for two. Now with a 3-1 lead, Hope seemed to be in the driver's seat, especially with time becoming a factor. But as he has done so often, Manville kept the pressure on and create a lane to the body. As he burrowed into Hope, Hope tried to counter with his own throw only to have Manville land on top four big points and a 5-3 lead that he would not relinquish.
At 87 kilograms, it was one more situation where an athlete came into the tournament already owning a bye (Patrick Martinez, NYAC), meaning that a single-match final was held. Both two-time Olympian Ben Provisor (NYAC/NLWC) and Barrett Stanghill (Minnesota Storm/OTS) won in the semis — Provisor tech'ed Vaughn Monreal-Berner (Marines) and Stanghill got past National Team member Kevin Radford (Sunkist). To see who would earn the right to meet up with Martinez in tomorrow afternoon's best-of-three series, Provisor blanked a game Stanghill 5-0.
Martinez, the reigning World Team member at 87, defeated Provisor in the 2018 Trials finals series two matches to one.
The 97-kilo final everyone was looking forward to leading up is going to happen. Lucas Sheridan (Army/WCAP) bombed Khymba Johnson 9-0 and Daniel Miller (Marines) did the same to Eric Twohey (Minnesota Storm). Their history, albeit not a long one, is of immense interest. Miller nipped Sheridan at Armed Forces 2-1 back in February; but last month, Sheridan ran over Miller in the Open semis. Perception is that the distance between these two is somewhere in the middle, which could make for one helluva series on Saturday.
2019 World Team Trials Challenge Tournament
May 17th-18th — Raleigh, North Carolina
SEMIFINAL RESULTS
55 kg
Dalton Duffield (NYAC/OTS) def. Britain Longmire (UA/NV) 19-10, TF
Brady Koontz (ORTC) def. Ibrahim Bunduka (INWWTC) 9-0, TF
60 kg
Ildar Hafizov (Army/WCAP) def. Taylor LaMont (Sunkist) 10-0, TF
Randon Miranda (NYAC/OTS) def. Dalton Roberts (NYAC/OTS) 8-2
63 kg
Sammy Jones (NYAC/OTS) def. Lilleshawn Coleman (Army/WCAP) 5-1
Xavier Johnson (Marines) def. Travis Rice (IRTC) 3-2
67 kg
Hayden Tuma (Army/WCAP) def. Jarod Verkleeren (NLWC) 8-0, TF
Jamel Johnson (Marines) def. Austin Morrow (NYAC/OTS) 3-1
72 kg
Alex Mossing (Air Force RTC) def. Nick Tarpley (NYAC) 13-11
Michael Hooker (Army/WCAP) def. Alex Sancho (Army/WCAP) 5-4
77 kg
Patrick Smith (Minnesota Storm) def. Peyton Walsh (Marines) 8-0, TF
Mason Manville (NLWC) def. Corey Hope (NYAC) 5-3
82 kg
Cheney Haight (NYAC) def. Andrew Berreyesa (NYAC/FLWC) 6-1
John Stefanowicz (Marines) def. Geordan Speiller (Florida Jets) 8-0, TF
87 kg
Ben Provisor (NYAC/NLWC) def. Vaughn Monreal-Berner (Marines)
Barrett Stanghill (Minnesota Storm/OTS) def. Kevin Radford (Sunkist) 5-1
97 kg
Lucas Sheridan (Army/WCAP) def. Khymba Johnson (NYAC/OTS) 9-0, TF
Daniel Miller (Marines) def. Eric Twohey (Minnesota Storm) 8-0, TF
130 kg
Jacob Mitchell (UA) def. Haydn Maley (CARTC) 9-0, TF
Cohlton Schultz (Sunkist) def. Toby Erickson (Army/WCAP) 6-0
Finals bouts contested Friday
87 kg: Ben Provisor (NYAC/NLWC) def. Barrett Stanghill (Minnesota Storm/OTS) 5-0
130 kg: Cohlton Schultz (Sunkist) def. Jacob Mitchell (Army/WCAP) via fall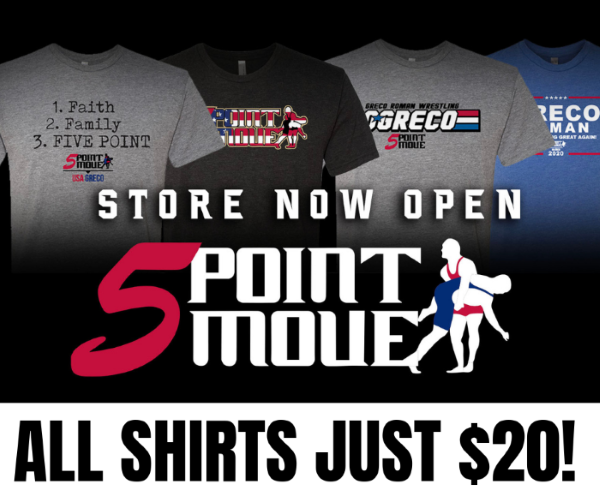 Listen to "5PM23: World Team Trials Challenge Tournament Preview" on Spreaker.
SUBSCRIBE TO THE FIVE POINT MOVE PODCAST
iTunes | Stitcher | Spreaker | Google Play Music | RSS
Notice
: Trying to get property 'term_id' of non-object in
/home/fivepointwp/webapps/fivepointwp/wp-content/themes/flex-mag/functions.php
on line
999