RALEIGH, NORTH CAROLINA — If you were to say something like Who saw that coming? following the conclusion of the World Team Trials Challenge Tournament on Saturday, you'd be doing the other party a favor by specifying exactly what you meant.
That's because the best-of-three finals not only delivered a few newly-minted champs who might have been previously overlooked, but also further introduced the next wave of athletes who appear ready to dominate the United States Greco-Roman landscape.
Day 2 of the 2019 US World Team Trials began at 1:30pm ET on Saturday and was broadcast live on FLOWrestling.


2017 Cadet World Champion Cohlton Schultz (130 kg, Sunkist) entered action on Friday as an interesting youngster to watch, but with tempered expectations. That perception slightly changed Friday morning after he downed Toby Erickson (Army/WCAP) — and was completely smashed to pieces when he pinned Erickson's teammate and US Open champ Jacob Mitchell in the latter stages of their semifinal bout.
The lone obstacle remaining for Schultz couldn't have been more significant: 2016 Olympian Robby Smith (NYAC/Chicago RTC). A member of five-straight World-level Teams ending in '18, former Olympic Training Center athlete Smith, 32, had been around for much of Schultz's development in the sport, injecting even more drama into the outcome.
Match 1 opened with Smith immediately gunning for an arm throw. It looked close, but Schultz stayed on his feet before eventually earning the bout's first passivity. They traded in the pummel with neither holding a clear advantage moving into the second frame. Smith received his own passivity point and circled to a front headlock. He tightened and tried to crank Schultz over to no avail. The pace didn't change too much from then on, and Smith held firm for the 2-1 win.
Their second battle of the series went similarly. They collided at the outset, though Schultz appeared to operate with a brisker pace. A step-out and passivity provided the 18-year-old with two points, and it was any wonder if that would be enough. It almost wasn't. Smith began coming on late in the in the second trying to steal the momentum and end the series early. Schultz' wasn't going anywhere, and his 2-1 held till the end, thus earning himself a reprieve along with the biggest individual win of his Senior career — although that win would soon be eclipsed.
It was set to come down to a Match 3 that invited a slew of hypothetical variables. Did Schultz have the juice to push through six more minutes of "alone time" with Smith? Would Smith better account for Schultz's ability to navigate the tie-ups and generate a scoring chance on the feet? Would a big mistake wind up costing one or the other the entire series?
Once again, Smith used the par terre to swoop around for a front headlock. Up close, it at least appeared that he had cinched it to an adequate degree of tightness. So he pulled. And he torqued. And he sat on his hip. It was a calculated risk — after all, Schultz used to spend plenty of time in that hold back when the duo were more like older brother and little brother, and not athletic contemporaries.
As Smith sat to pull, Schultz resisted, but then felt the grasp loosen enough to ease forward while wrapping around Smith's waist and attempting to drive him to his back. He settled for a reversal point, the sequence eliciting a roar from the audience. Smith wasn't done just yet. Back standing, he bullied forth searching for a limb, a lane to the body, or even an off-balance that could somehow turn the tide with precious seconds evaporating from the clock and then a caution-and-two rang in to widen the gap. Schultz deftly fended off Smith's advances to put the finishing touches on a series victory few would have predicted prior to this week.
"I was just making sure I stayed in the fight and it opened up a lot of doors," Schultz explained following his groundbreaking win. "Pressure doesn't really mean anything. There's a lot of pressure people try to put on you, saying this or that. But ultimately, it's up to your mindset whether that gets to you or not. I have my own expectations and that's what I hold myself to."
Marines Go Back-to-Back
The 63-kilogram bracket offered a finals series that many were looking forward to, as Xavier Johnson (Marines) swept "Wildman Sam" Sammy Jones (NYAC/OTS) in two straight bouts. The first match delivered a touch of controversy; after scoring on a lift from par terre, Johnson re-loaded Jones but came up short. However, the call on the mat was a caution on Jones for legs, leading to a challenge review. The call was upheld, giving Johnson two for the caution and another point for the lost challenge, ending the contest at 8-0 midway through the first.
Match 2 involved more confusion. Once again working with the first par terre top opportunity, Johnson went to lift Jones and and was credited with four points — even though Jones did not expose. But he also did not challenge the sequence. Rather, Jones wrestled through and turned the tables by yanking a front headlock toss that was good for his own four. Down by a point in the second, Jones reached for a headlock that perhaps could have been ruled a slip only to have Johnson cover for a takedown. There was no further scoring, and Johnson — whom earlier this season earned a bronze in Croatia along with a UWW top-20 ranking and has improved at a rapid pace the past two seasons — had cemented his place in the coveted Final X Series where he will meet two-time National Champion Ryan Mango (Army/WCAP).
Jamel Johnson (67 kg) is now two wins away from representing the United States at the World Championships thanks to his sweep of top-seeded Hayden Tuma (Army/WCAP). Arguably, this series was decided in the first period of Match 1. Tuma, one of the deadliest par terre athletes in the entire country, rolled for a gut and Johnson stepped over to collect a reversal point. That disrupted most of Tuma's momentum going forward. Up 2-1 in the second following a passivity, Johnson shucked away a Tuma throw attempt and covered for a takedown to seal the match at 4-1.
Par terre is often referred to as "the great equalizer" in Greco-Roman competition, and it certainly was in the second bout of the series. Once again, Tuma received the first passive but Johnson defended. In the second, it was Tuma's turn to assume bottom and the Marine took full advantage. Johnson got his lock and adjusted, wringing his wrists and shooting his leg underneath in effort to kick off with a proper degree of power. He had to work for it. Tuma wasn't going easily. But as soon as Johnson achieved the first rotation, he repeated the motion and turned Tuma for two more points. Leading 5-1, all Johnson had to do was hold strong till the whistle. Tuma raced in looking for attempts. He's always dangerous. But the day didn't belong to him. The 5-1 decision caps a remarkable run for Johnson, who himself was a member of the Army program before reuniting with his former college coach Jason Loukides on the All-Marine Team two seasons ago.
"To be honest with you, I just wanted to drag him in the mud a little bit," Johnson said afterwards. "I have a great tool, my teammate Ray Bunker (72 kg). He's a phenomenal pummeler, and I don't even pummel. You see my matches, I'm usually trying to throw or trying to make it spicy. Today I relied on a tool that I don't use, which is pummeling. And I knew I could go in the mud a lot deeper than he possibly could, and I was willing to find out if he could do that."
STEF Finally Overcomes Cheney
Dating back to 2016, John Stefanowicz (82 kg, Marines) had been unable to defeat two-time World Team member Cheney Haight (NYAC) in five tries.
On Saturday, he beat him twice. In a row.
The brunt of the scoring in Match 1 came from a technique for which Haight is more well-known, but one that has proven handy for Stefanowicz, as well — an arm spin. Coming off of the first exchange, Stefanowicz pivoted and waterfalled Haight over for four, ending up near the edge and with Haight almost picking up a reversal point. It was a 4-0 Stefanowicz lead in the second when Haight received his passive point and went to work on a gut. But just as Haight proceeded to rotate the hold, Stefanowicz reversed position to net another point in what was a 5-1 decision victory for the Marine.
In Match 2, Stefanowicz took the first passive/par terre opportunity and ran with it, gutting Haight twice to jump ahead 5-0. He would not need to score again. Haight's best chance came in the second from par terre top. He had dug in for a reverse lift but Stefanowicz remained pasted to the mat. There was still time to make something happen. Haight brushed inside and level changed, looking to latch onto a limb or zero in on Stefanowicz's waist. Nothing was doing. Just after the buzzer sounded, Stefanowicz gestured towards the crowd in appreciation. On an afternoon when the All-Marine Team stole most of the headlines, their 82-kilogram competitor's Trials triumph seemed poised to welcome in one more.
Sheridan Tops Miller in Classic
There was a lot to love about the idea of a Lucas Sheridan (97 kg, Army/WCAP)/Daniel Miller (Marines) final, especially due to their recent history together. In their first-ever meeting back at February's Armed Forces, Miller popped his head out of a Sheridan headlock attempt in the opening period to walk away the winner of a tense 2-1 decision. Last month in the Open semis, Sheridan ran away with a second-period tech. The consensus was, and still is, that the distance between the two lies somewhere in the middle. But there has to be a victor, and when it counted the most on Saturday, that man was Sheridan.
But wow, was it something.
A patented Sheridan headlock broke the ice in Match 1 but Miller immediately reversed and yielded two exposure points. The flurry wasn't even through yet. Miller locked and hoisted Sheridan up for a lift, couldn't quite attain adequate leverage, and Sheridan reversed for a point. The score at the end of the chaos was 5-2, Sheridan, and it stayed that way for the entirety of the bout until only :01 remained. One second. At :02, Miller rammed Sheridan to his back from over/under's; at :01, four points were awarded. Still, there had to be a challenge but a lengthy review wasn't necessary. In dramatic fashion, Miller collected the Match 1 win and everyone watching needed to catch their collective breath.

Match 2 wasn't as crazy — but there was still some craziness. The majority of the scoring was decided in the first period and it arrived on the strength of a Sheridan arm spin. An arm spin, a technique Sheridan honed as a youth under the tutelage of Mark Halvorson, but one he had not employed on the Senior circuit. But there it was, and it caught Miller completely by surprise. More importantly, it rung in four cushiony points that escorted Sheridan to a 5-0 Match 2 win.
With the series knotted at one apiece, it was Miller who benefited from the first passivity call. A lift attempt came loose, allowing Sheridan to buck to his feet before hustling Miller off the line for a point. The passivity in the second period saw Sheridan net two from a gutwrench — but as soon as Miller exposed, he stepped over and reversed. With the score at 4-3, Miller fought back, and hard. An over/under tie-up looked promising — but was halted by the official. So they resumed working. Due to Miller's onslaught, Sheridan had no other option than to meet the intensity. They clashed with enough force to where it was audible matside. On one exchange, Sheridan almost coaxed Miller off the edge while holding deep double underhooks; but somehow, the Marine circled back towards the center to keep the fight going. It just wouldn't stop, not unless others intervened. Alas, the whistle sounded. When it did, Sheridan raised his arms, having secured his first Trials tournament win — and his first Senior domestic title, period.
"The frustration is there and there is no doubt about that," Sheridan said regarding the ending to Match 1. "It's about what do I need to do? It's like, Okay, I have a lead. We know he can bodylock me when I'm being an idiot, so shut it down on that. Control the arm when I have my underhook. I'm not so much worried about what they're doing, I am worried about what I need to do."
Mossing Outduels Hooker; Koontz Surprises Duffield
One of the most remarkable stories of the tournament was Alex Mossing (72 kg, Air Force RTC), whose season last year ended due to an injury sustained in the U23 Trials finals. Mossing did come back to wrestling for the collegiate season, and looked suitably tough at the US Open three weeks ago. That doesn't mean he was seen as the premier contender in a weight class featuring '18 World Team member RaVaughn Perkins (NYAC), a returning Alex Sancho (Army/WCAP), and finals opponent Michael Hooker (Army/WCAP).
After Mossing upset Perkins on Friday, he was forced to endure a back-and-forth battle with Nick Tarpley (NYAC) that ended with a combined 24 points scored. So, there's that. Against Hooker in Match 1, Mossing didn't score a single point, as the WCAP rep went on a tear to end things early via tech. Match 2 told a different story. Mossing carried a 3-0 lead into the second thanks to his deft counter of a Hooker arm throw. Hooker struck back eventually, whamming a headlock for four — but Mossing rolled right with it and drummed up some points of his own en-route to prevailing 7-4.
Whatever suspense remained entering Match 3 didn't last very long. Mossing used the first passivity/par terre to turn Hooker. Later in the opening period, Hooker looked to unfurl an arm spin — and just like in Match 2 — Mossing clutched, yanked, and threw Hooker for four. The Air Force Academy tied a bow around his first Senior Trials victory in the second period by coming up with a step-out point.
2018 Junior World Team member Brady Koontz (ORTC) was a refreshing entrant in the 55-kilogram field, and he took out top-seed and fellow uber-prospect Dalton Duffield (NYAC/OTS) in two straight matches to the surprise of many. Match 1 brought some excitement. Koontz jetted out to a 5-0 lead with the help of an elbow-to-elbow gutwrench that was responsible for turning Duffield twice from par terre. But with time about to run out, Duffield walloped a four-pointer to make things interesting, though he was unable to complete the comeback.
Duffield was put down first in Match 2, and again, Koontz went to that elbow-deep gut to come away with four points and a subsequent 5-0 lead. He wasn't in much trouble the rest of the way, and he will now prepare to face two-time US Open champ Max Nowry (Army/WCAP) at Final X Rutgers early next month.
Three Former World Team Members Advance
Three athletes who were teammates on the 2017 World Team all won their respective best-of-three series yesterday in two straight matches.
Ildar Hafizov (60 kg, Army/WCAP, more on him upcoming) got past U23 World Teamer Randon Miranda (NYAC) by going on the attack and taking advantage of every opportunity availed to him, big or small. In Match 1, Hafizov scored two off of an arm throw and added three more points following a par terre/turn sequence. The former Uzbekistan National Teamer tacked on four more in the second frame when he got to Miranda's body and shuffled him down for four.
Match 2 saw Miranda receive the first passive chance and go for a gut that Hafizov floated to pick up a reversal point. He tried to end it right then and there; Hafizov went for a big lift but had to settle for two. Three more points via passive/par terre in the second period were all she wrote. When Hafizov meets teammate Mike Fuenffinger next month at the Lincoln Final X, it will mark four consecutive years he is appearing in a best-of-three Trials final.
"I was preparing for that (Miranda's counter-offense style)," Hafizov said. "I didn't rush, I didn't do anything crazy or push him back to get scored on. I think I kept it calm, calmer than usual. I usually try to run over people and score all the time. Now it was more just like, Calm down and score on whatever I see. It's a lot easier."
The highly-anticipated series between Patrick Smith (Minnesota Storm) and Mason Manville (NLWC) did not disappoint. It also did not deviate from their previous two meetings. In Match 1, Smith's pressure led to an early step-out point and the first par terre chance. Manville, always an intense battler, was relentless in his own right, though he was banged for passive again in the second period to give Smith a 3-0 advantage that wound up proving the difference.
Their second go-round was very similar, except for the fact that Manville got on the board. But they weren't offensive points. In the first period, Smith was hit for a caution-and-two. He wasn't in the hole long, however. The bout's only passivity went to Smith soon after, and he was then able to get Manville to step-out. Midway through the conclusive period it happened again. As they jousted in the hand-fight, Smith urged Manville to take a step back — and out — netting himself one more point and a 3-2 lead he'd hold onto for the remainder.
A rematch from the 2018 Trials final took place at 87 kilograms, where two-time Olympian Ben Provisor (NYAC/NLWC) and reigning World Team member Patrick Martinez (NYAC) once again offered an extremely physical yet tactical upper-weight clinic. As expected, neither was willing to give an inch. They traded passivities in the first match with Provisor receiving his in the second period, ultimately winning the bout by virtue of last-point-scored criteria.
The sum of Match 2's scoring was accomplished in the first period. Provisor latched double overhooks and arched Martinez to the mat, grabbing himself two for the correct throw. On the next exchange, Provisor worked Martinez to the boundary and picked up a step-out point. The angst climbed a bit in the second period, especially when Martinez got a line to Provisor's body and almost scored, only to have it called for back for offensive legs. Everyone knew what they were going to get from these two. Like Smith/Manville, Provisor and Martinez made good on the promise of a brutal best-of-three, but one that did not require a third and decisive bout. Next up for "Big Ben" will be 2018 National Champion Joe Rau (TMWC/Chicago RTC) at Final X Rutgers.
Notes:
Seven of the ten champs from Saturday won their first-ever Senior Trials tournaments — Koontz, X. Johnson, J. Johnson, Mossing, Stefanowicz, Sheridan, and Schultz.
Of the 23 finals matches contested, 20 went the distance.
The All-Marine Team boasts four athletes in the Final X Series (X. Johnson, J. Johnson, Bunker, and Stefanowicz) and six National Team members with Peyton Walsh (77 kg) and Miller.
2019 World Team Trials Challenge Tournament
May 17th-18th — Raleigh, North Carolina
BEST-OF-THREE FINALS
55 kg
Brady Koontz (ORTC) def. Dalton Duffield (NYAC/OTS) two matches to none
Match 1: Koontz def. Duffield 6-4
Match 2: Koontz def. Duffield 5-0
60 kg
Ildar Hafizov (Army/WCAP) def. Randon Miranda (NYAC) two matches to none
Match 1: Hafizov def. Miranda 7-0
Match 2: Hafizov def. Miranda 6-1
63 kg
Xavier Johnson (Marines) def. Sammy Jones (NYAC/OTS) two matches to none
Match 1: Johnson def. Jones 8-0, TF
Match 2: Johnson def. Jones 7-4
67 kg
Jamel Johnson (Marines) def. Hayden Tuma (Army/WCAP) two matches to none
Match 1: Johnson def. Tuma 4-1
Match 2: Johnson def. Tuma 5-1
72 kg
Alex Mossing (Air Force RTC) def. Michael Hooker (Army/WCAP) two matches to one
Match 1: Hooker def. Mossing via fall
Match 2: Mossing def. Hooker 7-4
Match 3: Mossing def. Hooker 8-0, TF
77 kg
Patrick Smith (Minnesota Storm) def. Mason Manville (NLWC) two matches to none
Match 1: Smith def. Manville 3-0
Match 2: Smith def. Manville 3-2
82 kg
John Stefanowicz (Marines) def. Cheney Haight (NYAC) two matches to none
Match 1: Stefanowicz def. Haight 5-1
Match 2: Stefanowicz def. Haight 5-1
87 kg
Ben Provisor (NYAC/NLWC) def. Patrick Martinez (NYAC) two matches to none 
Match 1: Provisor def. Martinez 1-1
Match 2: Provisor def. Martinez 3-1
97 kg
Lucas Sheridan (Army/WCAP) def. Daniel Miller (Marines) two matches to one
Match 1: Miller def. Sheridan 7-5
Match 2: Sheridan def. Miller 5-0
Match 3: Sheridan def. Miller 4-3
130 kg
Cohlton Schultz (Sunkist) def. Robby Smith two matches to one
Match 1: Smith def. Schultz 2-1
Match 2: Schultz def. Smith 2-1
Match 3: Schultz def. Smith 5-1
National Team Matches
60 kg: Taylor LaMont (Sunkist) def. Randon Miranda (NYAC) 4-2
63 kg: Sammy Jones (NYAC/OTS) def. Dylan Gregerson (UVRTC) 5-2
77 kg: Peyton Walsh (Marines) def. Mason Manville (NLWC) via forfeit
82 kg: Geordan Speiller (Florida Jets) def. Cheney Haight (NYAC) 7-0
87 kg: Patrick Martinez (NYAC) def. Barrett Stanghill (Minnesota Storm/OTS) 2-1
130 kg: Jacob Mitchell (Army/WCAP) def. Robby Smith (NYAC/Chicago RTC) 2-1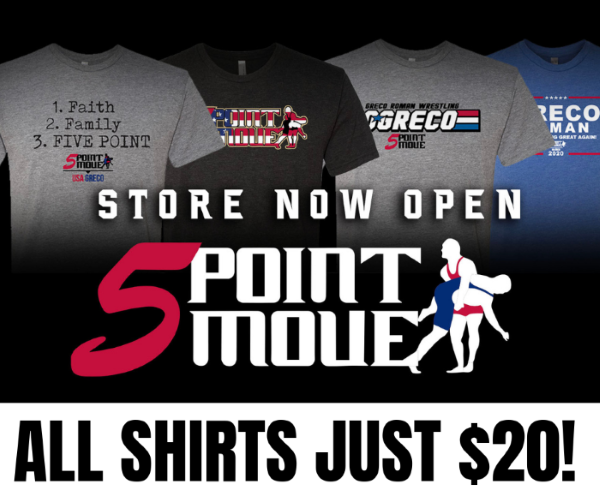 Listen to "5PM23: World Team Trials Challenge Tournament Preview" on Spreaker.
SUBSCRIBE TO THE FIVE POINT MOVE PODCAST
iTunes | Stitcher | Spreaker | Google Play Music | RSS
Notice
: Trying to get property 'term_id' of non-object in
/home/fivepointwp/webapps/fivepointwp/wp-content/themes/flex-mag/functions.php
on line
999