It would seem that G'Angelo Hancock's (97 kg, Sunkist) 2019 has gotten off to quite the hot start.
Earlier today, Hancock ran the table in one of the deepest weight classes of the 2019 Hungarian Grand Prix to come away with a gold medal that will rocket him towards the top of United World Wrestling's top-20 rankings.
The medal rounds of the 2019 Hungarian GP began at 6:00pm local time in Gyor, Hungary (12:00pm EST) and aired live in the US on FLOWrestling.
After defeating three tough opponents during the morning session, Hancock took the mat in the finals opposite two-time University World champ Fatih Baskoy (TUR). There was prior history to account for: Hancock and Baskoy originally met in the qualification round of the 2017 Paris Worlds in what was a 3-0 win for Hancock.


The same drama that defined their '17 matchup was available today. Hancock aggressively looked to gain control from the whistle and backed Baskoy up by going for body attacks and go-behinds. Baskoy played back in just enough, but it was he who was deservedly knocked for passivity in the opening period. From top, Hancock got his lock but found trouble budging his opposition, and back up they were with 1:26 to go before the break.
In the second period, Baskoy seized on a familiar approach in these hard-driving World-level contests. Down by only a point, he decided to up his activity in hopes of getting the second and last passive/par terre chance. Even though Hancock was still outgunning him in each exchange, Baskoy's strategy worked and he got his point. He went to lift, pulling Hancock to his hip. The American adjusted his position and scrambled out — but briefly lost his footing on the slippery tarp. Turkey wanted two points, and they got 'em, but the US side challenged the call and won.
After the restart, Baskoy found himself behind Hancock and hustled him off the edge. Down 3-1 and with time whittling away, Hancock didn't flinch. On the very next exchange, he corkscrewed around Baskoy, got behind, and picked up two, taking a 3-3 criteria lead. Baskoy didn't have the gas tank to muster much more prior to the end of the match, and Hancock easily stalked position en-route to an impressive gold at one of the sport's premier events.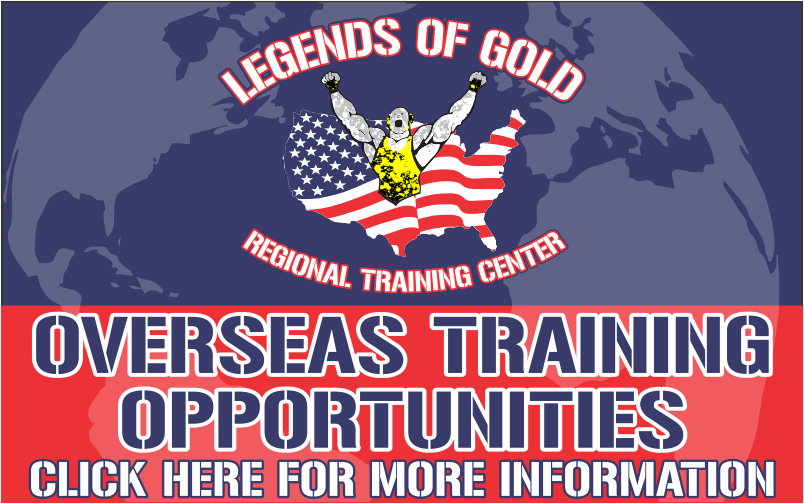 The Hungarian Grand Prix is the second star-studded Senior event Hancock has won in less than a year. Last summer, he surged to victory at the Wladyslaw Pytlasinksi Cup after defeating multi-time World/2016 Olympic champ Artur Aleksanyan (ARM) and Nikolai Bayryrakov (BUL) back-to-back.
As mentioned above, points are involved. Hancock grabbed 12 with his bronze at Zagreb. Now with today's tournament win, Hancock collects 18 "Ranking Series" points (eight for coming in first, plus 10 more for having over 20 participants in the weight class). That'll bring his total to 30, which should elevate him to #3 in United World Wrestling's top-20 rankings.
Rice In the Hunt Again
Travis Rice (63 kg, IRTC) had a bounce in his step for his second-straight "Ranking Series" bronze medal match, and was moving well against 2018 World bronze Salike Walihan (CHN) in the early going. Rice snared Walihan's head on a couple of occasions, but nothing was doing. An exchange at the edge saw Walihan draw first blood, as he used a front head head wrap to come away with two. Just a few moments later, Rice was, for some reason, hit with passivity. From top, Walihan went for a lift but Rice managed to initially ward of the attempt. However, Walihan adjusted and used his lock to expose Rice just the same, and this was the beginning of the end. Walihan re-locked and loaded Rice back up for another throw, this time receiving four, thus ending the match.
Notes:
97 kilograms also included 2016 Olympic bronze Cenk Ildem (TUR), 2013 World bronze Javid Hamzatov (BLR), and 2015 Junior World Champion Nikoloz Kakhelashvili (ITA). Hancock defeated Ildem at the '16 Clubs Cup and decisioned Kakhelashvili last year at the Pytlasinski Cup in Poland.
For the second tournament in a row, Hancock avenged a loss for stablemate Nick Boykin (Sunkist). In Zagreb, Boykin fell to Adam Varga (HUN) in the repechage. A little while later, Hancock got past Varga in the bronze match. Earlier today, Boykin was turned back by Abudourexiti Alimujiang (CHN) in the round-of-16, and then Hancock decisioned Alimujiang in the quarterfinal.
2019 Hungarian Grand Prix
February 23rd-24th — Gyor, Hungary
TEAM USA DAY 1 RESULTS
63 kg
Travis Rice (IRTC) — 5th
WON Tamas Nad (SRB) via injury default
LOSS Erbatu Tuo (CHN) 9-0, TF
LOSS Salike Walihan (CHN) 9-0, TF
97 kg
G'Angelo Hancock (Sunkist) — gold
WON Lee Se-Yeol (KOR) 8-0, TF
WON Abudourexiti Alimujiang (CHN) 4-0
WON Hassan Ali Aryanezhad (IRI) 3-2
WON Fatih Baskoy (TUR) 3-3 (criteria)
Nick Boykin (Sunkist)
LOSS Abudourexiti Alimujiang (CHN) via fall
CLICK HERE TO DONATE TO THE USA GRECO-ROMAN PROGRAM
Listen to "5PM21: Paul Tellgren, Ellis Coleman and Alec Ortiz stop by the Five Point Move Podcast" on Spreaker.
SUBSCRIBE TO THE FIVE POINT MOVE PODCAST
iTunes | Stitcher | Spreaker | Google Play Music | RSS
Notice
: Trying to get property 'term_id' of non-object in
/home/fivepointwp/webapps/fivepointwp/wp-content/themes/flex-mag/functions.php
on line
999